MOM Premium Women's Hospital     
Akshaya Hospital       
V.G Saraf Memorial Hospital           
Aster Medcity     
City Hospital     
Medical Trust Hospital     
Rajagiri Hospital       
Apollo Adlux Hospital       
Lourdes Hospital     
Lakshmi Hospital   
MOM is Kochi's first premium birth center, offering leading-edge healthcare with compassion and dedication to the best obstetricians, gynecologists, radiologists, nurse midwives, perinatologists, and neonatologists. The MOM Birth Centre was founded by Dr. K. K. Gopinathan, one of the most renowned fertility clinics in India, in 1985.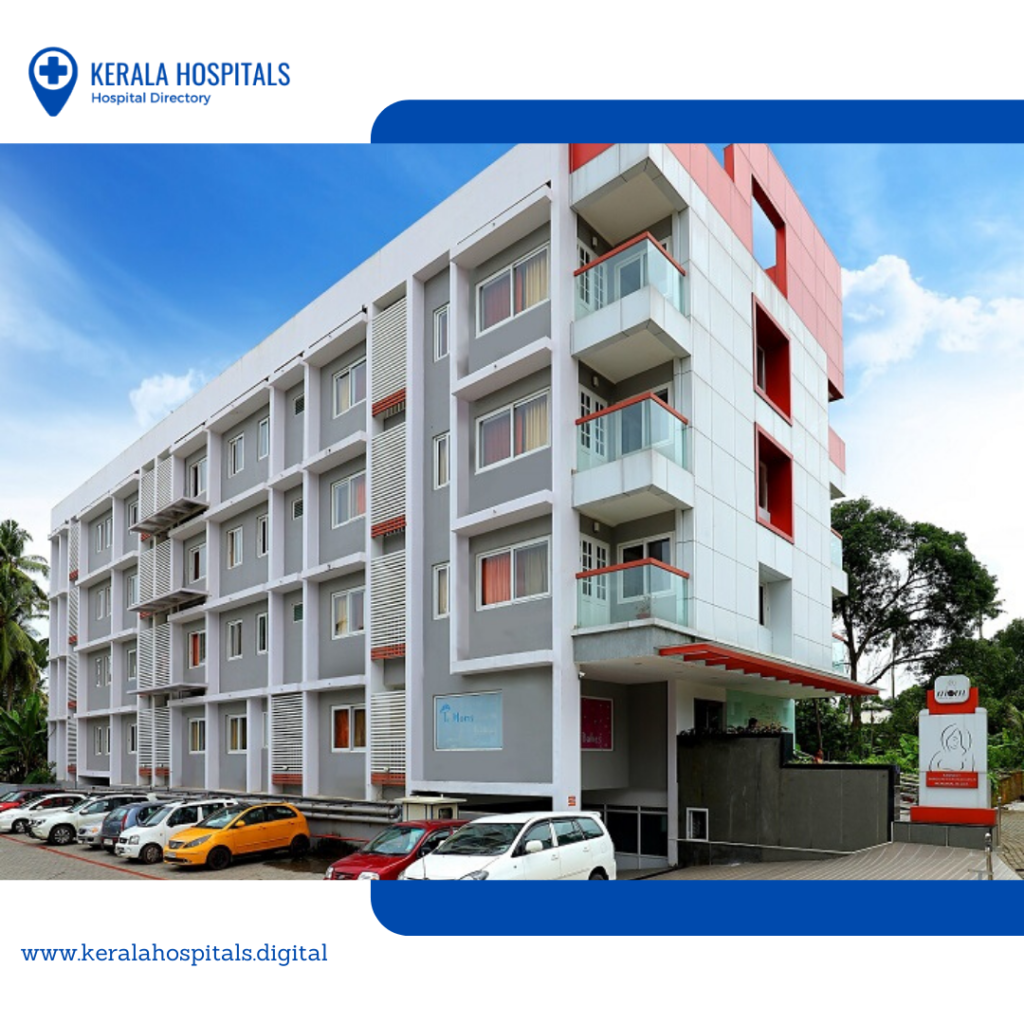 With routine prenatal visits and access to specialists as needed, as well as an array of educational opportunities and birthing options, MOM Birth Centre is dedicated to providing you and your baby with exceptional care. It is a place for you to come and celebrate your journey of motherhood and childbirth in a caring, warm, and homelike environment. Here, you are supported and respected, as well as safe and secure. Excellence in clinical care, customer service, safety, and trust are the keystones of their practice.
Address: No. 3/434-A, Tippu Sultan Rd, Thykkavu
Cheranallur, Kochi, Kerala 682034
Phone: 090723 44455
In 1997, Ashaya Hospital was founded by gynecologist Dr. SASHIKALA V PRABHU, with more than two decades of experience in Obstetrics and Gynecology. This hospital has developed over the years into a comprehensive care center for women of all ages, providing expert services in pregnancy, infertility, and laparoscopic surgery. AKSHAYA HOSPITAL provides personal, professional, and affordable treatment to patients in the era of corporate hospital culture.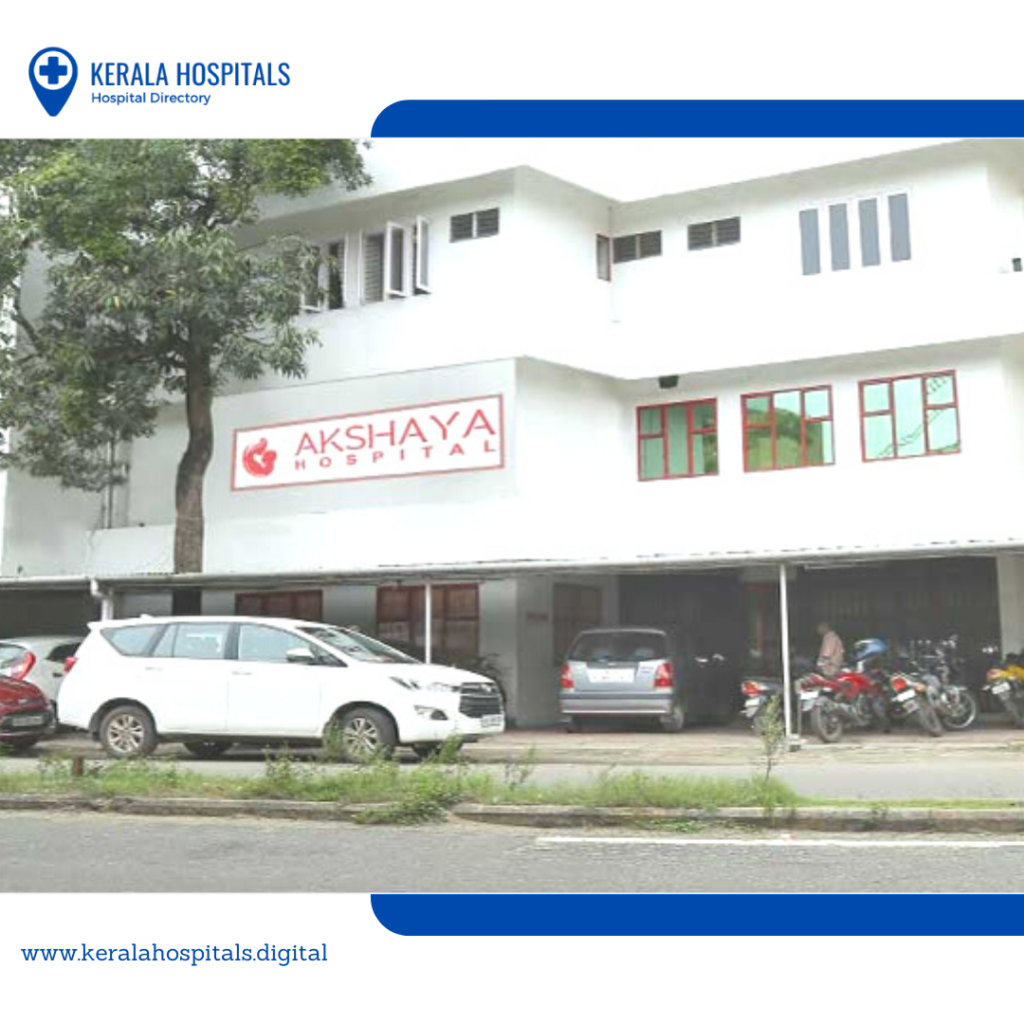 During the adolescent years, reproductive ages, perimenopause, and postmenopausal period, this branch addresses various health issues for women. The gynecologists at Akshaya Hospital are well trained and equipped to handle any problems women may face during their non-pregnant period. Whether it is a simple counseling session or advanced gynecologic surgical procedure, they have the best Gynecologists in Kochi.
Address: 43/2182, Kaloor – Kadavanthara Rd
Kadavanthra, Kochi, Kerala 682020
Phone: 0484 220 6487
Saraf Hospital, also known as V.G. Saraf Memorial Hospital, is located in the heart of Kochi city. A flagship hospital of the region and situated in the heart of the city, it is one of the most advanced and environmentally friendly health care facilities. The Saraf Hospital is committed to providing high-quality specialist services, including tertiary care that meets the healthcare needs of our patients.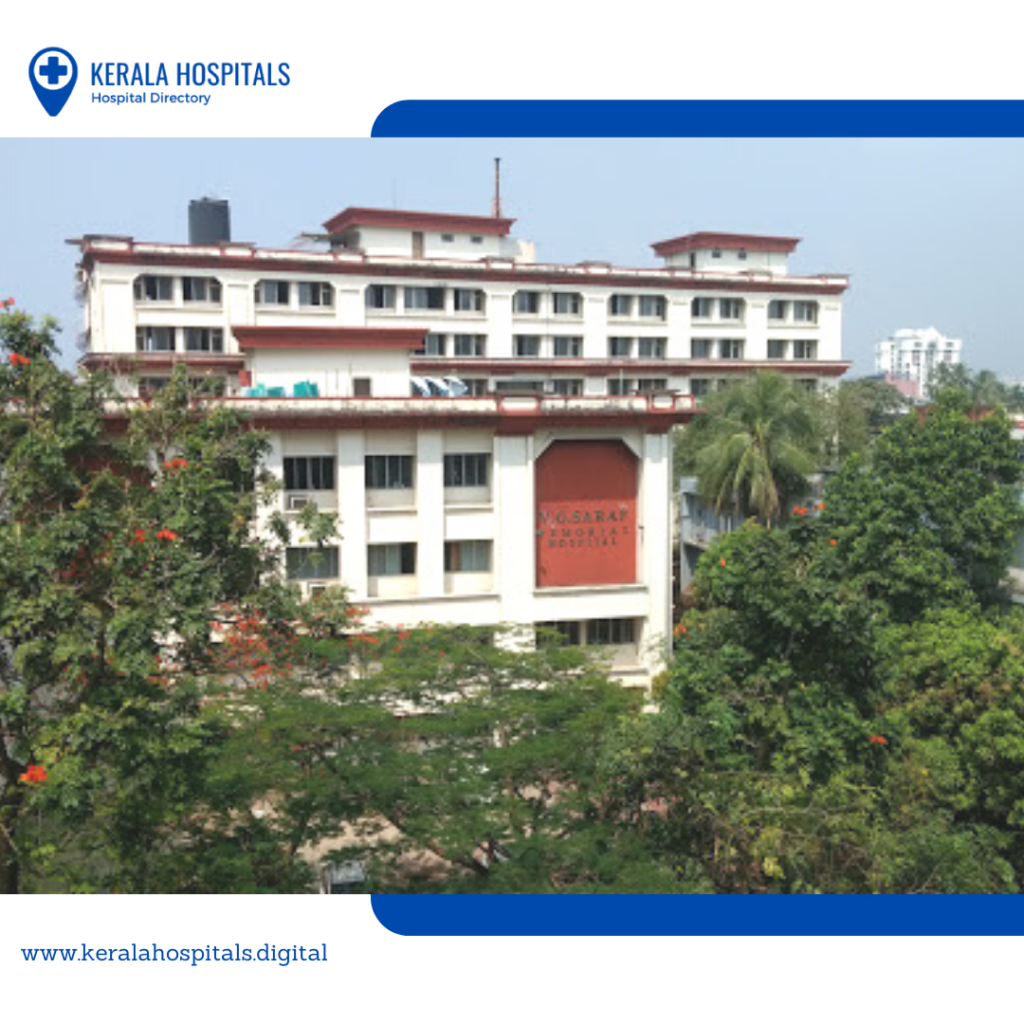 The building was built in 1999 as a memorial to Shri. Vithal Govindrao Saraf, the hospital has served the local community with distinction in the healthcare field. The hospital's state of the art equipment and facilities are managed by an efficient team, and it caters to the medical needs of a wide range of patients and offers exclusive care in all areas of medicine. As a center of excellence in Obstetrics and Gynaecology cases in the entire region, the Department of Obstetrics and Gynaecology is renowned. In an environment with a high level of personalized care, senior consultants are pioneers in their fields. Physicians are primarily concerned with the health and well-being of mothers.   
Address: 39, 4603, Sreekandath Rd
Ravipuram, Perumanoor, Kochi, Kerala 682016
Phone: 0484 238 0452
Kochi's Aster Medcity is one of the world's largest healthcare facilities for quaternary care in South-Eastern India. As the flagship hospital of DS Healthcare, a conglomerate founded by Azad Moopen, it is well-known in the healthcare industry.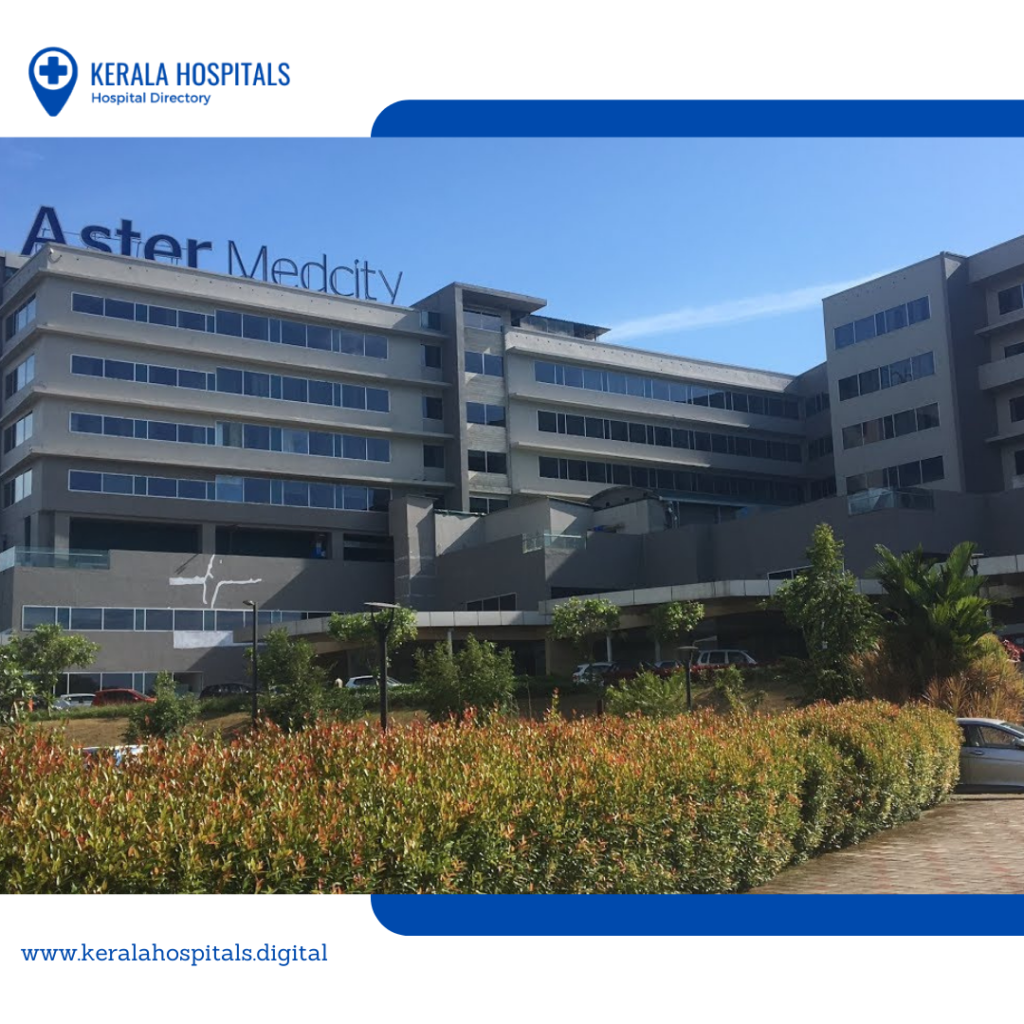 Aster Medcity's Centre of Excellence (CoE) in Women's Health is one of the most advanced health facilities in the region, offering comprehensive treatment for women of all ages to improve their overall health. In addition to obstetrics, gynecology, infertility management, reproductive medicine, fetal medicine, and clinical and interventional imaging, the team's outstanding group of doctors encompasses experts in all subspecialties in women's health. Multidisciplinary in approach, the facility provides high quality, protocol-based treatment to patients with the support of specially trained nurses and technicians.
Address: Kuttisahib Road Cheranelloor
South Chittoor, Kochi, Kerala 682027
Phone: 0484 669 9999
City Hospital Pvt Ltd is a well-known name for in-patient care in Ernakulam. Established in 1971, it is still active today. The hospital is among the well-known ones on M G Road. Known for providing high-quality patient care and having state-of-the-art medical equipment, they are one of the upcoming names among healthcare organizations. The hospital is easily accessible by various means of transportation since it is located in. In addition to clinical services, a team of well-trained medical personnel, non-medical personnel, and clinical technicians work 24-hours-a-day to provide Casualty, CT Scans, Chemists, and X-rays to patients. Its professional services make them one of the most sought-after hospitals in Ernakulam. Doctors on board, including specialists, are familiar with the knowledge and expertise needed to handle a wide array of medical issues.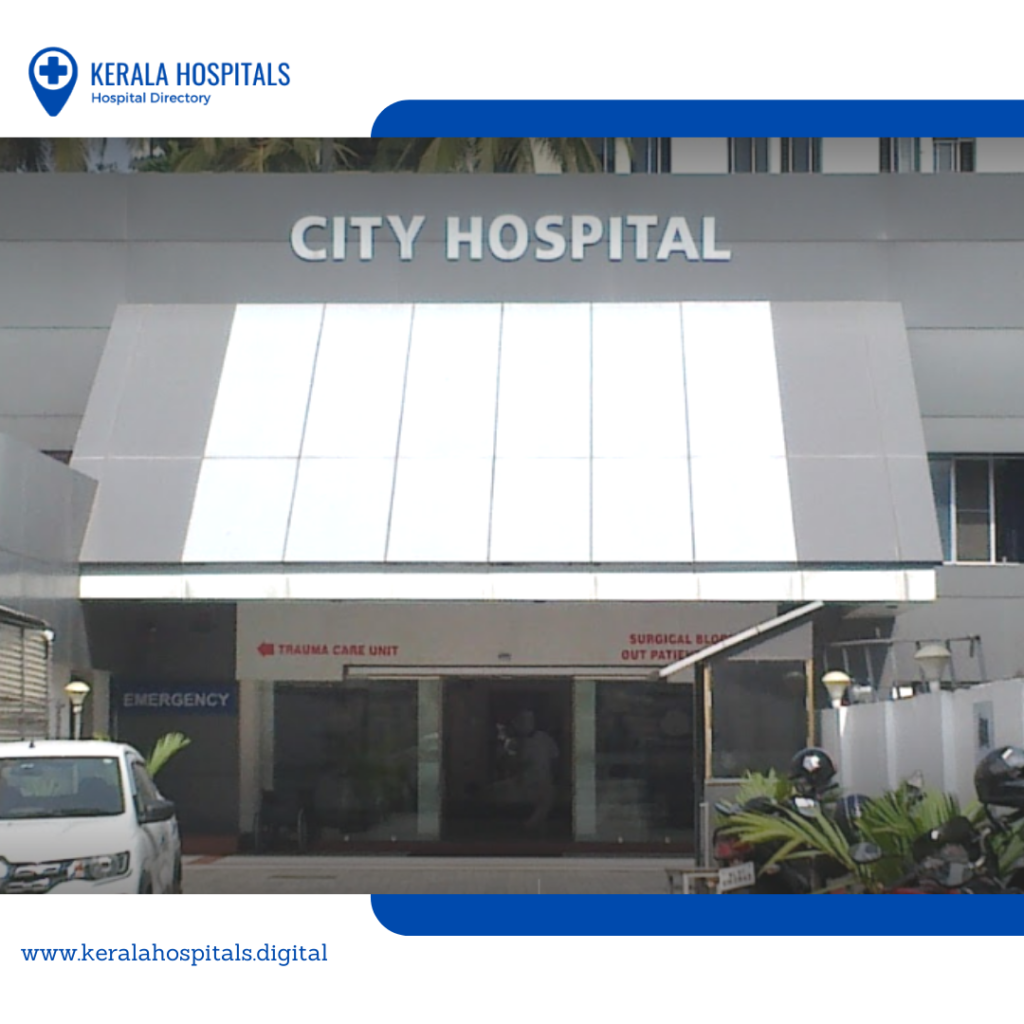 The Department of Obstetrics and Gynaecology is a center of excellence for Obstetrics and Gynaecology cases throughout the entire region. Consultants are pioneers in their fields in a highly personalized environment. Mothers' health and well-being are a primary concern for physicians.
Address: Mahatma Gandhi Rd, Opp. Padma Theatre, Padma Junction
Pullepady, Ernakulam, Kerala 682035
Phone: 075920 00731                    
A multi-specialty acute-critical care referral hospital with 750 beds, Medical Trust Hospital is one of the best-equipped and most premier hospitals in South India. Founded in 1973, the Hospital has evolved with the dedication and passion of more than 1,500 healthcare professionals, internationally acclaimed doctors, surgeons, and proficient support staff, and world-class facilities. By providing personalized patient-centered care, 24/7 support, and breaking new ground in the medical field, they uphold high ethical standards.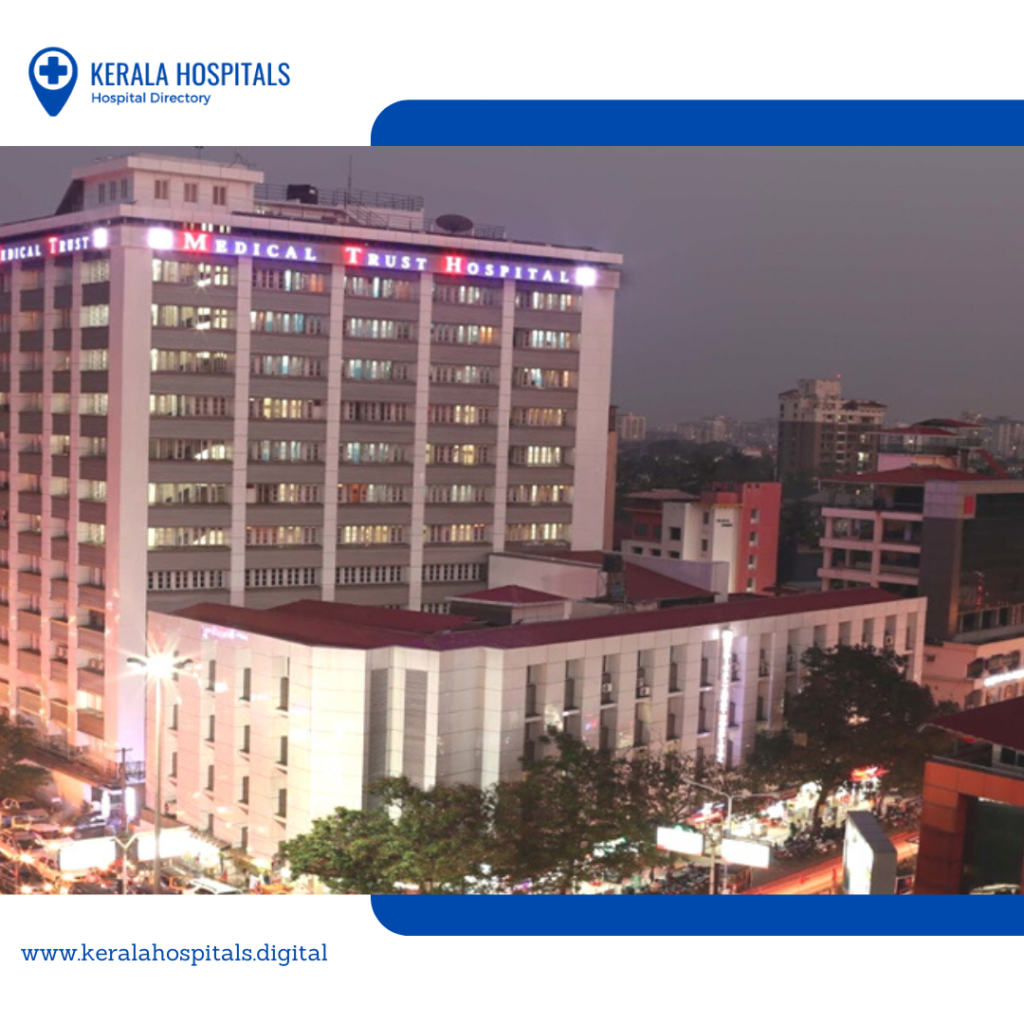 The Department of Obstetrics and Gynaecology at Medical Trust Hospital offers gynecologists and surgeons experienced in treating women of all ages excellent consultation and care. Fibroids, ovarian tumors, and endometriosis are treated at the Department by laparoscopic hysterectomy. There is an experienced medical team available for the management of high-risk pregnancies and painless delivery of babies.      
Address: Mahatma Gandhi Rd
Pallimukku, Kochi, Kerala 682016
Phone: 0484 235 8001
The Rajagiri Hospital in Kochi, India provides multi-specialty tertiary care to patients throughout the country. This institution was established in 2014 and is owned and managed by the Rajagiri group of institutions. The hospital has both JCI and NABH accreditation, one of the few in the country.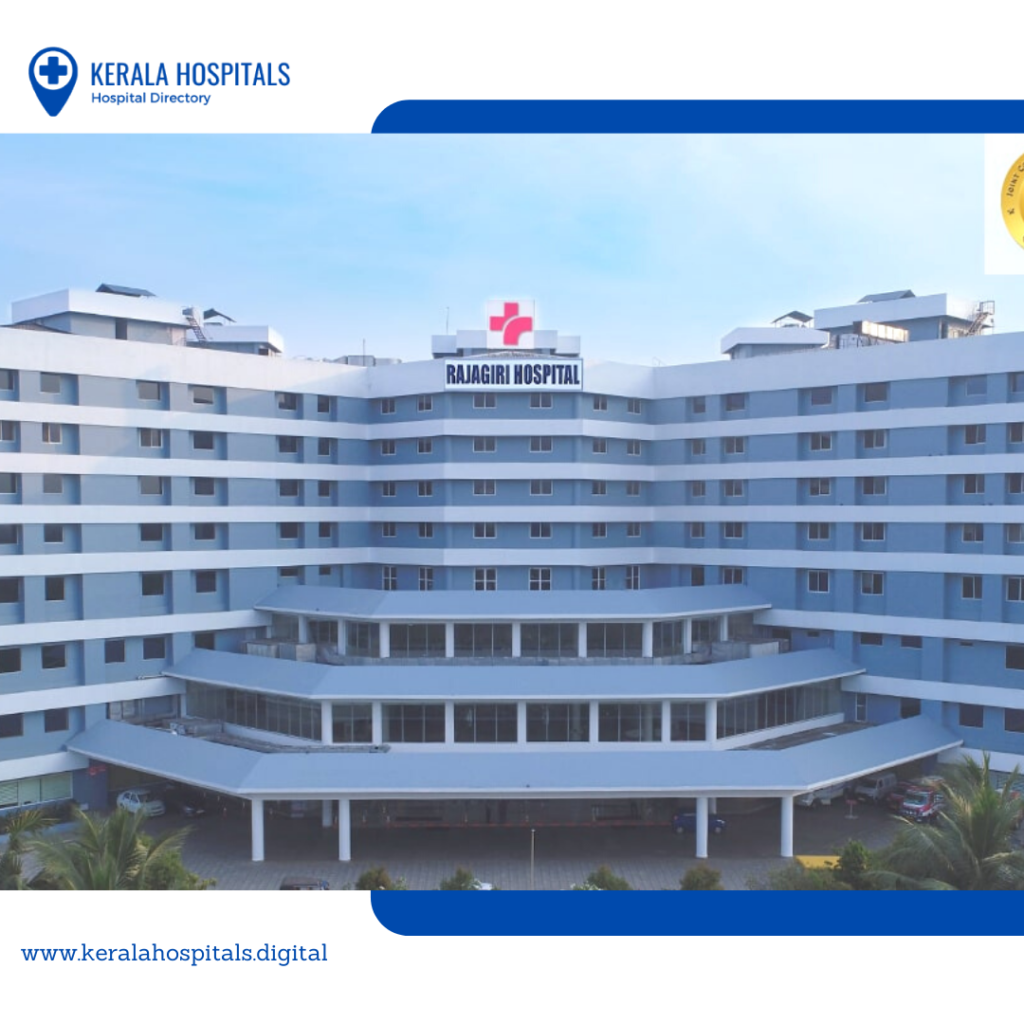 Women's health is fundamental to family and society. Healthy women are essential for a healthy family and a prosperous society. The team is proud to offer a unique blend of skill, expertise, and experience. The institute aims to become a national and international leader in gynecology by recruiting highly academically oriented young physicians and regularly auditing their practices.
Address: Near GTN Junction, Chunangamvely Aluva
Kochi, Kerala 683112
Phone: 0484 290 5000                   
One of Kerala's best Super Speciality Hospitals, Apollo Adlux Hospitals, Cochin offers advanced medical treatment and treatment methods. This is the first venture by the Apollo Hospitals Group in the state. A comprehensive range of super specialty services is offered under one roof together with renowned consultants who are trained in their fields. Providing people with convenient access to affordable, advanced medical care is their goal.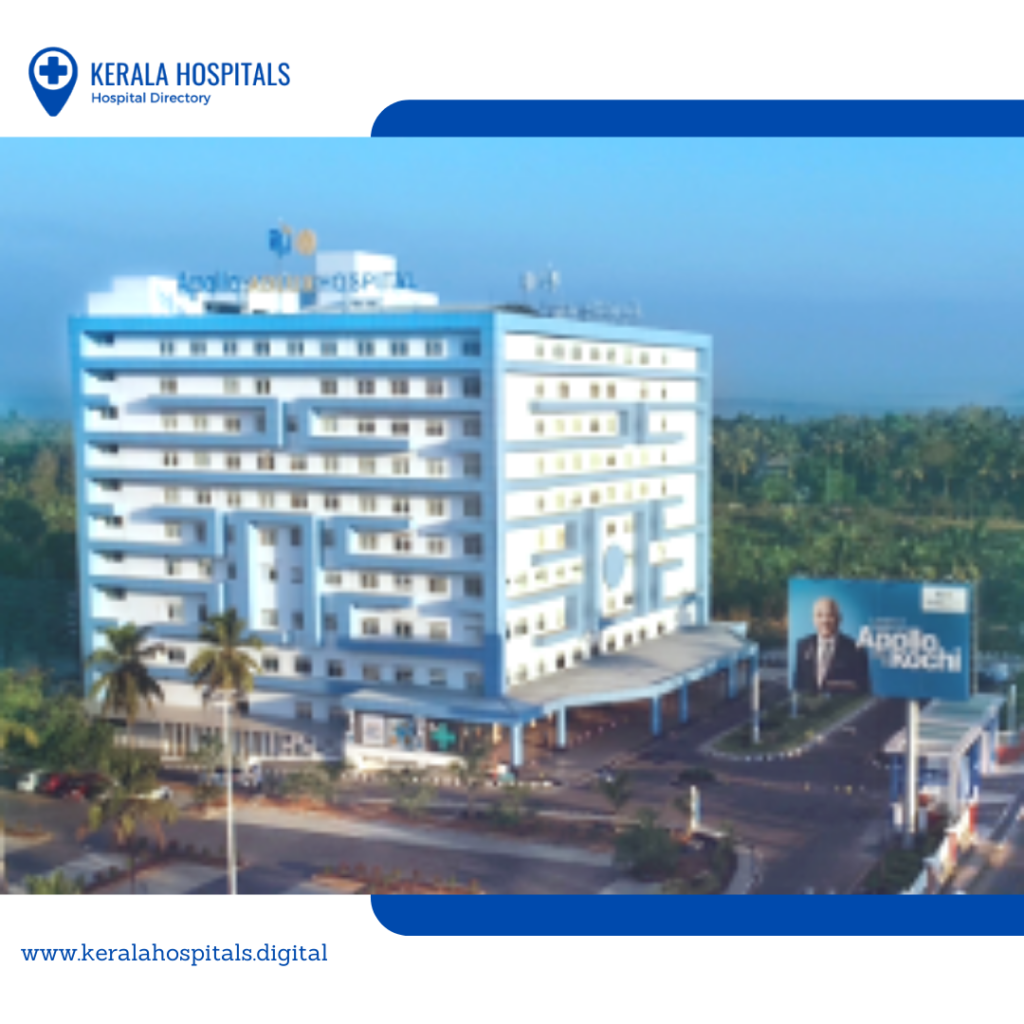 A leading integrated healthcare services provider in Asia, Apollo Hospitals Group has a considerable presence across the healthcare ecosystem. This includes hospitals, pharmacies, primary care clinics, and several retail health models. In keeping with the same ethical standards Apollo Group of Hospitals has followed for so many years, Apollo Adlux is part of the group. Includes comprehensive, quality health care for women- a one-stop destination          
Address: Near Adlux convention center Cable Junction Ernakulam
National Highway 47 Karukutty, Angamaly, Kerala 683576
Phone: 0484 273 5000              
The Lourdes Hospital is one of the best multi-specialty hospitals in Ernakulam, the commercial capital of Kerala. The hospital started operating in 1965 under the aegis of the Archdiocese of Verapoly and today serves around 500 in-patients and 1700 out-patients daily and attracts patients not only from Kerala but also from other states in India and abroad. Also, the hospital has been accredited by NABH for quality of service as the first mission hospital in Kerala.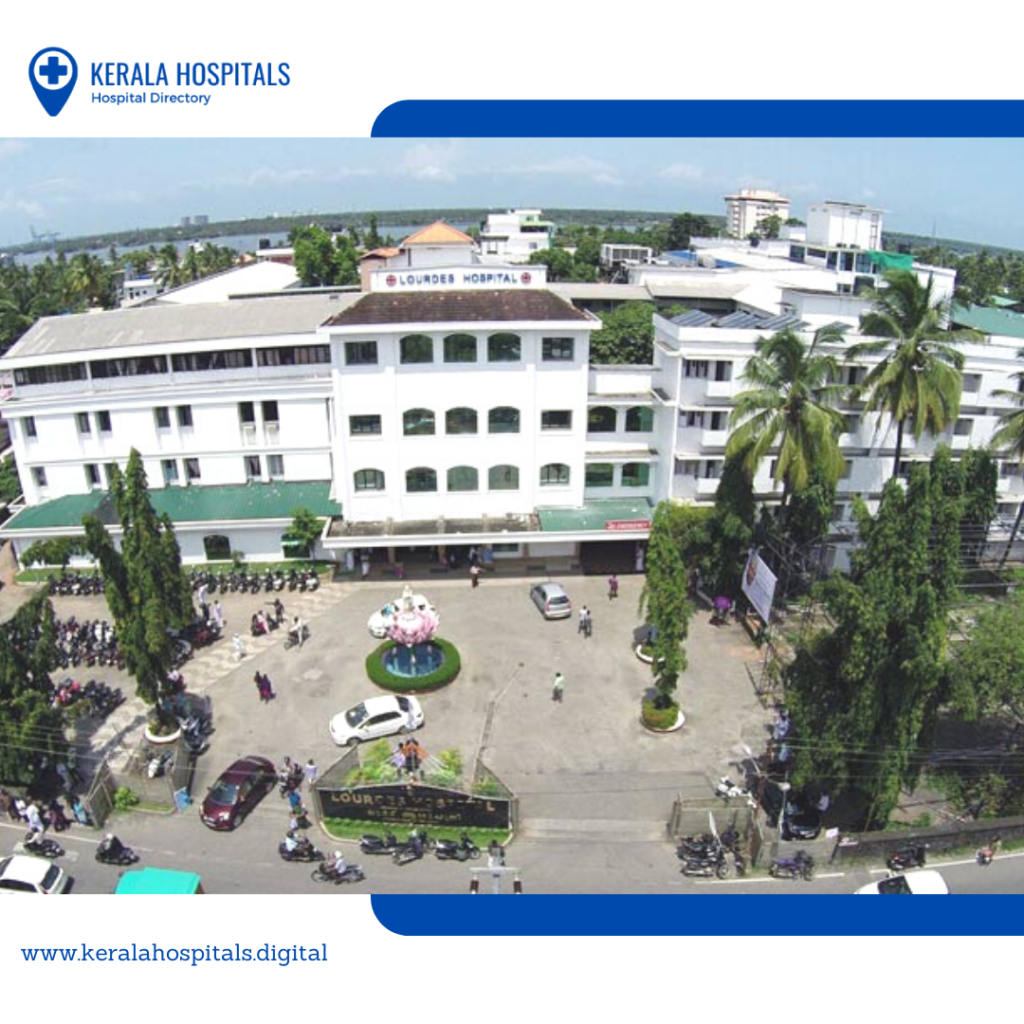 The Department of Obstetrics & Gynecology provides the best fertility treatment in Kochi for women & pregnancy-related problems. Gynecological and Obstetric treatment is offered in all its forms. Obstetrics & Gynecology includes Maternal-Foetal Medicine, Reproductive Endocrinology and Infertility, Gynaecology Reconstructive Pelvic Surgery, and Gynaecology Oncology. Among the tests done by the Department are chorionic villus sampling, amniocentesis, fetal color Doppler, and velocimetry tests. Women in perimenopause can be screened for cancer with colposcopy, and HPV testing. Services are available for both outpatients and inpatients.
Address: Lourdes hospital Road Near Ernakulam Town Railway station Pachalam PO
Kochi, Kerala 682012
Phone: 0484 412 3456
As one of the top medical institutions in and around Kerala's Cochin, Lakshmi Hospital is revered and trusted by people. Lakshmi hospital has grown from a single center hospital to a multi-center, multi-specialty referral hospital over the last three decades. It took a long time to achieve this recognition and acceptance. All who have been involved have persevered and devoted themselves for years.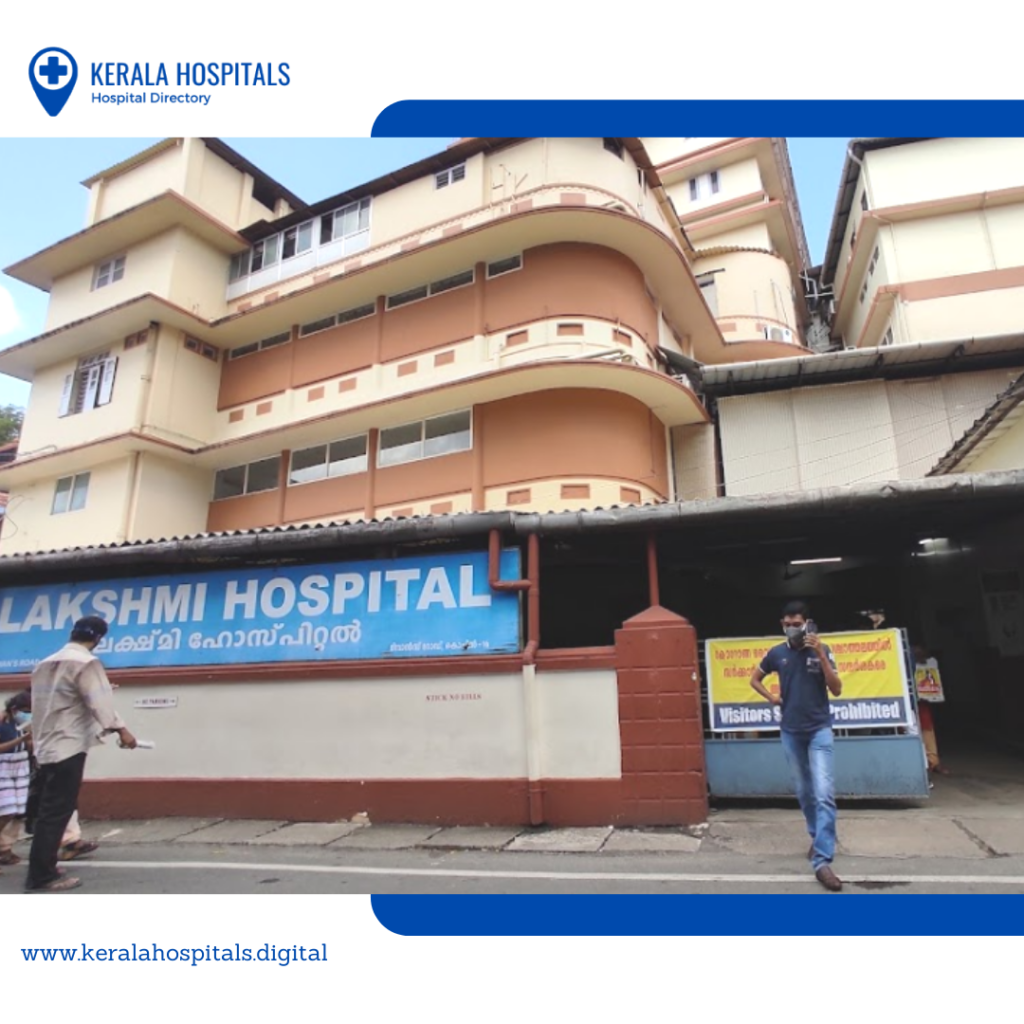 As of 18th May 1979, there were only six beds and three doctors: Dr. K. K. R. Wariyar, Dr. Shanta Wariyar, and Dr. Sethulakshmi. Today, the hospital chain provides quality treatment across all major specialties, including Gynecology, Adult and Pediatric Surgery, Cardiology, Neurology, Oncology, Orthopaedics (including joint replacement surgery), Infertility & High-risk Pregnancy.
Address: Divans Rd, Pallimukku
Kochi, Kerala 682016
Phone: 0484 2 38 2111