Bharath Hospital
Assisi Hospital
Caritas Hospital
Mar Sleeva Medicity cherpunkal
SH Medical Centre Hospital
Mandiram Hospital
KIMS Health Hospital
I.H.M. Hospital
Mary Queens Mission Hospital
Matha Hospital
The Bharath Hospital, administered by the Bharath Charitable Hospital Society, was established in 1969 under the pioneering and enterprising leadership of Dr. A.N Viswanathan Pillai, a well-known city physician. The Bharath Hospital is a multidisciplinary super-specialty hospital, located adjacent to the Thirunakkara Mahadeva Temple in the heart of Kottayam town.
It has an outstanding reputation for providing excellent patient care and innovative treatment at affordable rates. They served Kottayam residents since its founding and for many years afterward. With just four departments at its inception, namely gynecology, general surgery, general medicine, and pediatrics, Bharath Hospital has grown into a multidisciplinary, super-specialty hospital with over 60 consultants.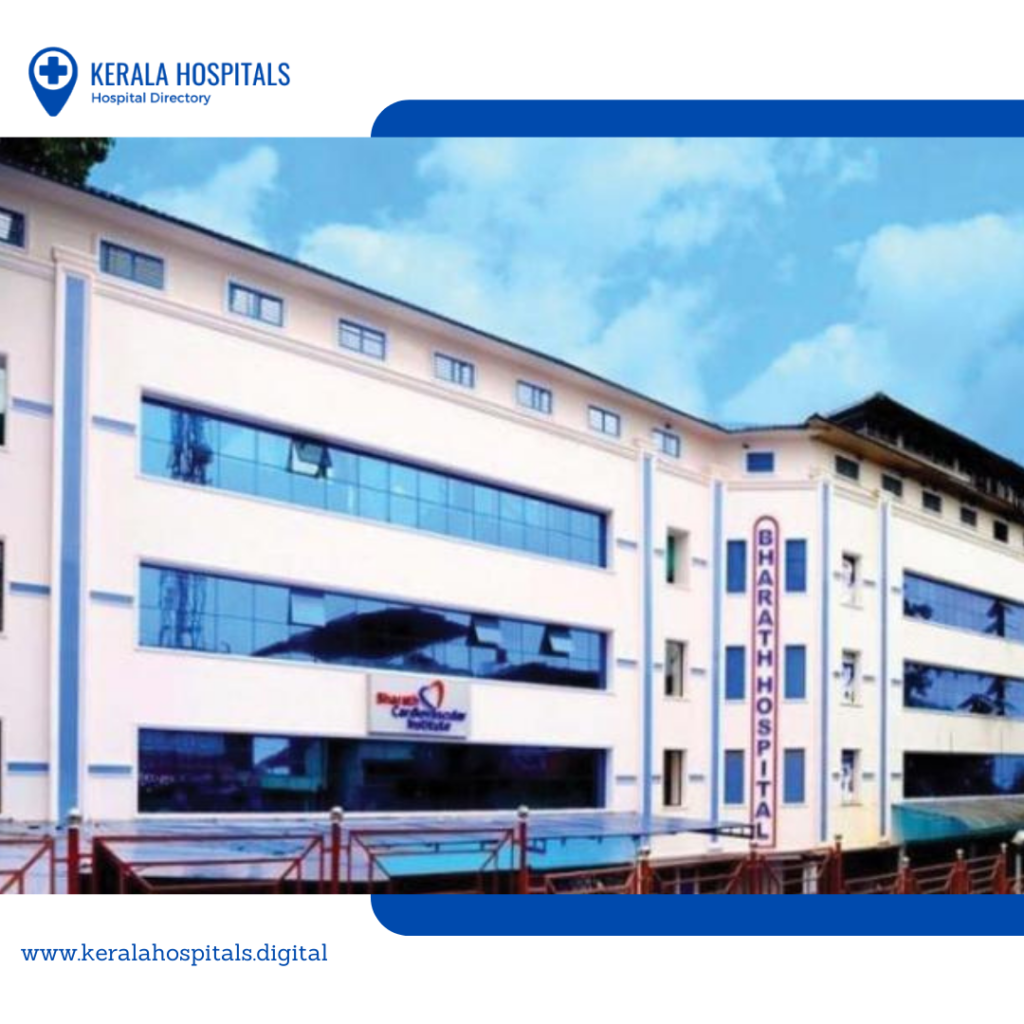 Bharath is a leading Cardiology hospital in Kottayam. From early disease detection to complex interventions, they offer all aspects of cardiology. They provide diagnostic procedures in the following areas: ECG, stress testing, transthoracic and transoesophageal echocardiography, stress echocardiography, fetal echocardiography, Holter testing, HUT test, and angiography. The Institute focuses on Medical and Surgical Management of all types of Cardiac Ailments, including primary prevention and secondary prevention, as well as cardiac rehabilitation. 
Address: Azad Ln, Puthenangady, Kottayam, Kerala 686001
Phone: 0481 258 2947                  
The project is the dream of the Vijayapuram Diocese under the patronage of bishop Rt. Rev. Dr. Sebastian Thekethecheril. This health care facility was established in 1987 to provide health care for the local community. A 250-bed multispecialty hospital, Assisi offers services in General Medicine, Cardiology, Pediatrics, Orthopedics, Neurology, ENT, obstetrics & gynecology, Psychiatry, General & Orthopedic Surgery, Dental, and 24×7 Emergency Department.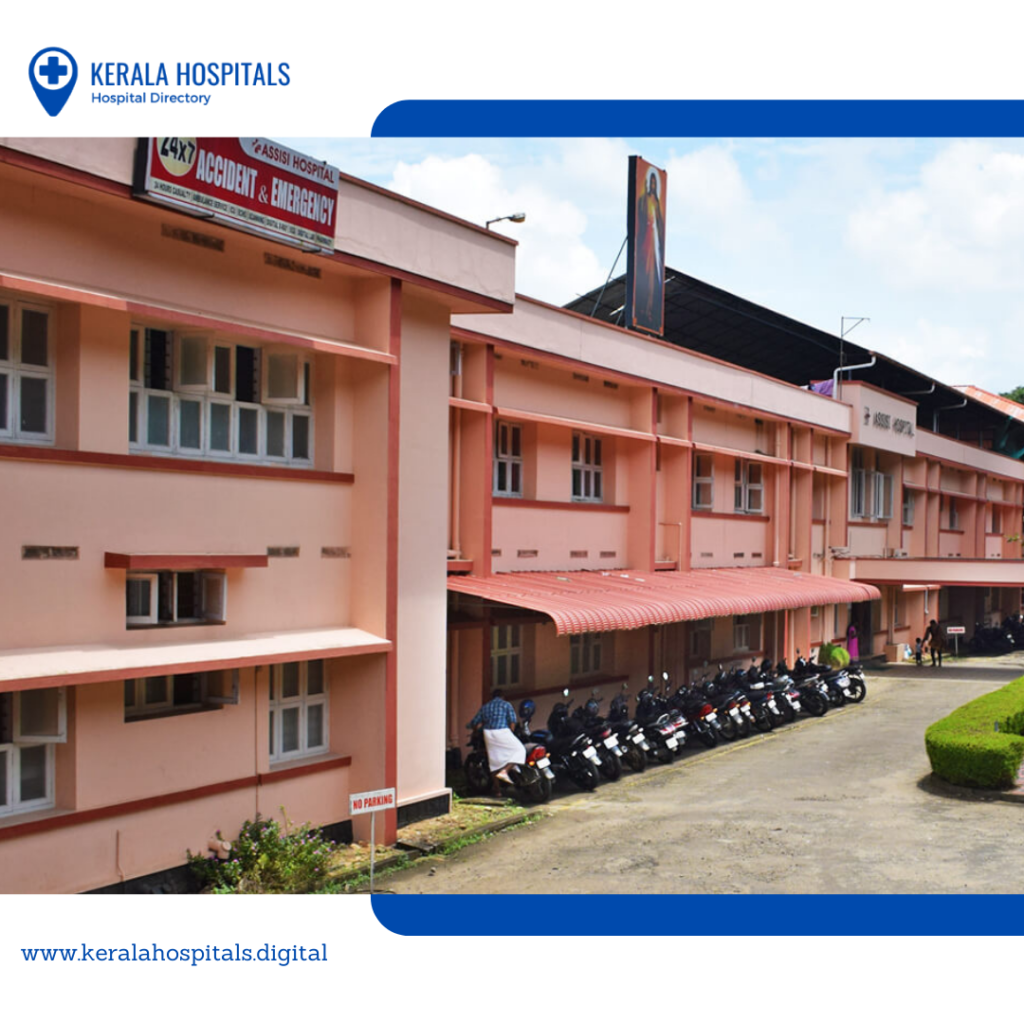 The Assisi group has expanded to include Assisi – college of nursing, school of nursing, and institute of paramedical sciences. The cardiology department handles a range of heart problems. Well-trained doctors provide the best treatment services with advanced equipment and technology. 
Address: Mukkoottuthara P.O, Erumely, Kottayam, Kerala 686510
Phone: 085899 97358          
Located in the heart of Central Kerala, the Caritas Hospital is a towering beacon of health and healing. Modern medical science has virtually eliminated the dread of illnesses, and Caritas remains committed to leading hundreds of patients to good health and happiness. Efforts are made to promote the health of individuals and communities through a holistic approach. The Catholic Diocese of Kottayam runs the Caritas Hospital under a charitable trust registered under registration number 510/IV/95.
For quality management systems and healthcare procedures, the hospital is NABH accredited & ISO 9001:2015 certified. With over 34 clinics and departments, Caritas has grown to be one of the best healthcare providers in Central Kerala. Among many facilities is a multi-organ transplantation center (kidney, heart, lungs, liver). As one of the busiest hospitals in Central Kerala, Caritas stands out for its high patient volume as well.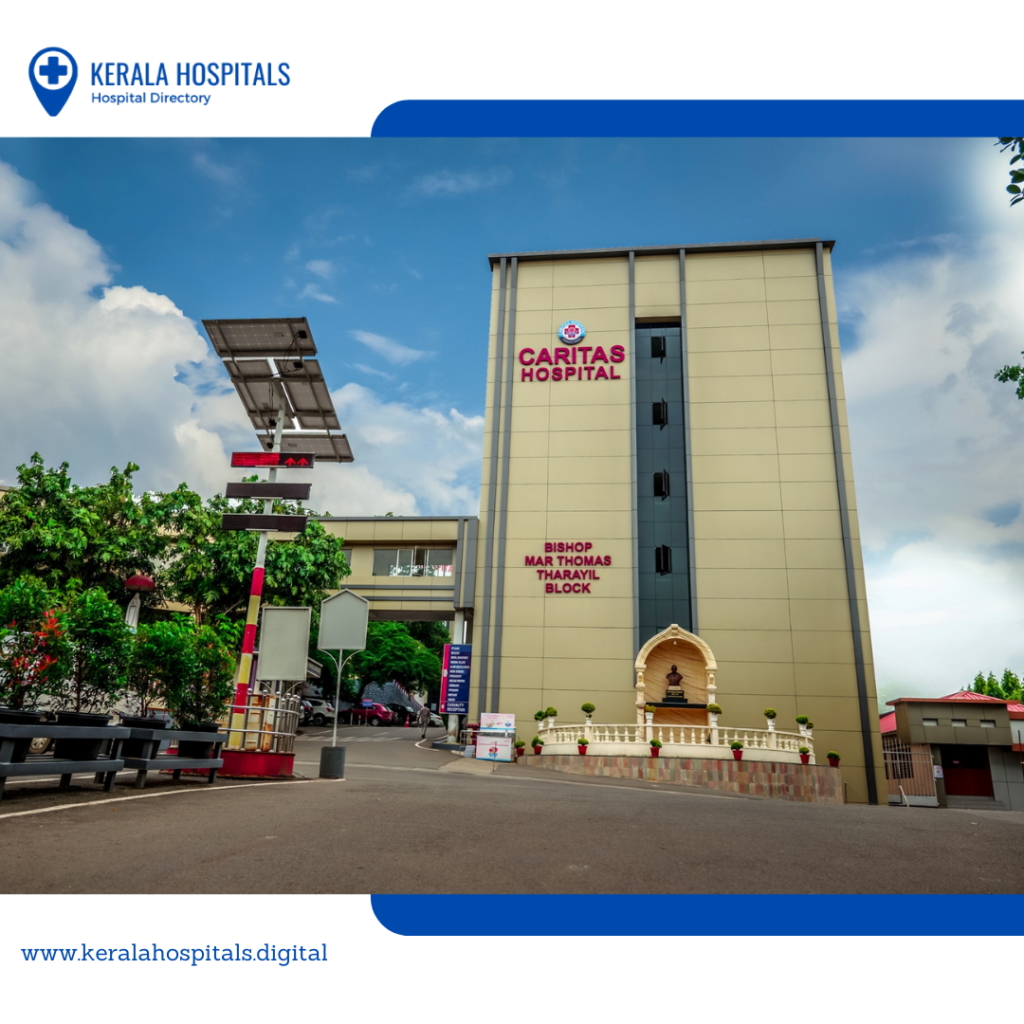 Caritas is a leading cardiology hospital in Kottayam. Since its inception, the heart institute offering excellent and trusted services in heart care, including advanced cardiology, interventional cardiology, cardiac surgery, and heart transplant. The department specializes in cardiovascular and thoracic surgery for children and adults. Expert and experienced doctors use the latest innovations and technologies, and patients receive evidence-based care. 
Address: Caritas Hospital Thellakom P O, Kottayam, Kerala 686630
Phone: 0481 279 0025
Founded by the Palai diocese and managed by the Palai diocesan healthcare education trust (PDMET), the Mar Sleeva Medical Center Palai is a tertiary care hospital in the city of Palai. Following Catholic teachings, medical ethics, and morals, it offers excellent medical care to patients. The hospital is situated in Cherpunkal, a small town with old traditions, near the Meenachil river, about seven kilometers from Pala and twelve kilometers from Ettumanoor.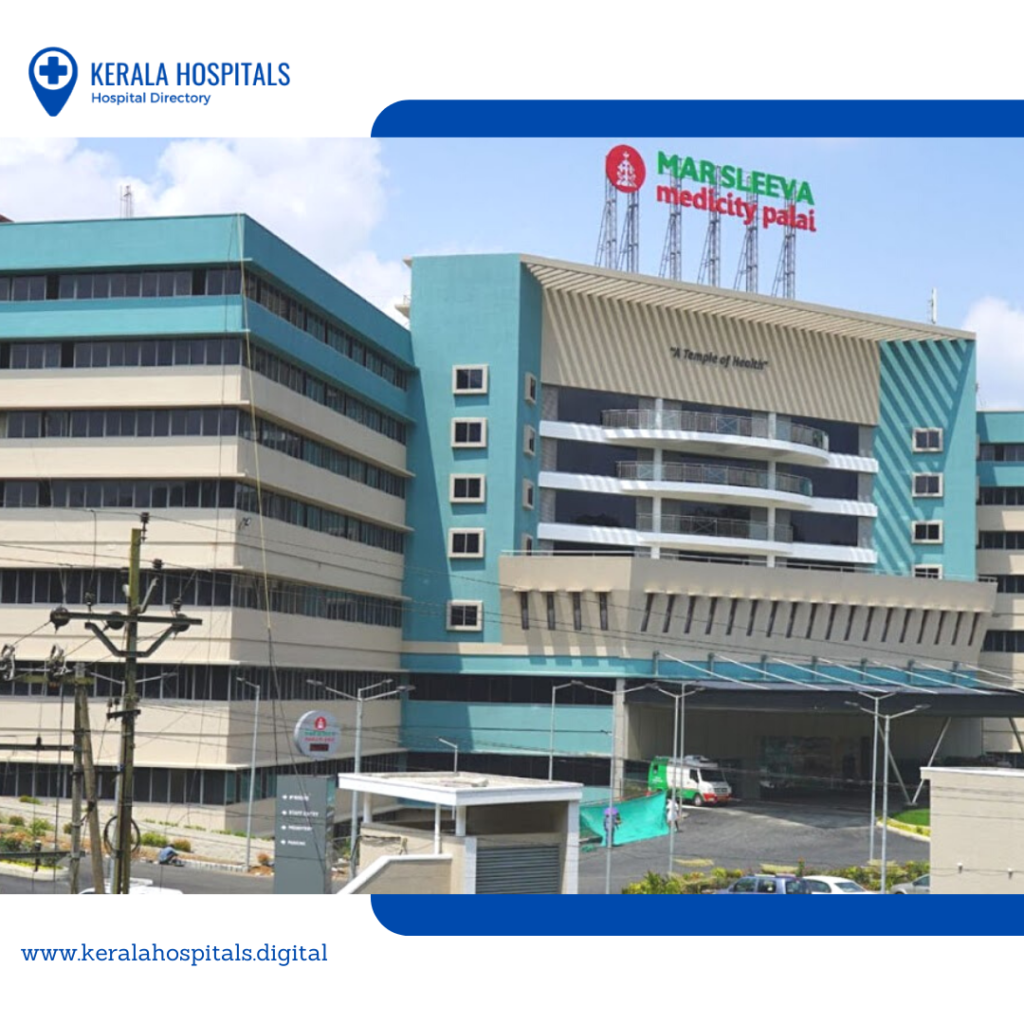 A primary goal of the Cardiology Department is to serve people living in nearby towns and villages. The intensive care unit provides adequate care to patients suffering from heart failure or valvular heart disease. ICU patients receive continuous ECG monitoring, arterial blood gas analysis, and invasive and noninvasive ventilator support. 
Address: Kezhuvankulam P.O, Cherpunkal, Kerala 686584
Phone: 04822 269 500
S H Medical Centre is one of the best hospitals in the city, providing excellent patient care. It is located in Kottayam, one of the city's most prominent localities. In addition to being close to Opp Private Bus Sand, this makes it easy for those from the vicinity to seek medical advice as well as those from other neighborhoods. Public transportation options are available from all parts of the city to reach the clinic.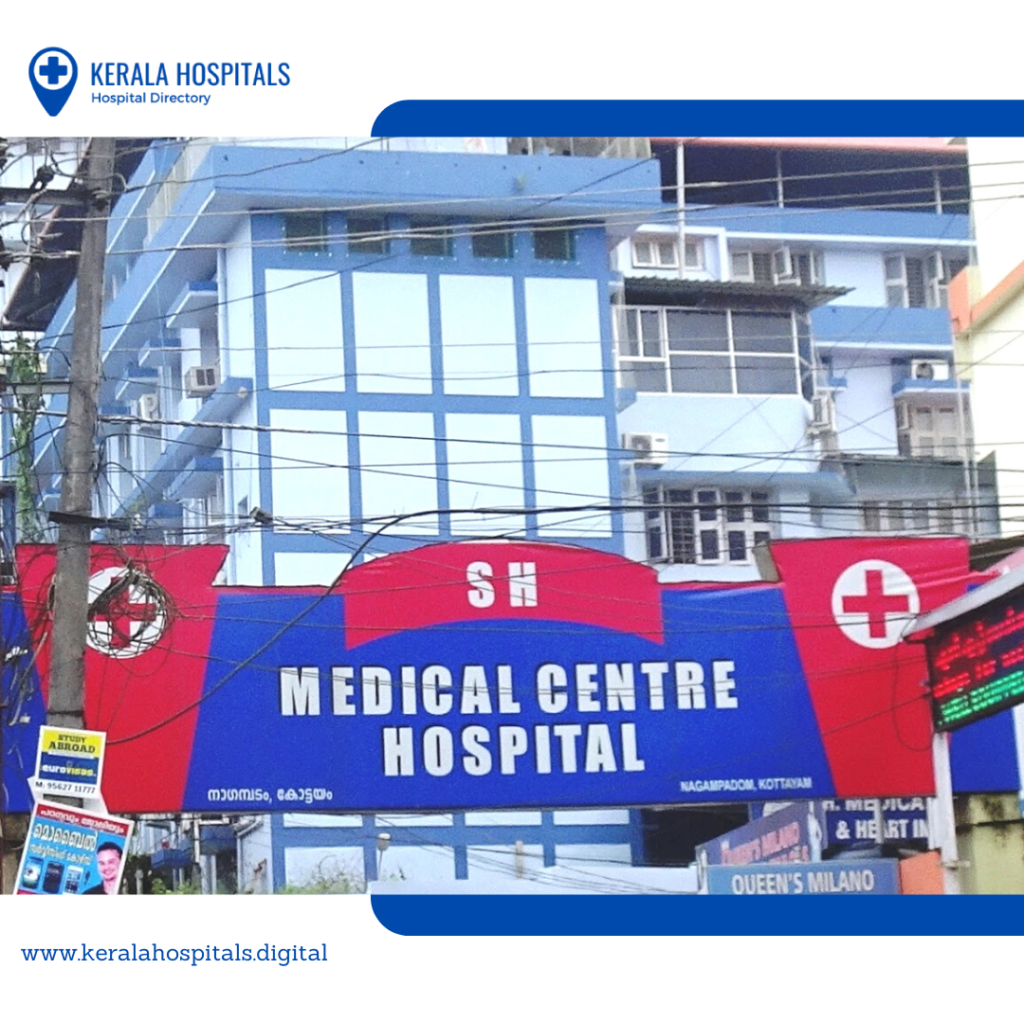 The hospital offers several medical services as a specialized hospital. It is a well-equipped facility with all modern equipment and delivers high-quality services affordably. The cardiology department at S H Medical Centre offers the best treatment for heart ailments, from an accurate diagnosis to professional management. The highly trained and experienced cardiac team specializes in Minimally Invasive Surgery, Interventional Cardiology, and Non-Invasive Cardiology
Address: Nagampadam, Kottayam, Kerala 686001
Phone: 0481 256 2240            
In 1943, Shri. P. C. George, encouraged by Rev. C. M. John, vicar of St Peter's Mar Thoma Church Manganam, set up Mandiram Hospital as a dispensary for the inmates of Agathi Mandiram and residents of the area. Mandiram Hospital has served tens of thousands of patients throughout the years as a beacon of quality healthcare. Currently, it has more than 20 departments and 45 doctors and is a 200-bed multispeciality hospital.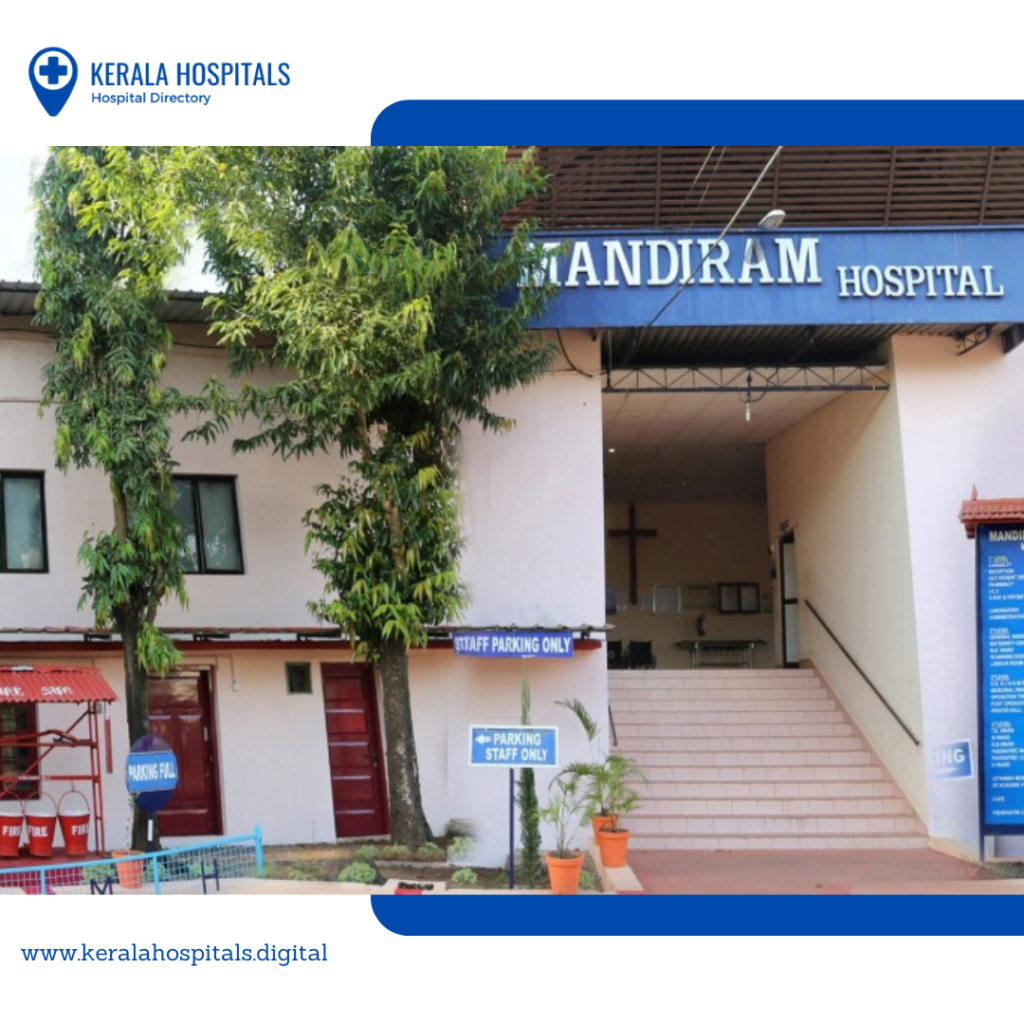 At Mandiram hospital, the department of cardiology strives to provide outstanding cardiac care in an environment that caters to the needs of people in neighboring towns and villages. With a 10-bed ICU, they provide effective care for patients with heart failure and valvular heart disease. In addition to invasive and noninvasive ventilator support, continuous ECG monitoring and arterial blood gas analysis are also available in the ICU. They offer Echocardiograms, Stress Tests, and Holter Monitoring. 
Address: Puthuppally Rd, Kalathilpady, Manganam, Puthuppally, Kerala 686018
Phone: 0481 257 8393
In India and the Middle East, the "Kerala Institute of Medical Sciences" (KIMSHEALTH) provides primary to quaternary healthcare services. In this country, quality healthcare has been made affordable and accessible to everyone through KIMSHELTER. Since 2006, KIMSHEALTH has been recognized for its commitment to high-quality healthcare by numerous national and international organizations.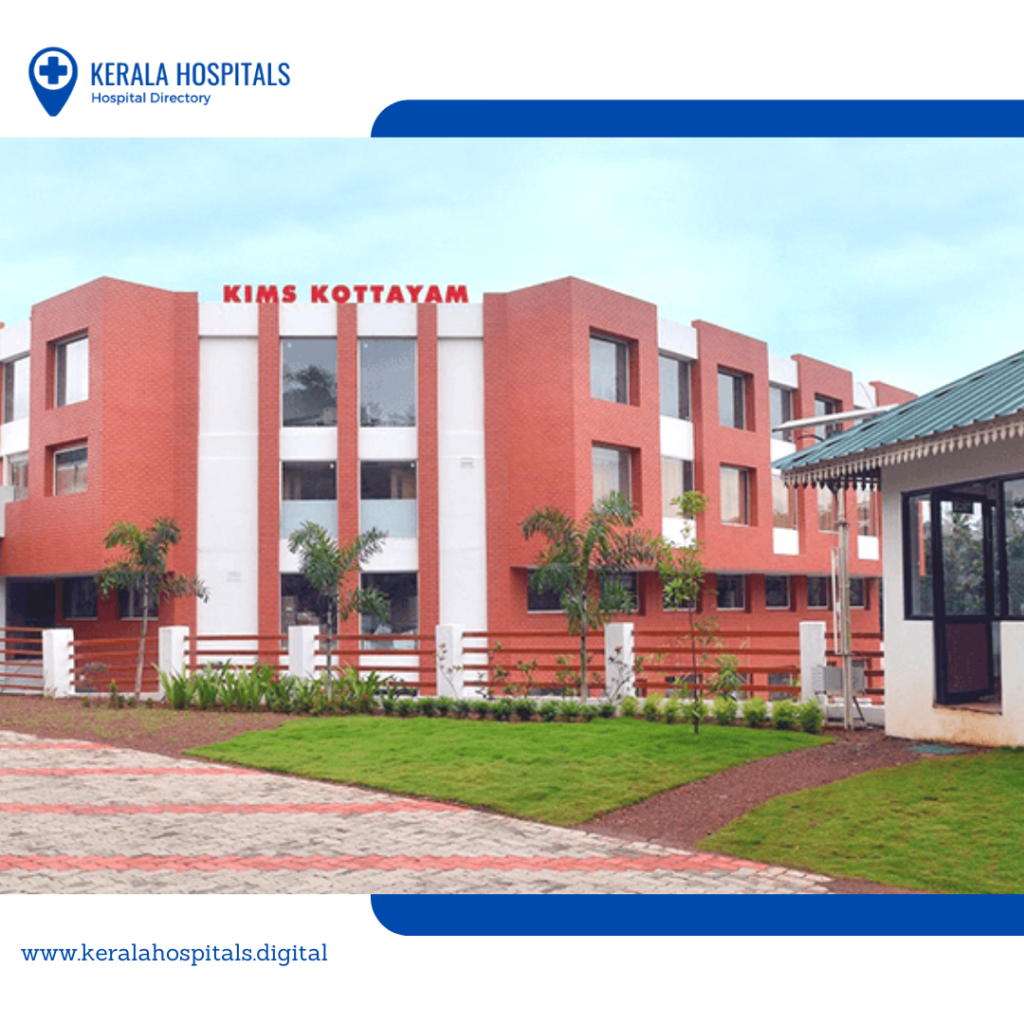 In its semi-urban setting, the Department of Cardiology aims to meet the needs of people living in nearby towns and villages. Patients with heart failure and valvular heart disease receive effective care in the ICU. There is continuous ECG monitoring and arterial blood gas analysis in the ICU, as well as invasive and noninvasive ventilator support. 
Address: Thoothutty Junction, Kudamaloor P.O, Kottayam, Kerala 686017
Phone: 0481 294 1000            
Immaculate Heart of Mary (I.H.M.) The hospital, popularly known as Marygiri Hospital, was founded by the Medical Mission Sisters (MMS) in 1948, inspired by the spirit of the hospital's founder Mother Anna Dengel. MM is a religious congregation of women dedicated to the healing mission of the Church, regardless of race, creed, color, or religion.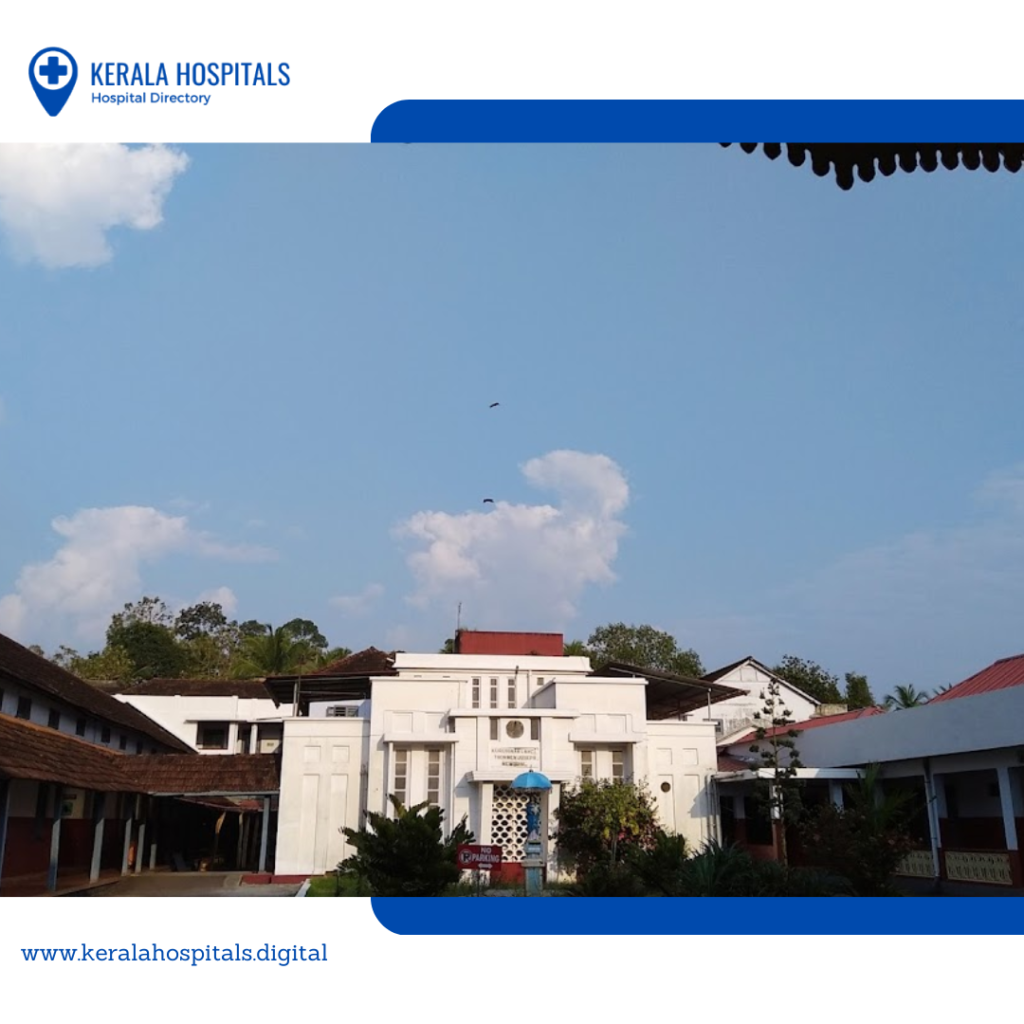 Heart disease is one of the most common diseases resulting from modern lifestyles and work. The cardiology department of IHM offers the best treatment options to help patients overcome the situation and lead healthier lives, making it one of the best cardiology hospitals in Kottayam. Cardiology services include cardiac evaluations, echocardiography, treadmill tests, and 24-hour Holter monitoring. The team of doctors has exceptional expertise in treating all of the most complex cardiac conditions.
Address: Bharanaganam, Kottayam, Kerala 686578
Phone: 04822 237 367
As a charitable institution, it was founded in 1957. MQMH represents the apostolic concern and social responsibility of Carmelites of Mary Immaculate (CMI), the first indigenous congregation in the Catholic Church of India. As the premier project of Mary Queens Mission Hospital Trust, a registered charitable organization, the hospital is owned and operated by CMI St. Joseph's Province, Kottayam. Through the health care services that Jesus provided to the sick and in need, they provide hands-on help to the sick and in need. As such, we strongly believe that the right to quality care is not a privilege but a prerogative of all of them.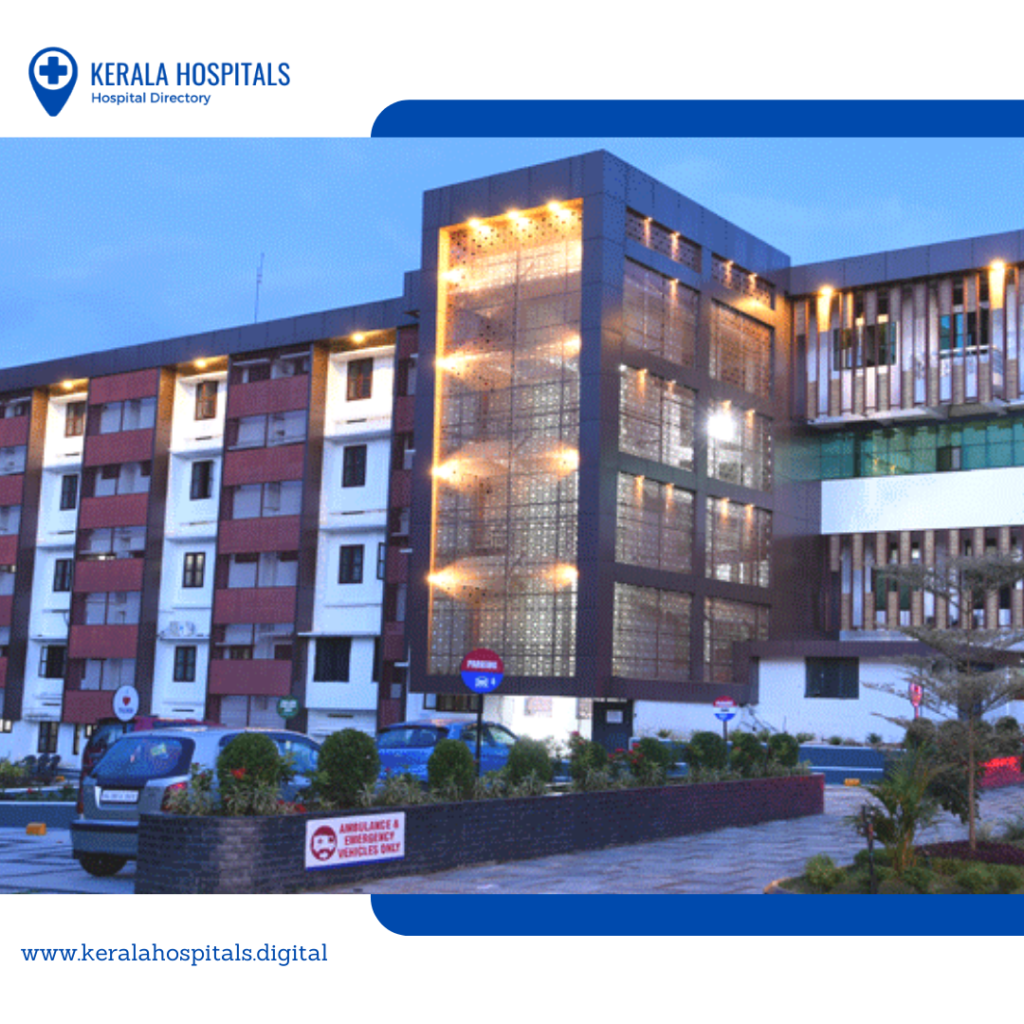 They envision creating transparent patient-centric care that prioritizes the safety and dignity of every patient. Medical, administrative, and support staff work tirelessly to provide world-class medical care for all patients. Various heart conditions, including cardiac rehabilitation, are treated at Mary Queens mission hospital. MQMH has the best and latest technology, skillful cardiologists, compassionate staff, and well-equipped wards to treat a wide range of heart conditions, including,
• Coronary Angiography, Angioplasty, and Stenting
• Permanent Pacemaker (Single and Double Chamber)
•Computerized TMT and Echocardiography
Address: Kanjirapally – Erumely Road, Palampra Rd, Kottayam, Kerala 686518
Phone: 04828 201 300                    
In Kerala, Matha Hospital has become synonymous with quality healthcare. As a hospital that opened in 2000, it has become a place of quality healthcare services in all areas. The concern for high-quality standards and patient satisfaction has played a crucial role in the institution's dramatic success. The hospital houses all the major medical departments under one roof.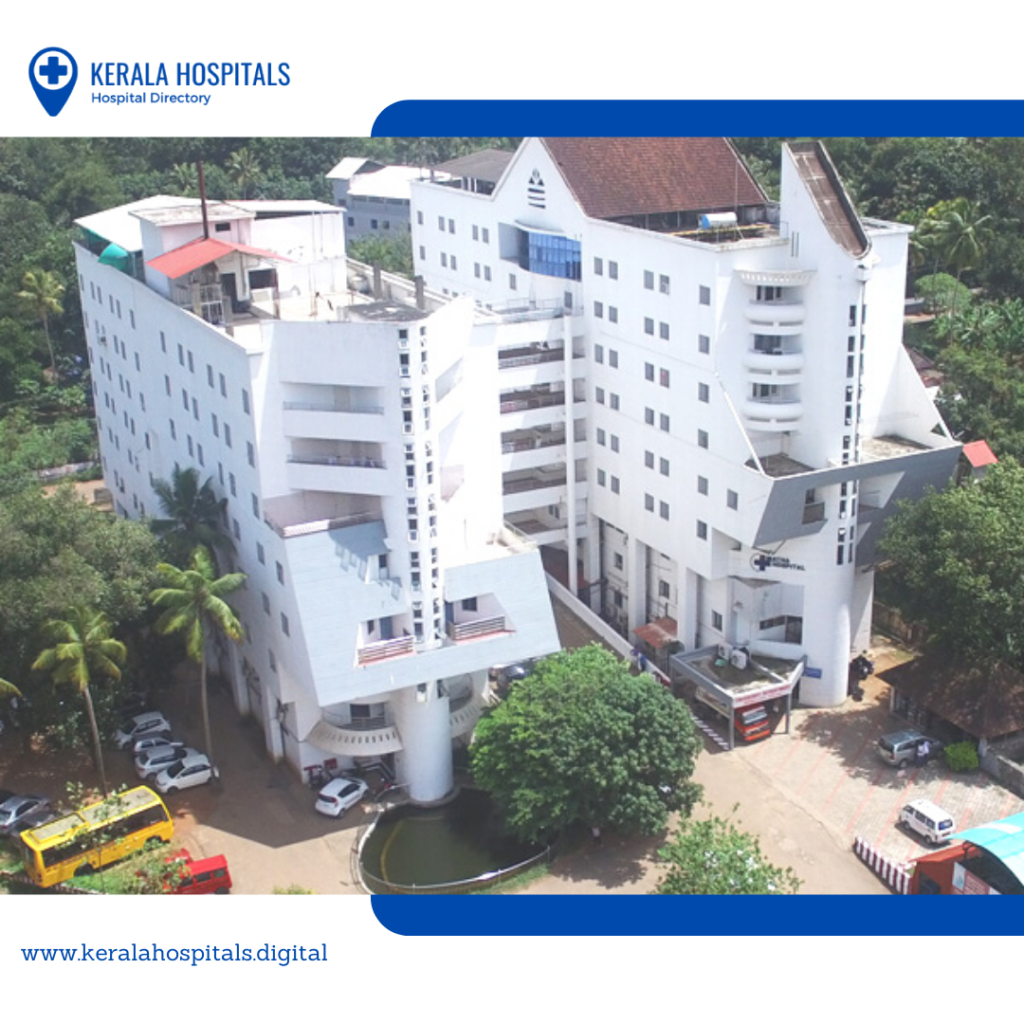 Today's world is filled with diseases induced by modern lifestyles and work, and heart disease is at the top of the list. The cardiology department at Matha hospital offers the best treatment options to overcome the situation and lead a better life. Cardiology services include cardiac evaluations, echocardiography, treadmill testing, and 24-hour Holter monitoring. In addition to handling all of the most complex cardiac conditions, the team of doctors has exceptional expertise.
Address: MC Road, Thellakom (P.O), Kottayam, Kerala 686630
Phone: 0481 279 2500