SP Fort Hospital
KIMSHEALTH Hospital
PRS Hospital
Ananthapuri Hospitals & Research Institute
SK Hospital
Cosmopolitan Hospital
GG Hospital
Lords Hospital
Jubilee Memorial Hospital
NIMS Medicity Hospital
In south Kerala, S.P. Fort Hospital is a 250-bed, first ISO-certified multi-disciplinary super-specialty hospital. It was established by Sri.S.Pottivelu. The hospital is situated in the center of the city near the Sree Padmanabha Swami Temple, in the heart of Thiruvananthapuram.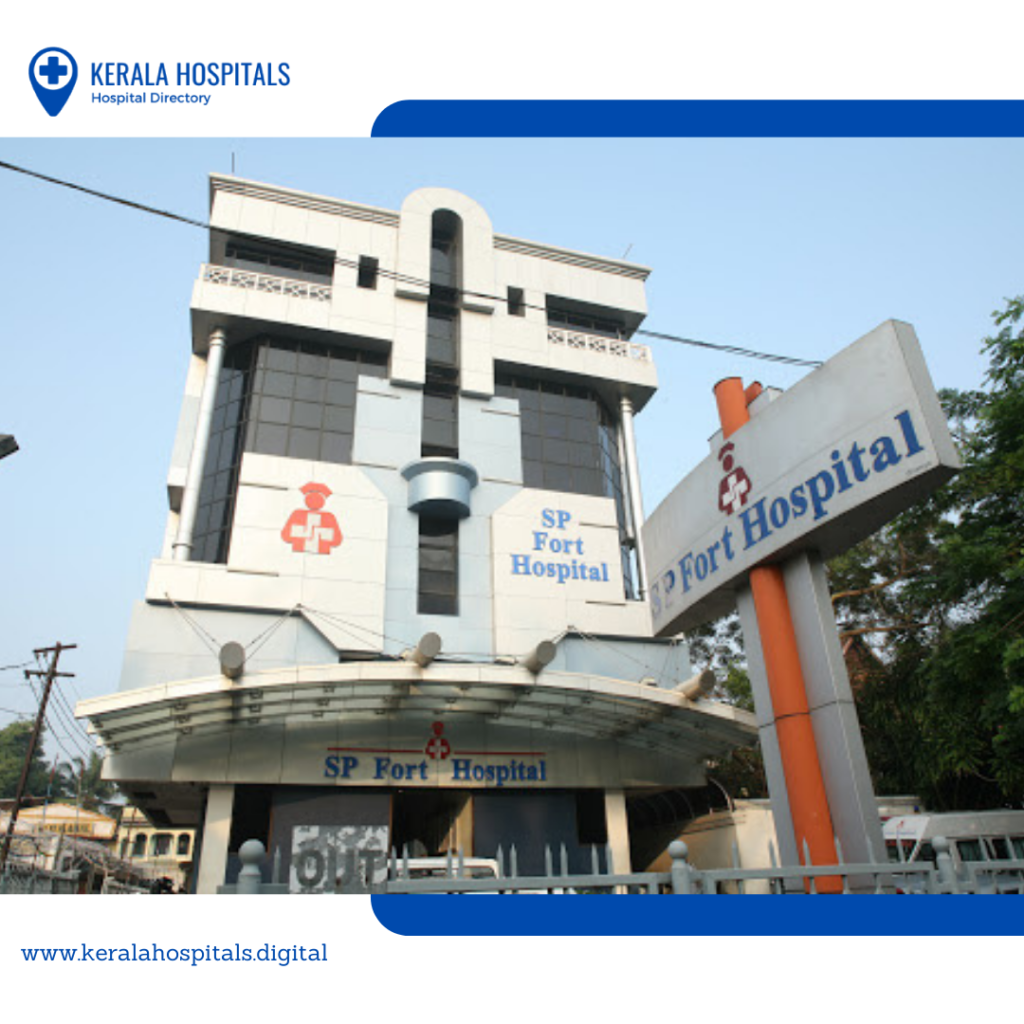 This hospital offers the latest facilities in medical technology, based on its philosophy of care, cure, and compassion. As a provider of advanced diagnostic and treatment facilities with a focus on teaching and research, S.P. Fort Hospital aims to provide medical care in a compassionate manner with as much efficiency and effectiveness as possible.
Address: Anakottil St, West Fort, Pazhavangadi
Thiruvananthapuram, Kerala 695023
Phone number: 0471 245 0540
KIMSHEALTH offers end-to-end healthcare, right from primary to quaternary care in India and the Middle East. With KIMSHEALTH, the country's healthcare delivery system has undergone a quality revolution, making quality healthcare more affordable and accessible to all. KIMSHEALTH remains dedicated to providing quality healthcare and is accredited by the National Accreditation Board for Hospitals (NABH) and the Australian Council on Healthcare Standards International (ACHSI), thus becoming the first Indian hospital to have both national and international accreditation and one of the top hospitals in Trivandrum. Additionally, the Blood Center is accredited by NABH, and the laboratory is accredited by NABL (National Accreditation Board for Testing and Calibration of Laboratories).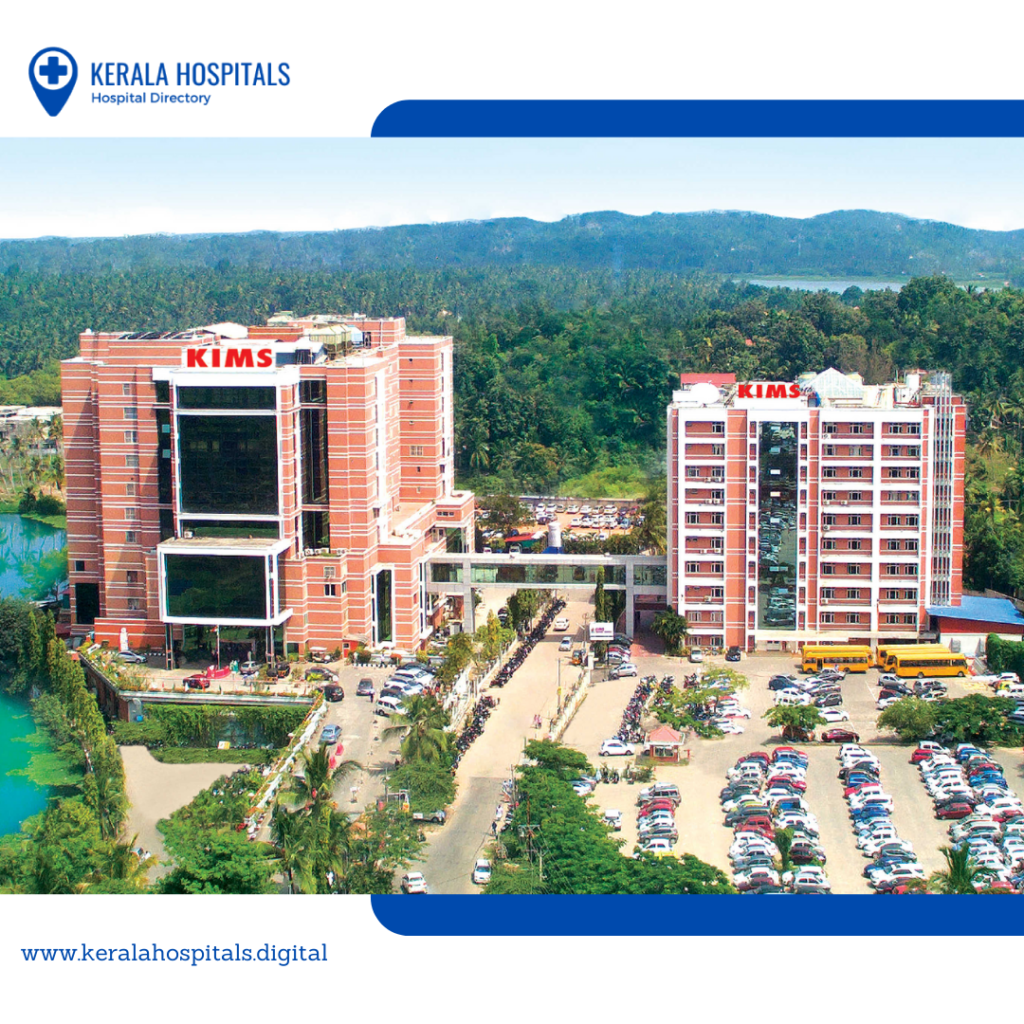 With high-end facilities and quality-oriented practices, KIMSHEALTH is among India's top 10 hospitals, offering healthcare delivery systems based on evidence-based medicine. A flagship quaternary-care hospital at Trivandrum was founded by the Group in 2002. Today, KIMSHEALTH is a leading healthcare network with hospitals in major cities like Trivandrum, Kollam, Kottayam, and Perinthalmanna; in addition to hospitals in Bahrain, Oman, Saudi Arabia, Qatar, and UAE. A new addition to KIMSHEALTH, KIMSHEALTH East has the most modern operating theatres, ICUs of the highest standards, and a Kidney, Liver, Pancreas, Heart, and Lung Transplant Program. Furthermore, it will serve as a center of excellence for wellness, high-risk obstetrics, and neonatology.
Address: 1, Vinod Nagar Rd, Anayara
Thiruvananthapuram, Kerala 695029
Phone number: 0471 294 1400
As an engineer and a builder by profession, the late P. Ratnaswamy established the PRS Hospital on the 7th of September, 1986. As part of its continued efforts to provide quality healthcare, the PRS group continues to improve, expand, and grow this institution.
Every reputable organization started very small. PRS Hospital is no exception. When it began in 1986, it had 10 doctors, 40 staff members, and 75 beds. Today it has over 750 employees, 100 consultants, and thirty junior doctors. The hospital has grown from a small mother and child clinic to a tertiary care hospital with more than 30 clinical departments and 300 beds.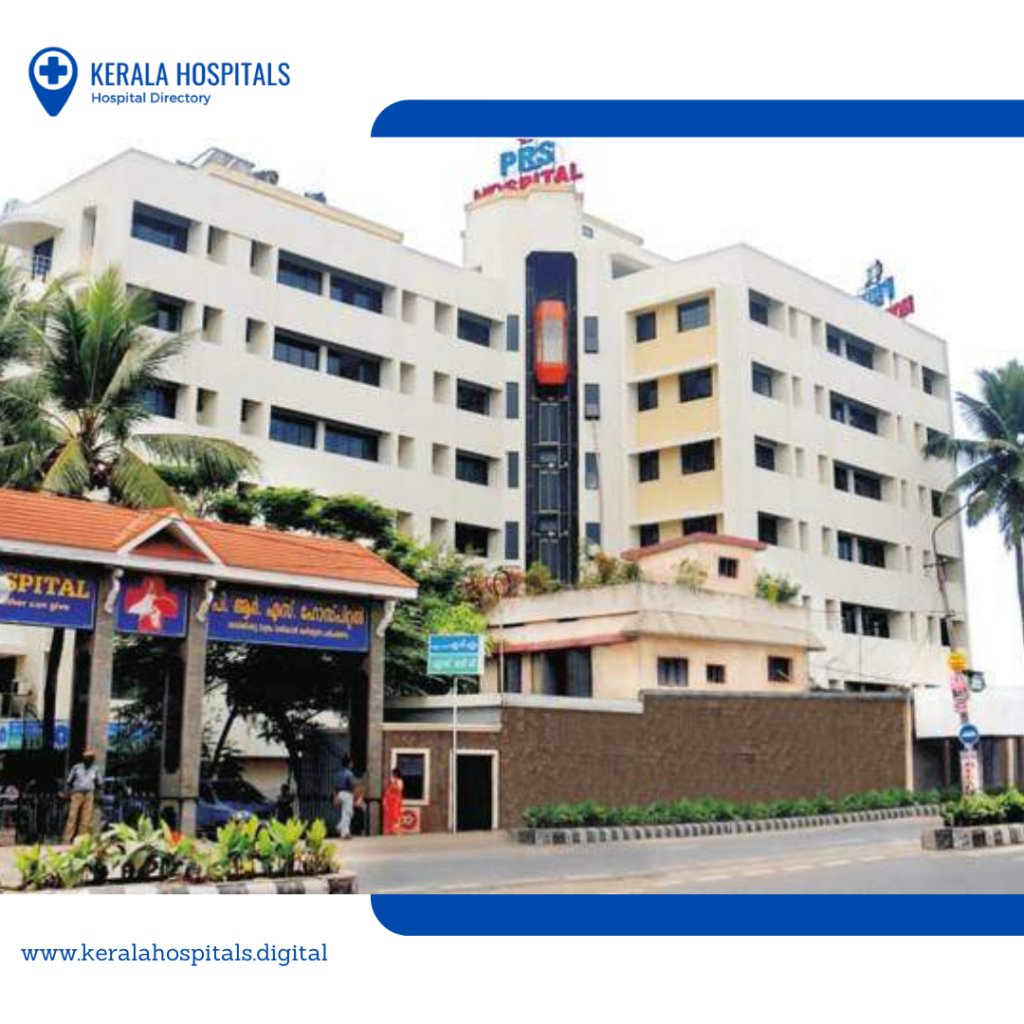 An ISO 9001:2000 accreditation was awarded to PRS Hospital in 2002. In 2011, the hospital upgraded to ISO 9001:2008 standards, and in 2016, ISO 9001:2015 standards were implemented. Additionally, PRS Hospital has been accredited by NABH (National Accreditation Board for Hospitals & Healthcare Providers) since 2013.
Address: NH 47, Killipalam
Thiruvananthapuram, Kerala 695002
Phone number: 0471 234 4443
The Ananthapuri Hospitals and Research Institute (AHRI) which is about 3 km from the Thiruvananthapuram Railway Station and 2 km from the Thiruvananthapuram Airport, is a tertiary care hospital that offers 400 beds. On July 1, 2005, the first phase of the hospital with all major departments became operational.
The hospital block was officially inaugurated by our Honorable Chief Minister Sri Oommen Chandy on 14th September 2005 accompanied by Dr. M. K. Munneer, Minister for PWD (Public Works Department), Sri M. V. Raghavan, Minister for Ports, and other distinguished guests.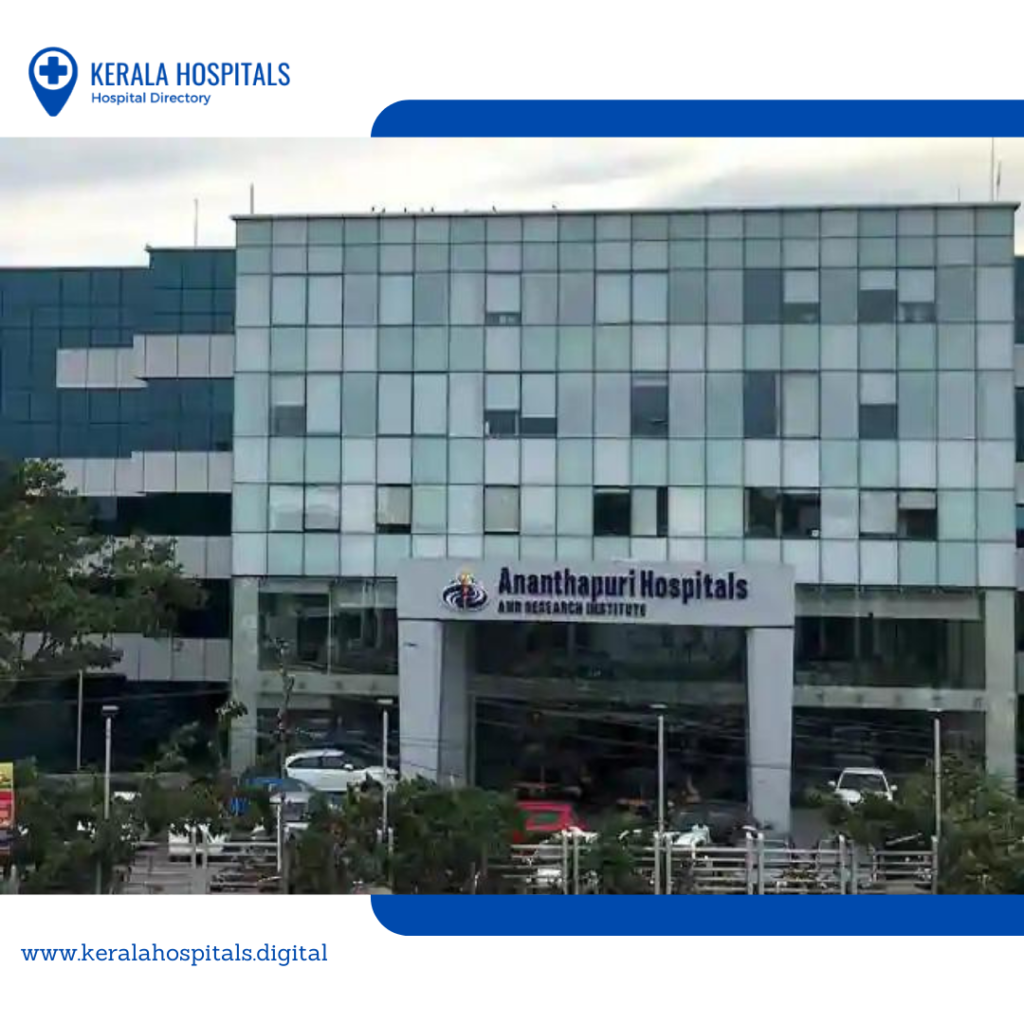 A good number of the most eminent doctors in India practice at Ananthapuri Hospitals & Research Institute – highly skilled, experienced, and distinguished in their fields of expertise. You can trust them with your healthcare needs. In addition to them, a team of highly dedicated employees oversees the functions of the hospital's various departments. This fulfills the hospital's mission of providing service with sincerity and solicitude.
Address: NH bypass 66, Airport Rd, near Courtyard Garden, Chackai
Thiruvananthapuram, Kerala 695024
Phone number: 0471 660 9900
In 2003, SK Hospital was established and inaugurated by the former Chief Minister of Kerala, Shri A K Antony, who later went on to become the Defence Minister of India.
SK Hospital, once a modest 30-bed in-patient facility along with a few departments has now become a NABH Safe-I certified tertiary care multi-specialty healthcare institution with 300 beds.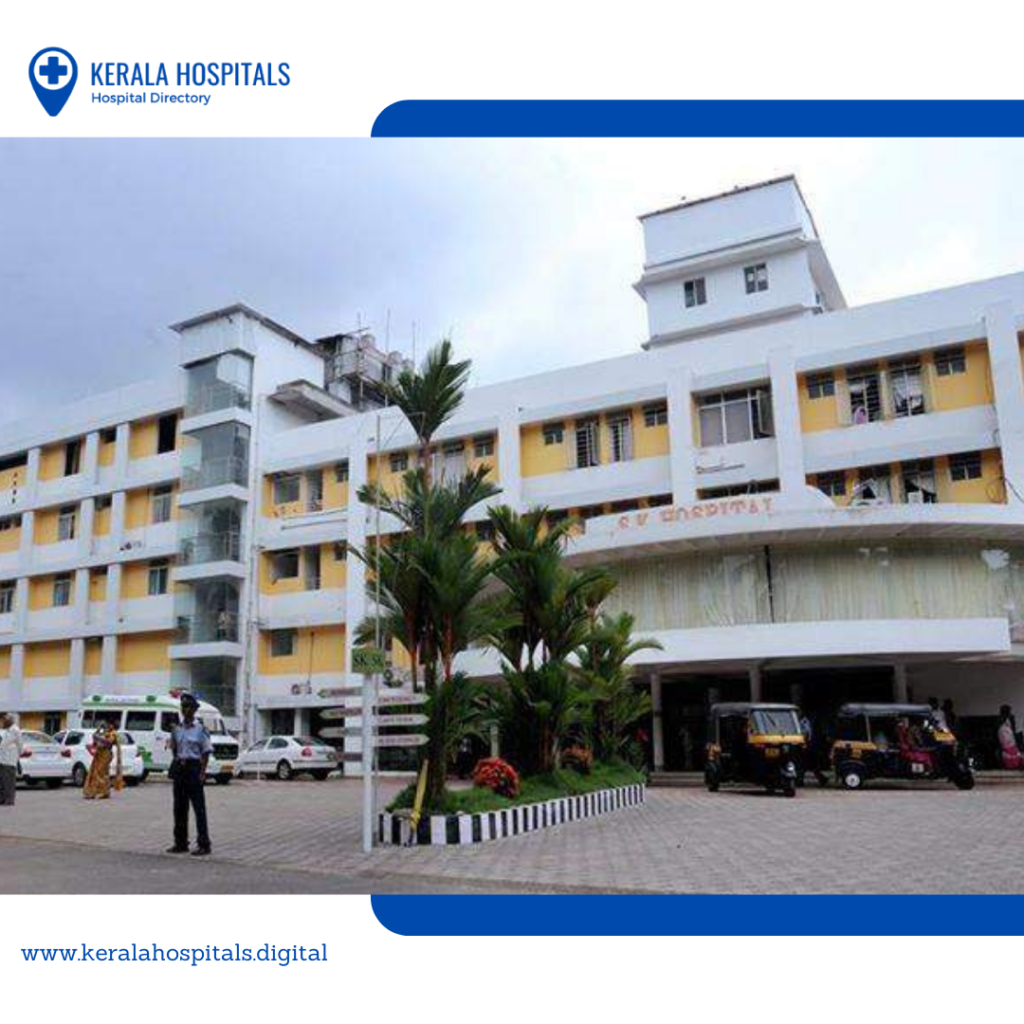 The SK Hospital in Trivandrum has launched an exclusive Ayurveda center in collaboration with Nagarjuna Ayurveda (a leading Ayurveda hospital group). Ayurvedic treatments here are offered both for healing and wellness. Dr. MRV Namboothiri leads the center's team of eminent Ayurvedic doctors that are dedicated to providing the best Ayurvedic treatment in Trivandrum.
Address: Thiruvananthapuram – Neyyar Dam Rd, Edapazhanji
Thiruvananthapuram, Kerala 695006
Phone number: 0471 235 6260
The Cosmopolitan Hospital was the result of the visionary leadership of the late Dr. M.R. S. Menon, with the dedicated support of the late Dr. M. R. P. Menon, the late Mr. T. Jacob, and the late Mr. M. M. Mathew who ensured the success of this venture.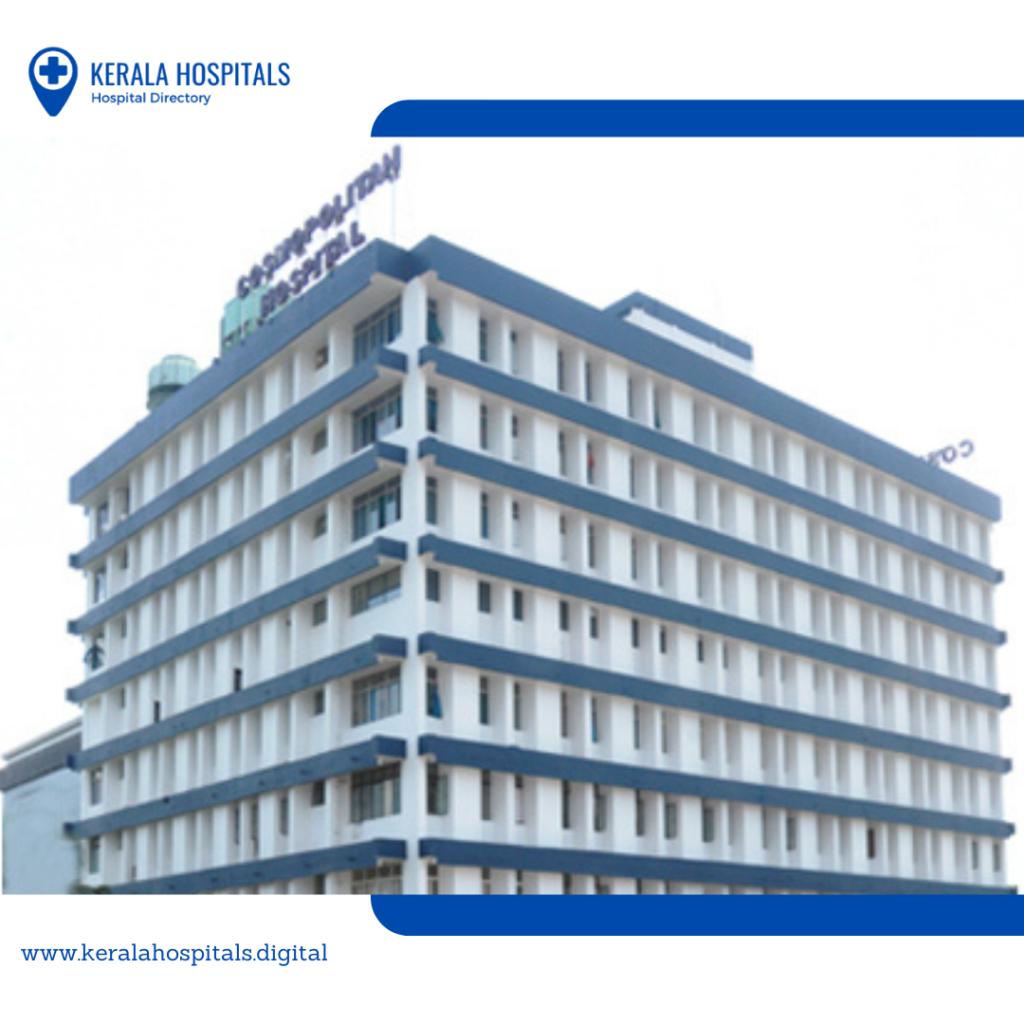 Founded in 1982, the hospital serves more than 300,000 patients annually and provides high-quality medical care with a team of over 100 doctors, as well as professional medical and paramedical staff.
Address: Pottakuzhy Rd, Pattom
Thiruvananthapuram, Kerala 695004
Phone number: 0471 252 1252
The GG Hospital is a flagship hospital of the Sri Gokulam Group of Companies. In Trivandrum, it began on 27th January of 2016. Over the last five years, the GG Hospital has made a significant contribution to the common man's life. Bringing together carefully chosen technology acquisitions and a team of dedicated employees who consistently deliver excellent service has led to this success. It is their commitment to professional ethics and medically indicated diagnostic practices which make them successful.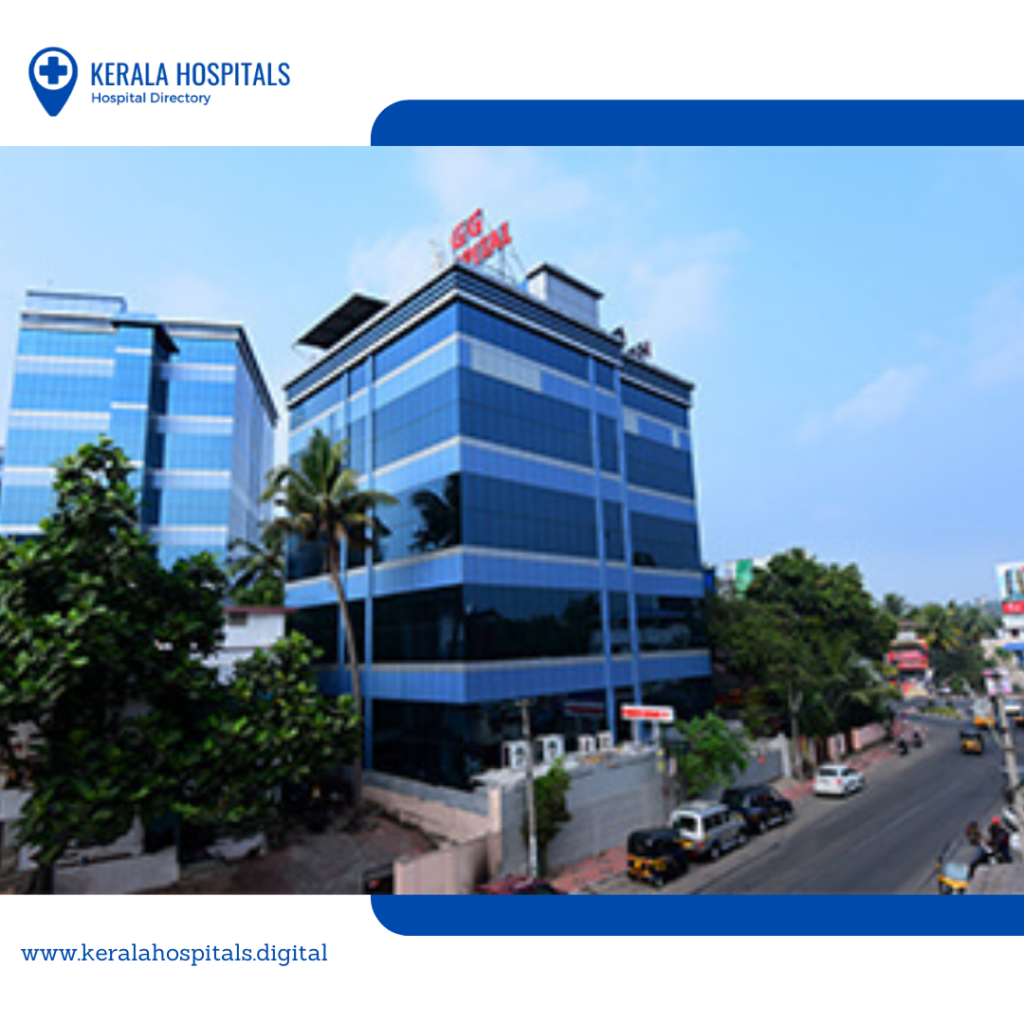 A multi-super specialty hospital in Kerala, GG Hospital is one of the fastest-growing hospital chains in the state. Patients will experience an exceptional level of care at GG Hospital due to its patient-friendly facilities. The facilities are designed and equipped to meet the needs of both national and international patients. Each patient room is designed with all the comforts of home. The serene environment provides patients and family members with privacy and space, providing a new experience in health care.
Address: Medical College, Pattom Kumarapuram Rd, Murinjapalam
Thiruvananthapuram, Kerala 695011
Phone number: 0471 277 9100
The Lords Hospital is a super specialty medical center offering advanced keyhole surgery services. Designed to accommodate minimally invasive procedures and short stays, the facility provides high-quality health care in an environment that is caring and highly focused.
In addition to being very close to the National Highway bypass in Thiruvananthapuram, the hospital is also easily accessible from both the Pettah railway station as well as the Thiruvananthapuram International Airport; an advantage unique to Lords Hospital.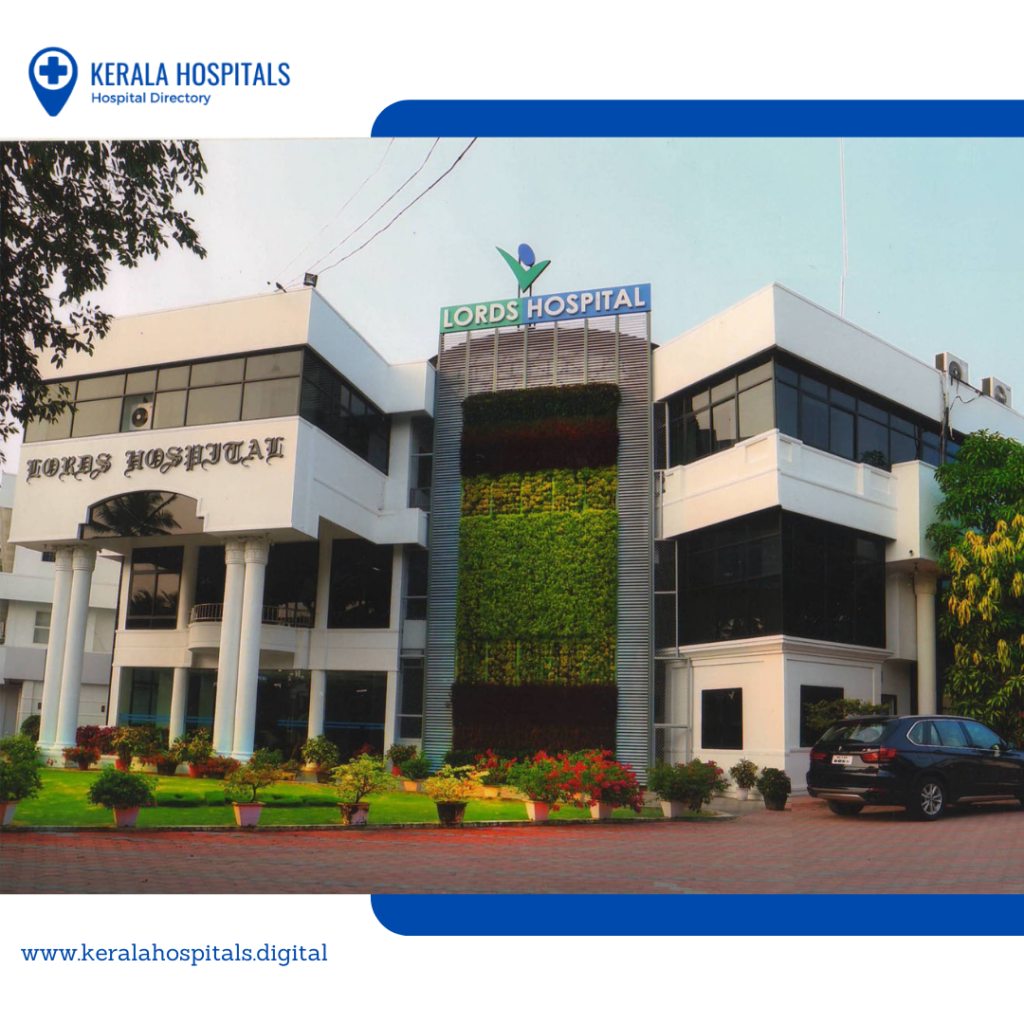 The Lords Hospital is committed to providing high-quality, affordable healthcare service to patients. The hospital has all the advanced equipment needed for accurate diagnosis. For treatment purposes, the hospital uses the best technologies and equipment available.
The medical staff at Lords is among the best in the field, enthusiastic, qualified, and experienced in their field. Prof. Dr. K. P. Haridas heads the Laparoscopic (Key-hole) Surgery Unit, where he performs the most complicated laparoscopic, liver, and pancreatic surgeries.
The hospitality of the staff has helped to make the hospital a major referral center for advanced treatment in Kerala.
Address: Lords Jn, Maharaja's Lane
Chackai Bypass Road, Kerala 695029
Phone number: 0471 294 9000
The Jubilee Memorial Hospital, Palayam, Trivandrum is a multi-specialty hospital in Kerala's capital and a leading healthcare provider. Latin Arch Diocese of Trivandrum, on the occasion of its Golden Jubilee celebrations on July 27th, 1987, established Jubilee Memorial Hospital with the mission, "Promoting life through healthcare with love". Jubilee Memorial Hospital provides compassionate, quality health care that is cost-effective and Christ-centered.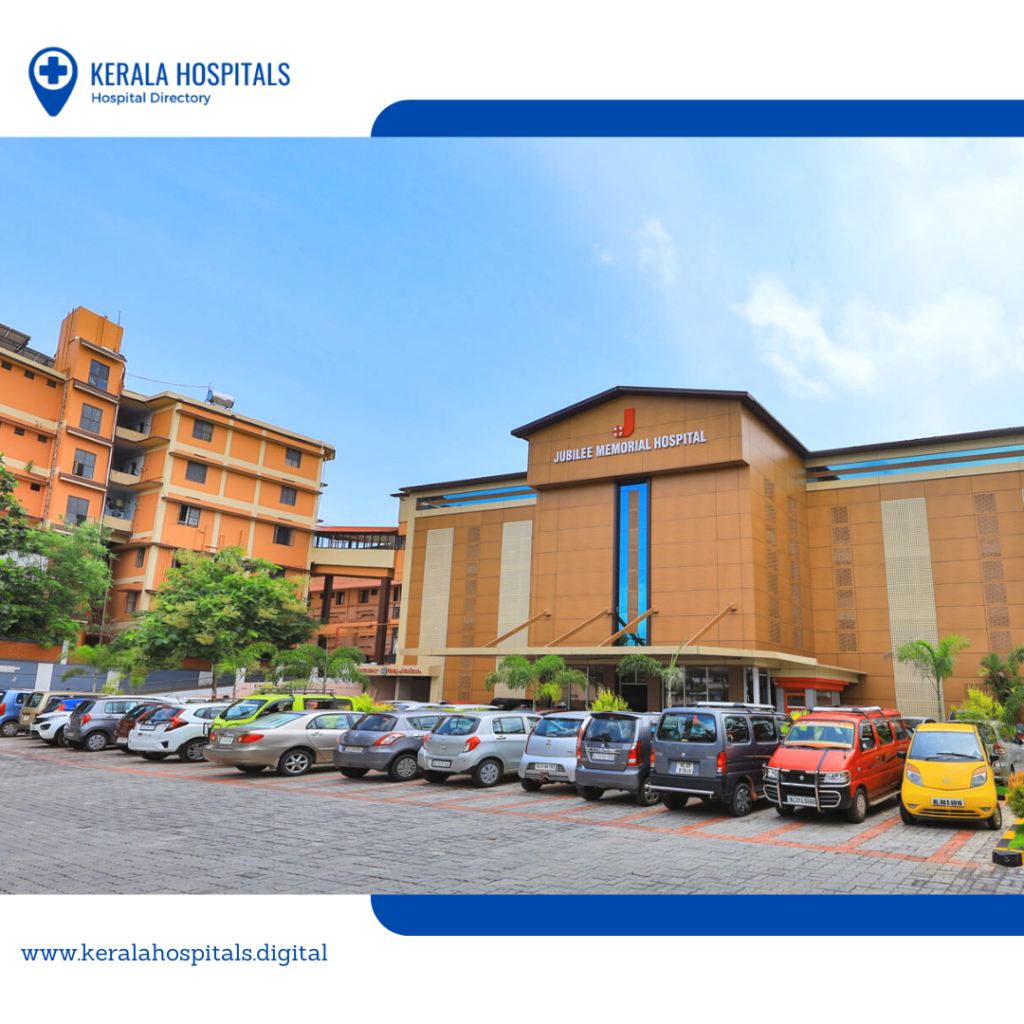 Almost all departments are functioning in Jubilee Memorial Hospital, which is developing steadily because of the well-equipped machines and instruments, as well as the dedicated and well-trained staff. Jubilee Memorial Hospital is the most affordable hospital since profit is not a driving force.
Address: Sunny Meads Ln, University of Kerala Senate House Campus, Palayam
Thiruvananthapuram, Kerala 695034
Phone number: 0471 233 4561
NIMS Medicity, Aralumoodu, Neyyattinkara, Thiruvananthapuram, Kerala, India, is a multi-specialty hospital ranked among the best in Kerala and Tamilnadu. The hospital has 40 departments, including 20 specialties and 20 super specialties. The NIMS Medicity campus is home to the Civil Service Academy, the College of Dental Sciences, the College of Nursing, and the College of Paramedical Sciences.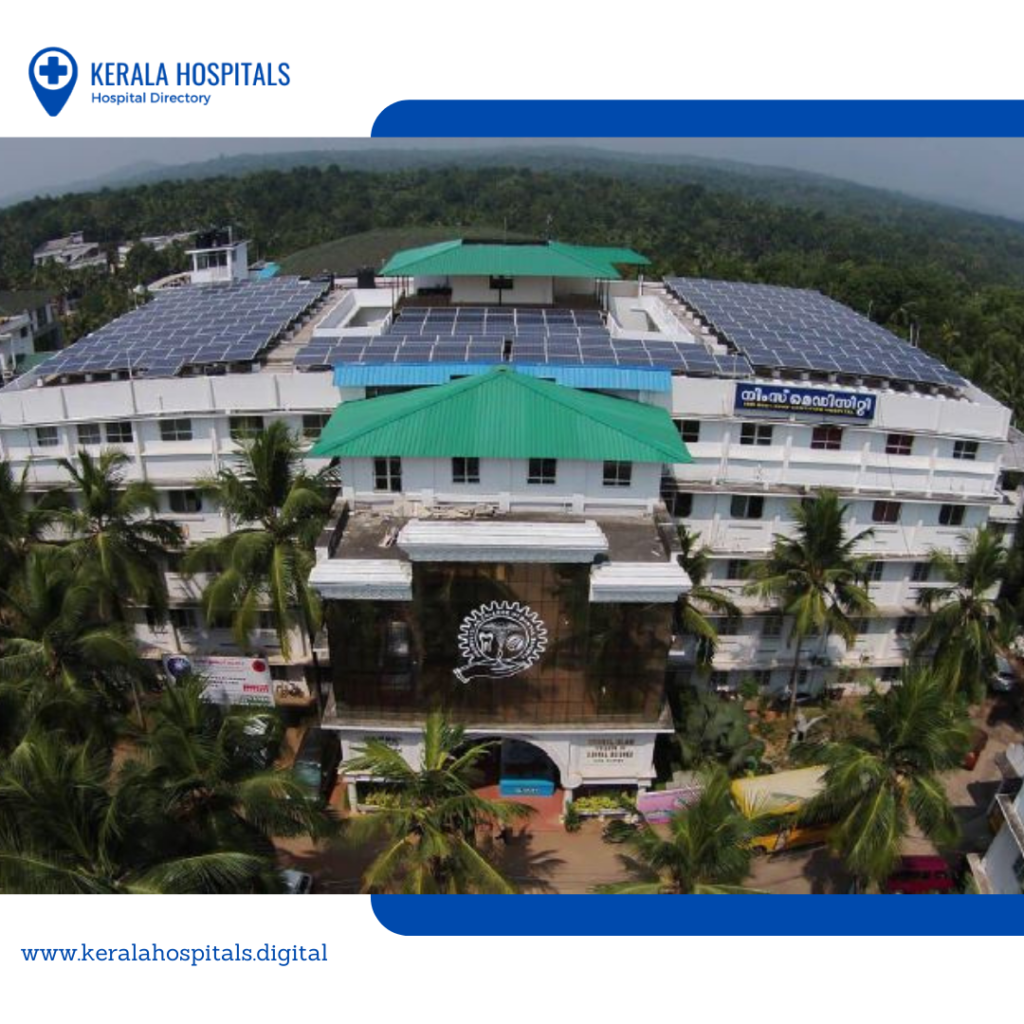 A constant goal of NIMS is to adopt a constructive approach to ever-changing advances in the field of medical care. In addition to the first leuko-reduction blood bank, NIMS was also the first healthcare institution in Kerala to install a fibro scan (liver scan machine). NIMS established Asia's first green energy cardiac catheterization lab.
Address: Aralumoodu, Neyyattinkara, Kerala 695123
Phone number: 0471 222 2115