KIMSHEALTH Hospital
PRS Hospital
Ananthapuri Hospital
Cosmopolitan Hospital
GG Hospital
Lords Hospital
Meditrina Hospital
NIMS Medicity Hospital
Jubilee Memorial Hospital
KTCT Hospital
KIMSHEALTH is a quaternary care hospital network in India and the Middle East offering primary, quaternary, and tertiary healthcare services. KIMSHEALTH is leading the quality revolution in the country by providing quality healthcare to everyone at an affordable price. KIMHEALTH is the first hospital in India to have both national and international accreditation from the National Accreditation Board for Hospitals (NABH) and the Australian Council on Healthcare Standards International (ACHSI). In addition, the Blood Center and the laboratory are accredited by NABL (National Accreditation Board for Testing and Calibration of Laboratories).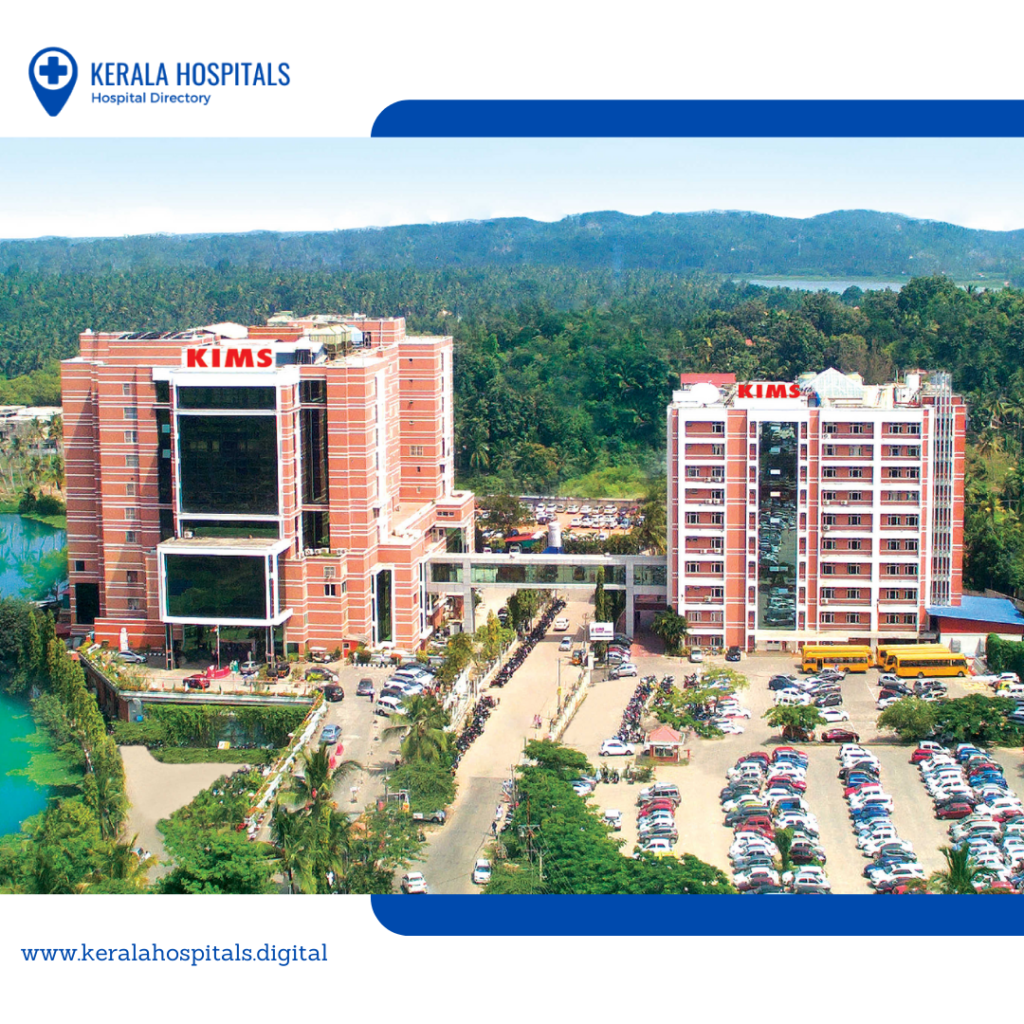 KIMSHEALTH is a leading cardiology hospital in Trivandrum and has one of the most experienced teams of cardiac surgeons and cardiologists in India. Among other heart conditions, they diagnose and treat congenital heart defects, coronary artery disease, heart failure, valvular heart disease, and electrophysiological abnormalities. They have a proud history of performing extensive heart valve repairs and replacements minimally invasively on their patients. Known for its high success rates and innovation, the department is at the forefront of heart surgery in Kerala.
Address: 1, Vinod Nagar Rd, Anayara, Thiruvananthapuram
Kerala 695029
Phone: 0471 294 1400
Engineer P Ratnaswamy established PRS Hospital on 7th September 1986. PRS Group works continuously to improve, expand, and grow the institution to provide quality healthcare. Like all significant organizations, PRS Hospital began as a very humble organization. The hospital opened in 1986 with 75 beds and 10 doctors. The hospital currently employs more than 750 people, including more than 100 consultants, 30 junior doctors, and 30 nurses. It has grown from a small mother and child hospital to a tertiary care hospital with over 30 clinical departments and 300 beds.
PRS Hospital received QA:2000 certification in 2002. The hospital upgraded to ISO 9001:2008 standards and again in 2016 to ISO 9001:2015 standards. Since 2013, PRS Hospital has also been accredited by NABH (National Accreditation Board for Hospitals and Healthcare Providers).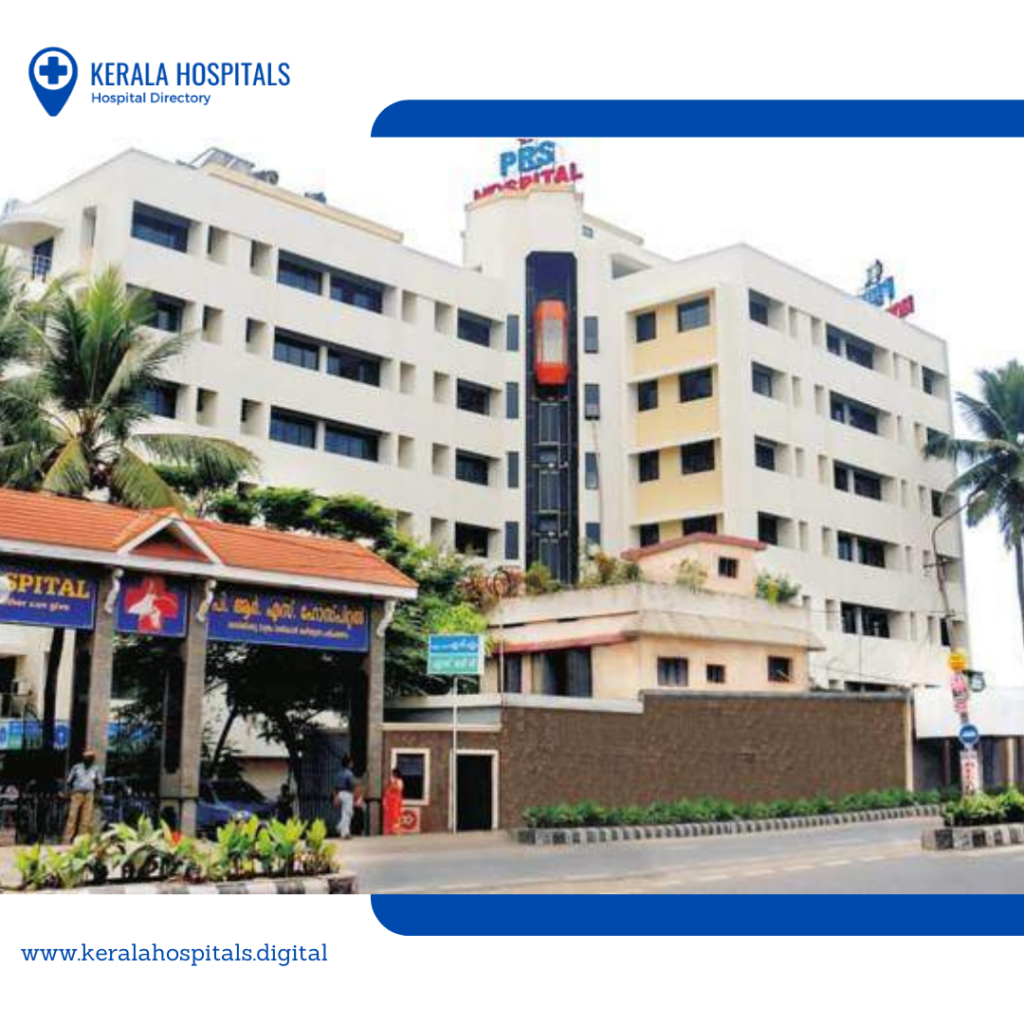 There are four full-time cardiology consultants as well as six resident medical officers in the adult cardiology unit. In an average year, the unit treats 35,000 outpatients and 10,000 inpatients. Acutely ill cardiac patients are treated at the Intensive Coronary Care unit. There is an intensive care unit with 8 beds and a high dependency cardiac care unit (step down unit) with 7 beds.
It is equipped with state-of-the-art facilities, including Holter monitors, Ambulatory BP, Vascular profiles, 2D/3D echos, Color Doppler, and transesophageal echos.
Address: NH 47, Killipalam, Thiruvananthapuram
Kerala 695002
Phone: 0471 234 4443
Ananthapuri Hospitals and Research Institute (AHRI) at Kazhakuttam – Kovalam By-Pass road, about 3 km from Thiruvananthapuram Railway Station / Thampanoor Bus Stand and 2 km from Thiruvananthapuram Airport, is a 400-bedded tertiary care hospital. Since 1st July 2005, all major departments at the hospital have been operational.
On 14th September 2005, our Honorable Chief Minister Sri Oommen Chandy inaugurated this hospital block in the presence of Dr. M K Munneer, Minister for PWD (Public Works Department). Minister for Ports M V Raghavan and other distinguished guests. The doctors at Ananthapuri Hospitals & Research Institute are among the best in the country – highly qualified, skilled, and distinguished in their fields of expertise. Your health is in good hands with them. A team of highly dedicated individuals manages the various departments at the hospital, ensuring that the hospital's mission of providing service with sincerity and solicitude is fulfilled.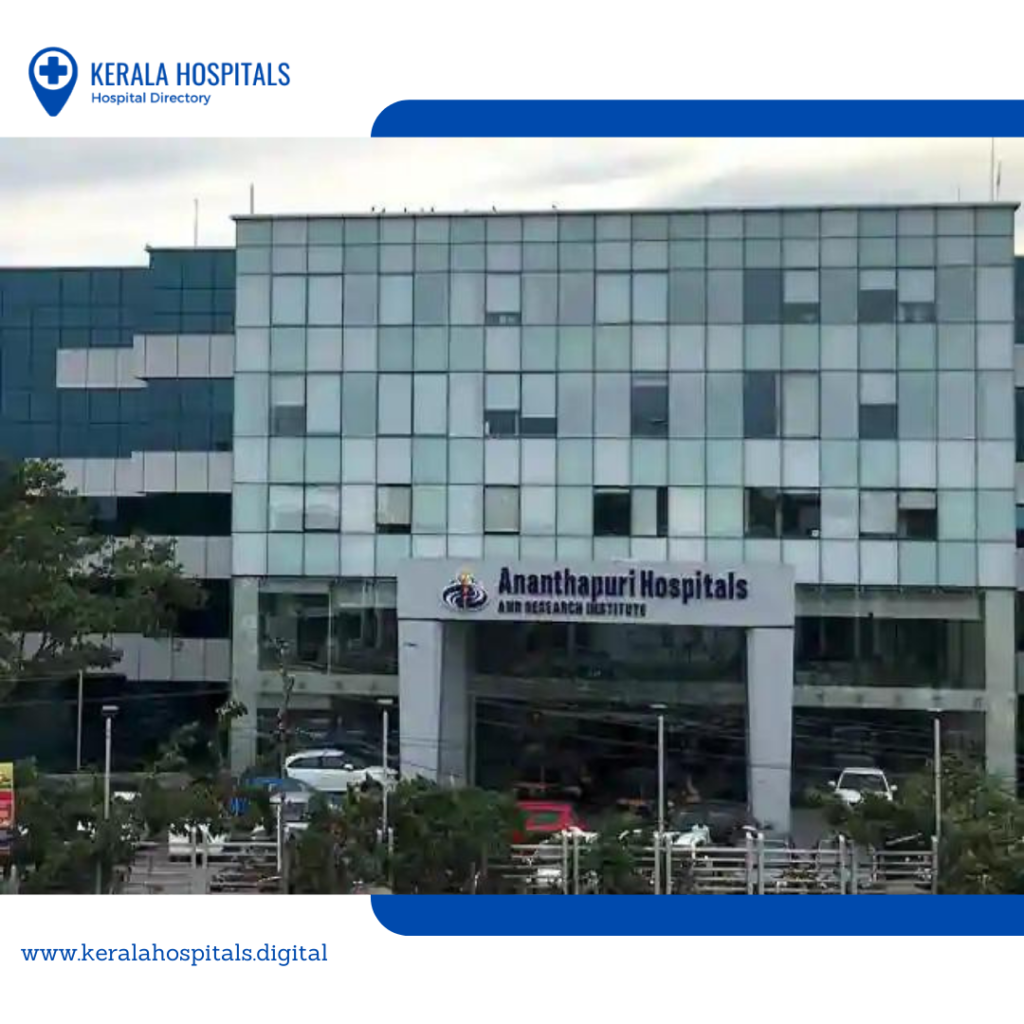 The Cardiovascular Centre (CVC) has been in operation since the hospital opened in July 2005. With the acquisition of advanced equipment and newer skills, the department can provide state-of-the-art care to cardiac patients. It has been well accepted and commended by the public, and they are re-dedicated to serving humanity.
Address: NH bypass 66, Airport Rd, near Courtyard Garden, Chackai
Thiruvananthapuram, Kerala 695024
Phone: 0471 660 9900
Cosmopolitan Hospital, established in 1982, is a 360-bed multispecialty hospital located in Trivandrum, the capital city of Kerala, India. In addition to the vision of the late Dr. M R S Menon, the late Dr. M R P Menon, the late Mr. T Jacob, and the late Mr. M M Mathew guided Cosmopolitan Hospital to success. Founded in 1982, it now serves over 300,000 patients every year with high-quality medical care provided by a team of more than 100 doctors and professionals.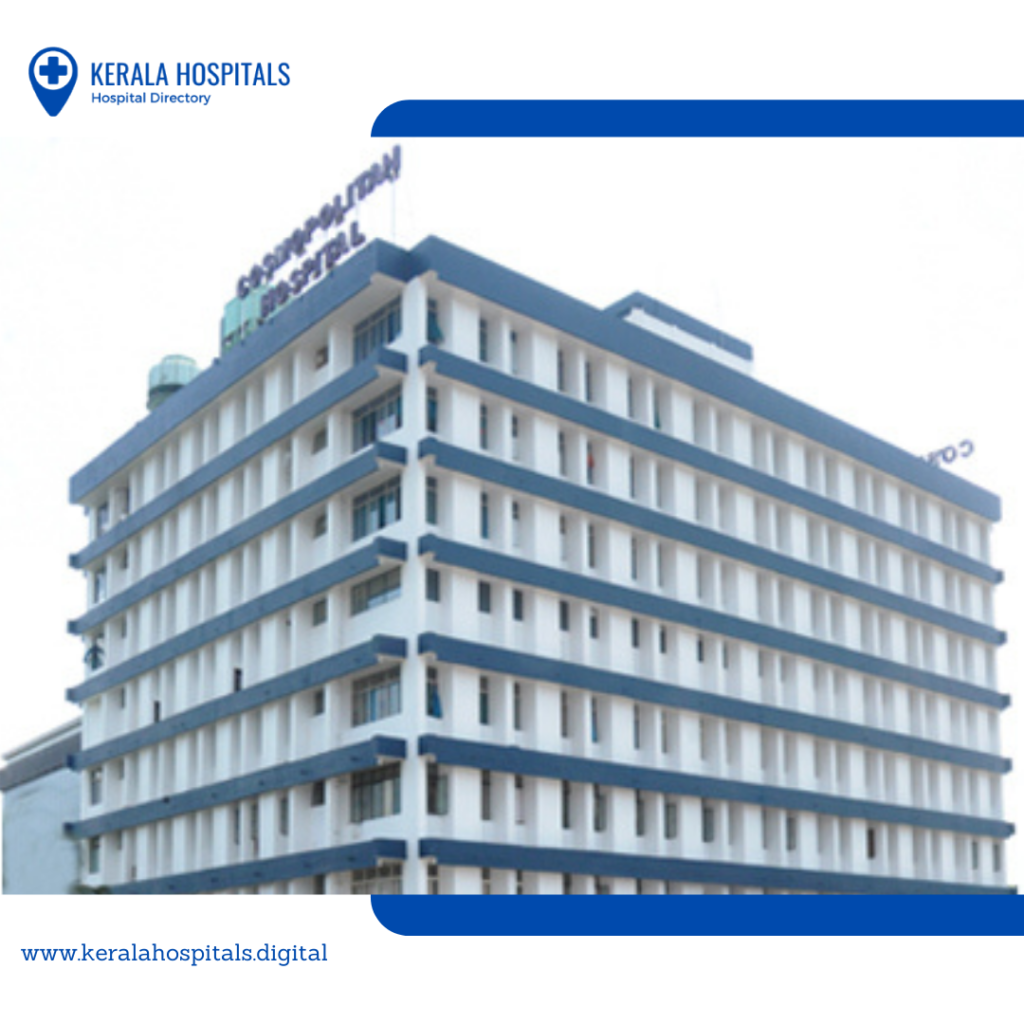 Five highly qualified and experienced cardiologists provide both interventional and non-interventional cardiology. A full-fledged cath lab with angiogram and angioplasty services is available 24 hours a day. It is equipped with the latest 3D Echo machines with color Dopplers, Trans-esophageal, and Pediatric probes for Echocardiograms of outpatients, in-patients, and intensive care patients. Contrast echo studies are also carried out as and when required.
To treat lung and congenital heart diseases, the department works well in coordination with Cardio-Thoracic Surgery and Pulmonary Medicine.
Address: Pottakuzhy Rd, Pattom, Thiruvananthapuram
Kerala 695004
Phone: 0471 252 1252
Sri Gokulam Group of Companies' flagship hospital is GG Hospital. The journey started on 27th January 2016 among the common people in Trivandrum. Over the last 5 years, the GG Hospital has made remarkable progress in the lives of the common men. It has been achieved through a combination of carefully chosen technology acquisitions as well as the hard work and consistent performance of their staff. The success of the medical field is primarily determined by the use of medically indicated diagnostic methods that adhere to the ethical principles of the profession.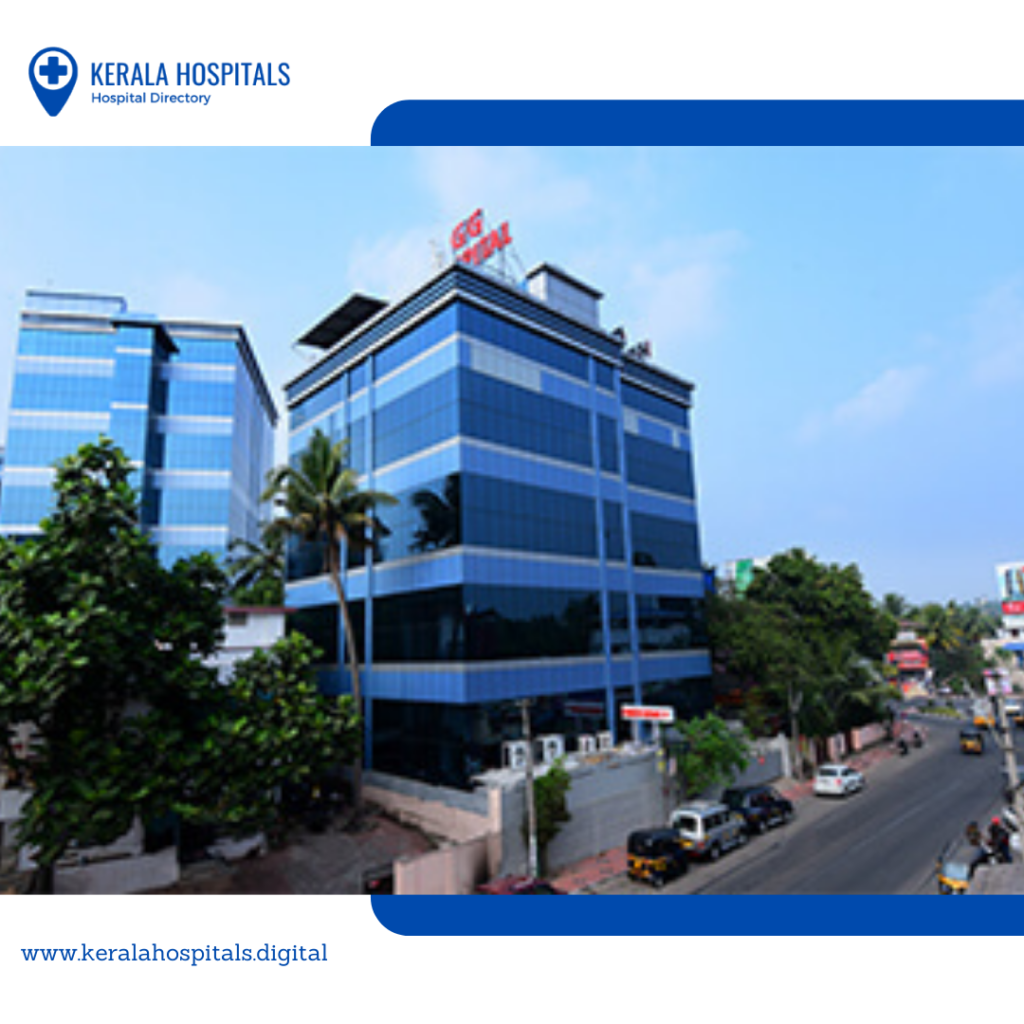 GG Hospital, one of the best cardiology hospitals in Trivandrum, focuses on providing the most accurate diagnosis and effective treatment of heart diseases. The Cardiology department at GG Hospital offers the best heart care service with new-age technology. Through a holistic team approach with customized patient care, the cardiac services include preventive cardiology, interventional cardiology, and cardiothoracic surgery. Expert cardiologists are available to diagnose and treat cardiovascular diseases.
Address: Medical College, Pattom Kumarapuram Rd, Murinjapalam
Thiruvananthapuram, Kerala 695011
Phone: 0471 277 9100
Lords Hospital is a super-specialty medical center that offers keyhole surgery. By providing cutting-edge minimally invasive and short-stay surgeries, the facility, found at the dawn of the new millennium, provides accessible, high-quality health care in a focused and caring environment.
As Lords Hospital is located very close to the National Highway bypass in Thiruvananthapuram is also easily accessible from the Pettah railway station and the Thiruvananthapuram International Airport; an advantage that is unique to the hospital.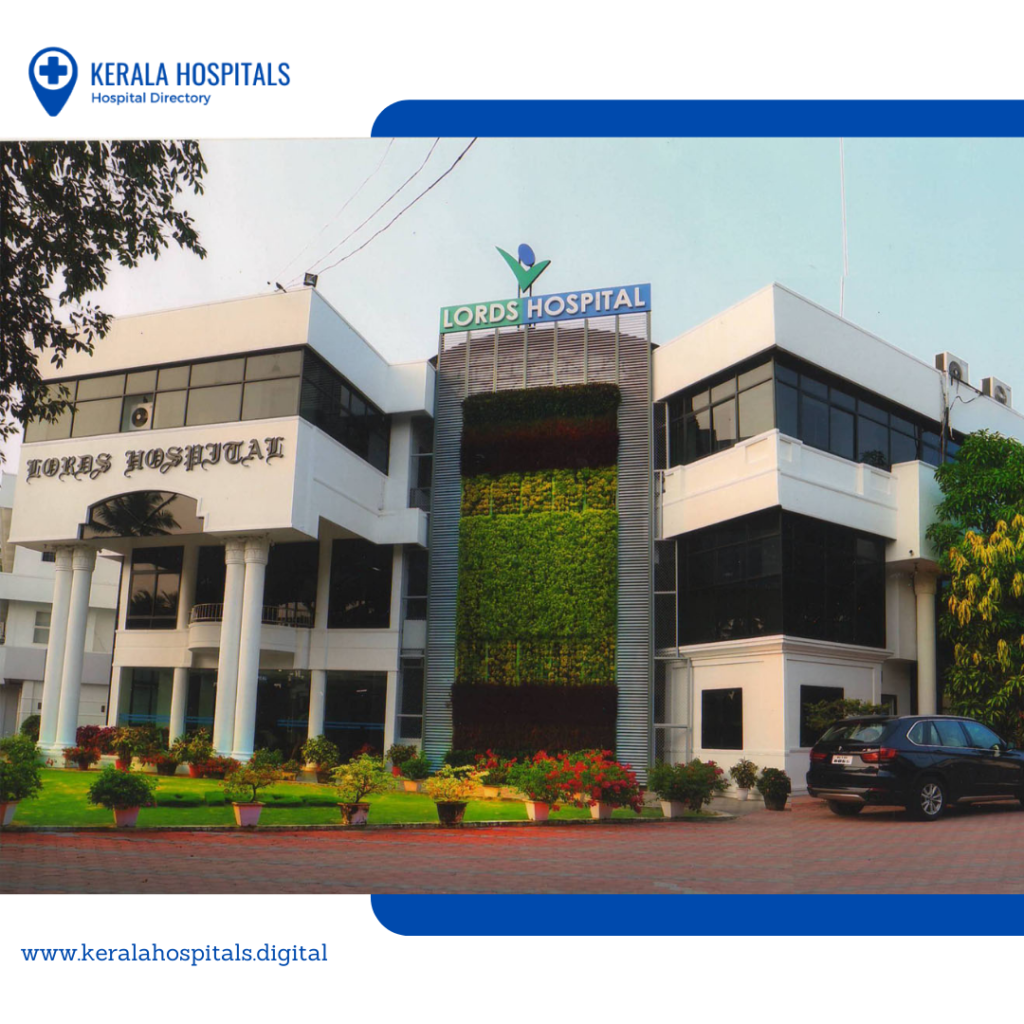 These are the services they offer
Outpatient Consultation
Inpatient consultation
Medicine for the treatment of acute and chronic heart disease, heart failure, valve diseases, hypertension, and dyslipidemia. It focuses specifically on prevention.
Color Doppler echocardiography
Exercise stress testing (TMT)
Address: Chackai, Anayara P.O, Trivandrum 695029
Phone: 0471 294 9000
Meditrina Hospital is a renowned super-specialty hospital in Kollam, India. The hospital is the first of its kind in the city. The Meditrina hospital is located in Ayathil, close to the NH bypass in Kollam – the healthcare hub of the city. On 13 December 2014, the hospital with 175 beds and air conditioning was inaugurated.
Cardiology at Meditrina Hospital is recognized as an international center of excellence, offering innovations in the diagnosis, investigation, and treatment of patients suffering from all forms of heart disease. Cardiologists in the hospital are highly qualified, highly experienced, and world-renowned. They are available 24×7 to treat cardiac emergencies. The Intensive Coronary Care Unit (ICCU) is staffed around the clock by critical care specialists and intensivists, as well as highly trained paramedical and nursing staff. Additionally, they have a cardiac rehabilitation program that focuses on postoperative care for cardiac patients.
Address: TC 2, 2367, 1st Street, Vrindavan Gardens, Pattom
Thiruvananthapuram, Kerala 695004
Phone: 0471 288 3000
NIMS Medicity (Noorul Islam Institute of Medical Science and Research Foundation) is a 350-bed tertiary care super-specialty hospital in Thiruvananthapuram. It is a charitable institute for medical research. 57 years after its founding, the Noorul Islam Educational Trust has taken its first step into healthcare.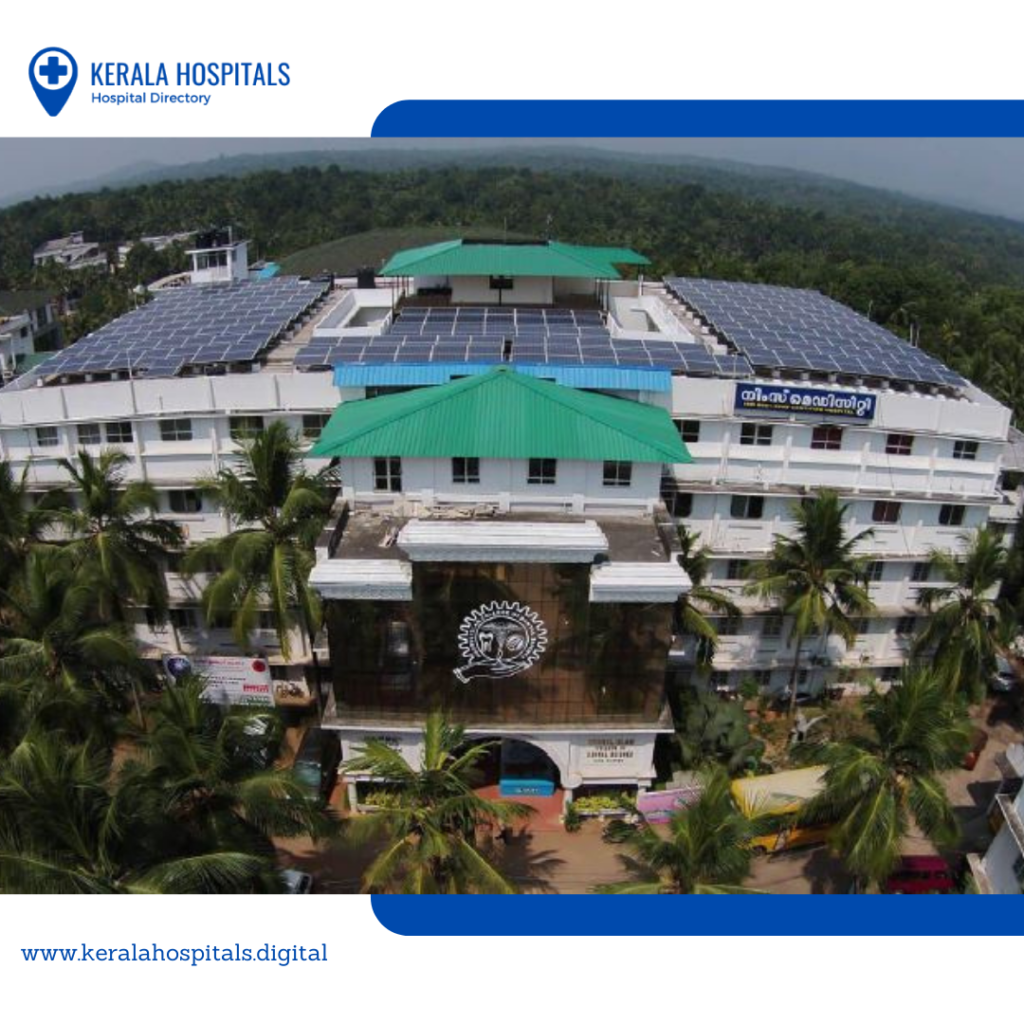 Nims Medicity was founded in 2005 and provides specialized medical treatment. Noorul Islam College of Dental Science and Noorul Islam College of Nursing is also housed on the Nims Medicity campus. Kumarakovil, Thuckalay, Kanyakumari District, Tamil Nadu, India is home to another educational institution under the Noorul Islam Educational Trust. The main specialties that NIMS provides are Cardiology and Cardiac Surgery, Nephrology, Kidney Transplantation, Haematology, Hepatology, Advanced Gastrointestinal Interventions, and Therapeutic ERCP and capsule endoscopy procedures. The Times of India presented Nims Medicity with its Achievers Awards 2011. The institution is directed by Dr. Faizal Khan.
Address: Aralumoodu, Neyyattinkara, Kerala 695123
Phone: 0471 222 2115
The Jubilee Memorial Hospital, Palayam, Trivandrum, is a multi-specialty hospital located in the heart of Trivandrum City, Kerala's capital. During the Golden Jubilee of the Diocese with the mission of "Promotion of life through healthcare with love," the Latin Arch Diocese of Trivandrum on July 27th, 1987, established Jubilee Memorial Hospital.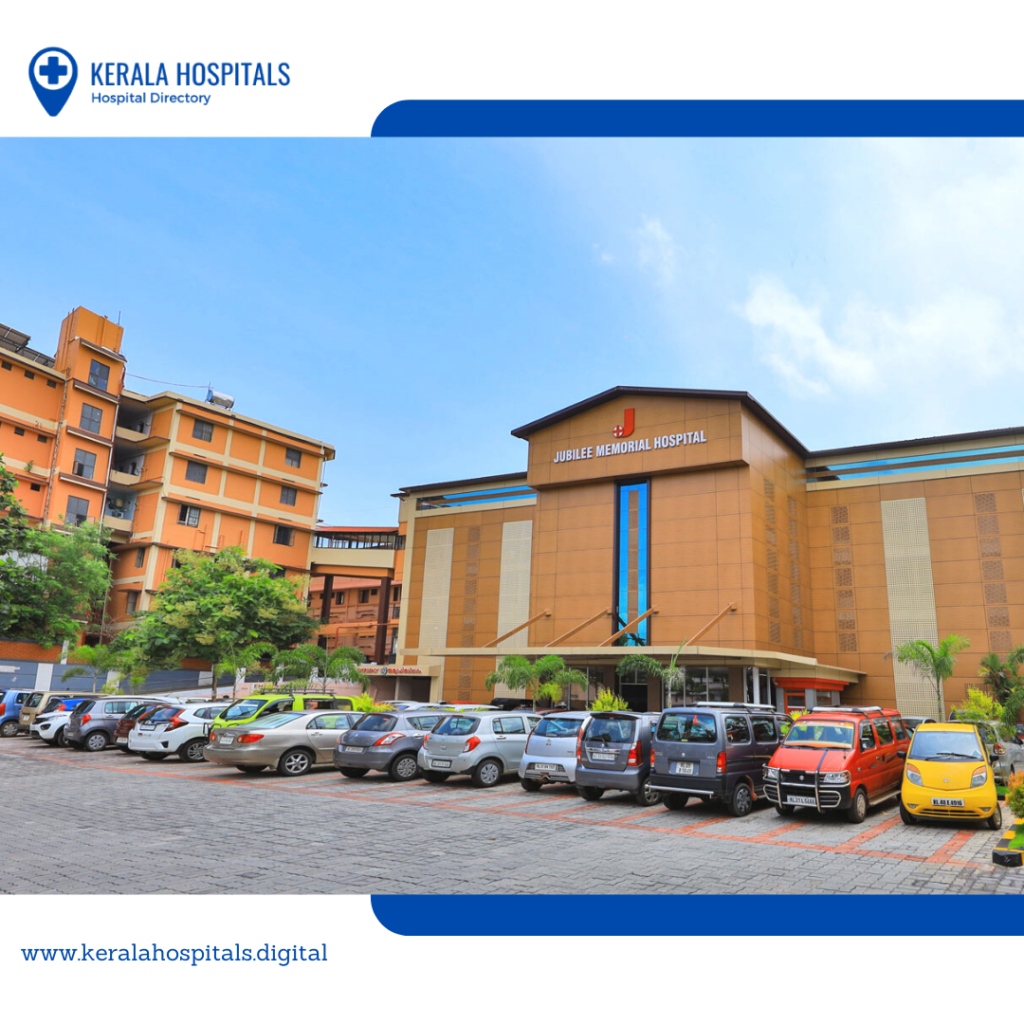 As a Christ-centered, cost-effective, and quality healthcare provider, Jubilee Memorial Hospital strives for compassion. It took the hard work and commitment of all staff, including doctors, nurses, technicians, office staff, housekeeping staff, people who provided support, volunteers, and others who went above and beyond to ensure patient care. The hospital is currently working on several new projects. Efforts are being made to improve service efficiency, streamline processes, and enhance patient access to the hospital.
Address: Sunny Meads Ln, University of Kerala Senate House Campus, Palayam
Thiruvananthapuram, Kerala 695034
Phone: 0471 233 4561
On the national highway between Attingal and Kallambalam, KTCT hospital is a landmark medical and healthcare destination in Thiruvananthapuram. Established in 1986, Kaduvayil Thangal Charitable Trust manages this 250-bed multispeciality hospital. To provide affordable healthcare to the people of the region, the hospital has been leading the way. Compassion is shown for the needs of the underprivileged classes in society by the hospital.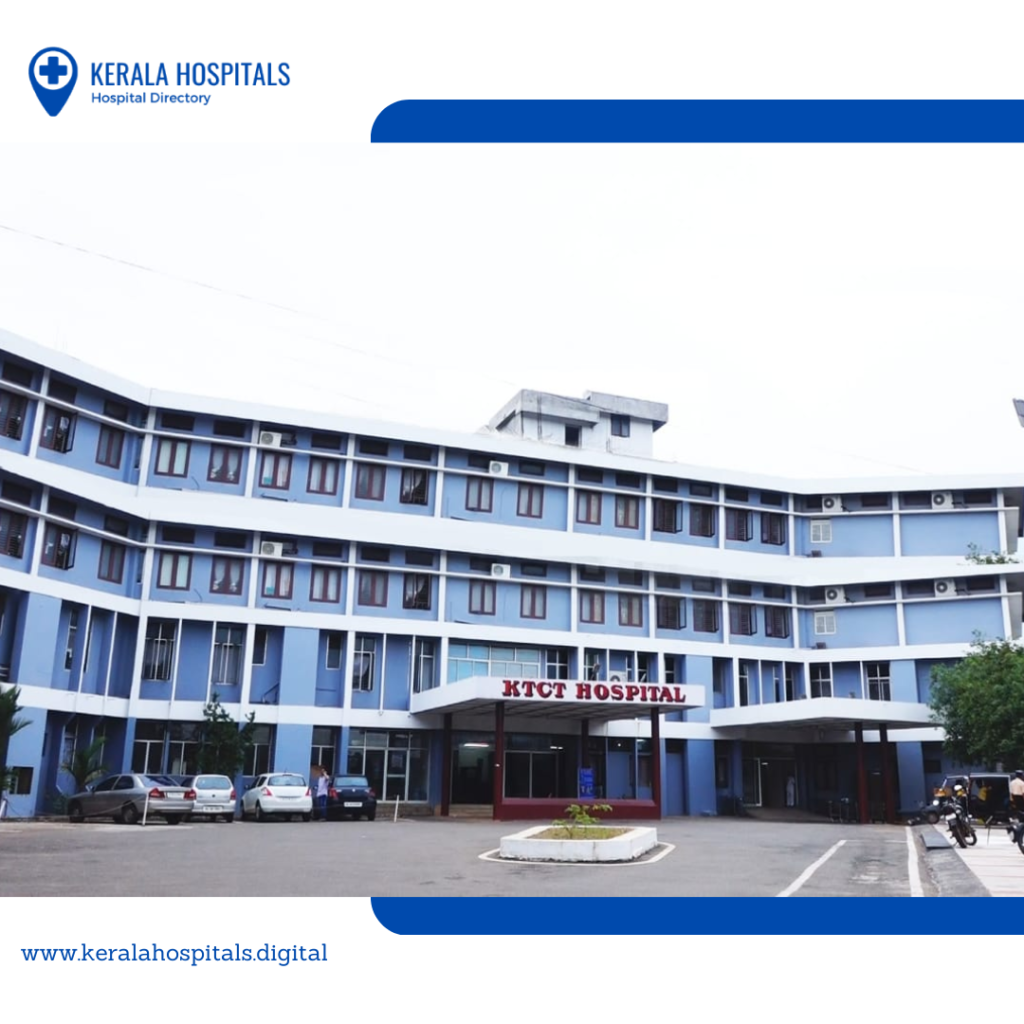 Life's pulse is the heartbeat. The heart is healthy when it eats a balanced diet, exercises regularly, and gets regular health checkups. KTCT hospital, one of the leading cardiology hospitals in Thiruvananthapuram, has a department of cardiology that helps keep your heart healthy. At the hospital, patients receive general awareness, patient education, specialized treatment, and rehabilitation when necessary. They provide Cardiological investigations, ECGs, Treadmills, Echos, etc.
Address: Chathampara, Thottakkadu P.O., Kallambalam, Thiruvananthapuram
Chathampara, Karavaram, Kerala 695605
Phone: 0470 262 2559