Amala Medical College Hospital
Jubilee Mission Hospital
Elite Mission Hospital
Westfort Hospital
Aswini Hospital
Bishop Alappat Mission Hospital
Modern Hospital
Sun Medical and Research Center
Trichur District Co-Operative Hospital
Hayath Hospital
Amala Institute of Medical Sciences (AIMS) is a multi-disciplinary medical network of pedagogical, therapeutic, research, and outreach programs. Imparting affordable, inclusive, quality healthcare, Amala provides the highest standards of medical treatment to all.
As one of the leading cardiology hospitals in Thrissur, the Cardiology department at Amala offers evidence-based care for the prevention, diagnosis, and treatment of cardiac ailments. It has state-of-the-art facilities and well-trained faculty. The equipment facilities include 64 slice CT for CT Coronary Angiogram, Cardiac MRI, and Nuclear Cardiology. The department provides OP services on all working days, and speciality clinic services include the Paediatric Cardiology Clinic every Tuesday, Valvular heart disease clinic every Wednesday, and Pacemaker clinic on the first Friday of every month.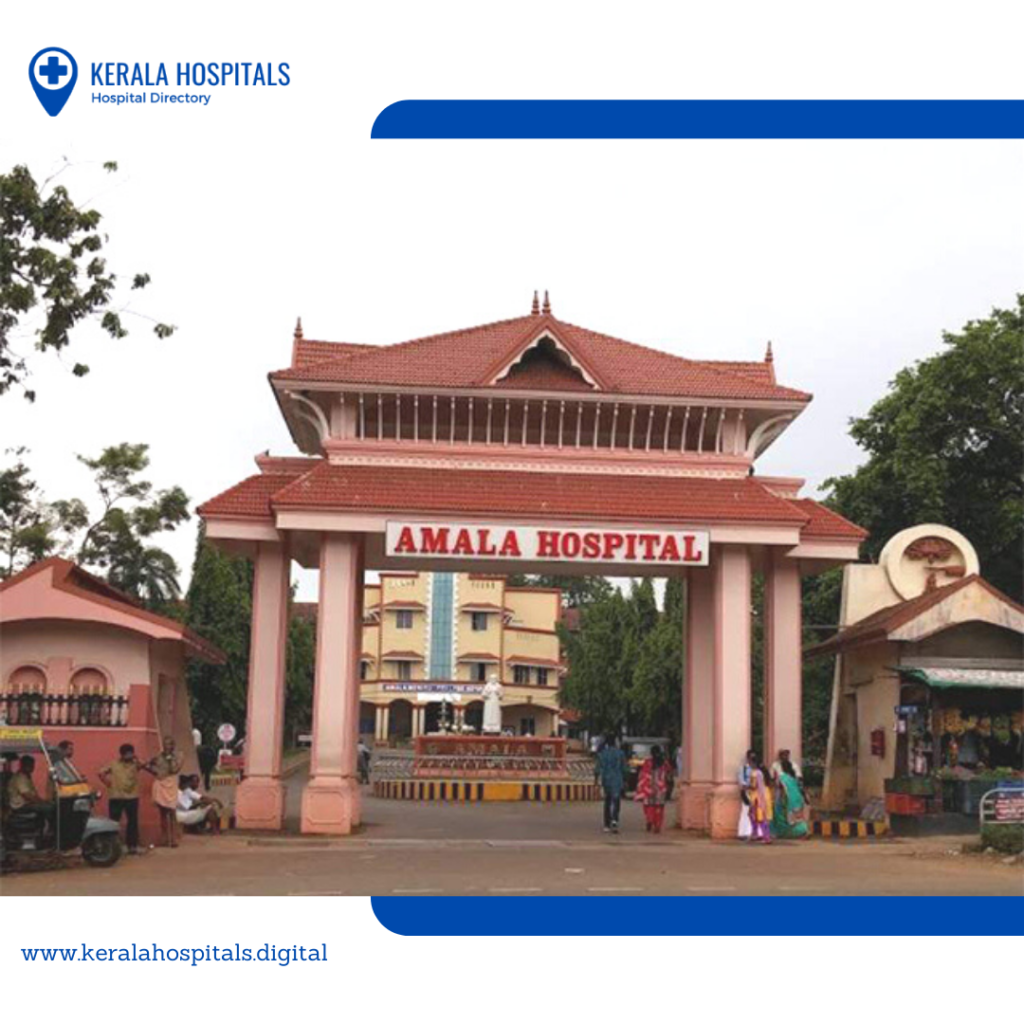 Address – Amala Institute of Medical Sciences
Amala Nagar PO
Thrissur, Kerala 680555
Ph – +91 487 2304000
Jubilee Mission Medical College and Research Institute is a 1450 bedded multi-speciality hospital, nick-named by the people as 'POOR MAN'S HOSPITAL.' They take extra care to see that the poor patients, irrespective of caste and creed, are given special consideration and concessions. The Cardiology department at Jubilee Mission was started in 1998. In 2003, the department merged with Medical College and then moved into the state-of-the-art Jubilee Hridhayalaya in 2010.
The department has all modern facilities, including four Echo Color Doppler machines with 3D and TEE facilities, two Treadmill machines, two 24-hour Ambulatory Holter Monitors, and 24-hour BP recording. They also have a state-of-the-art Catheterisation laboratory where Angioplasties, Valvuloplasty, Pacemaker Implantation, ICD & CRT procedures are done regularly. The department was recognized by MCI for starting the DM Cardiology course.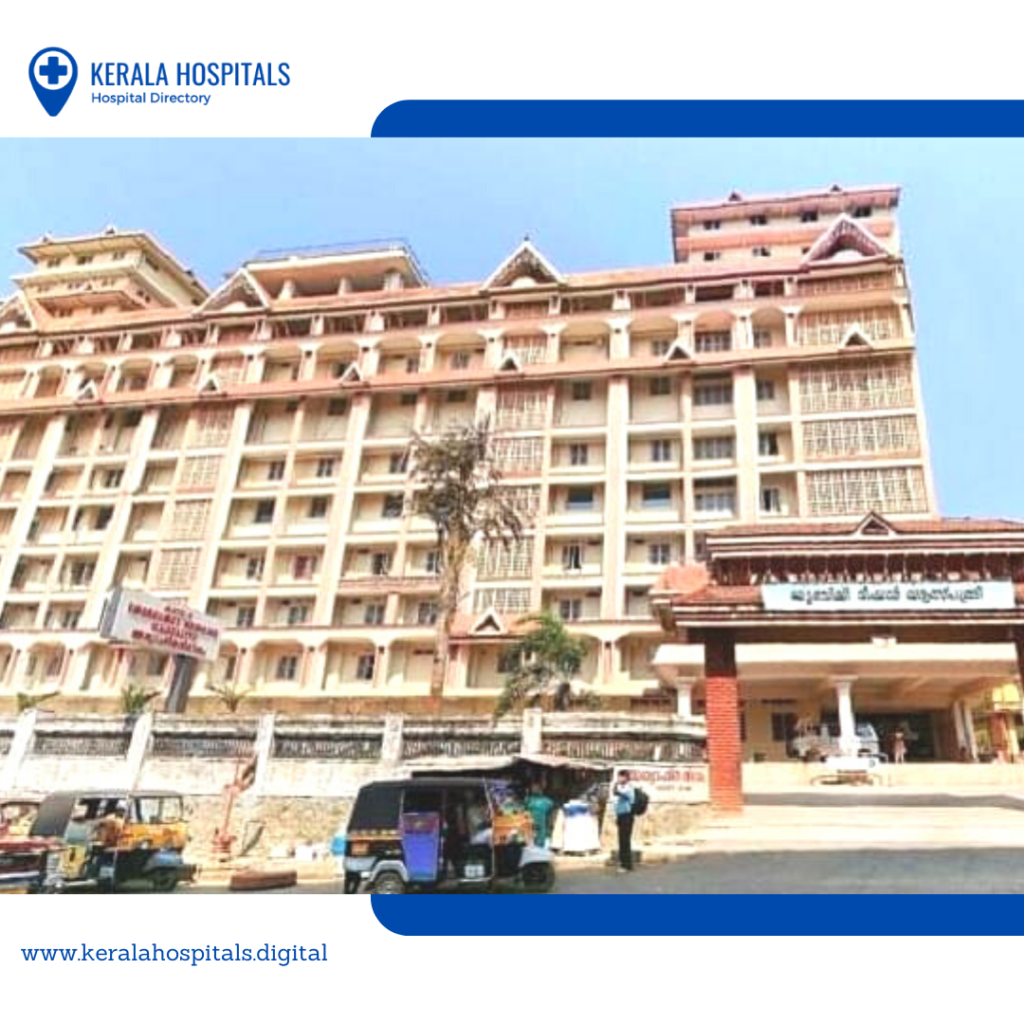 Address – Jubilee Mission Hospital
P. B. No. 737
Thrissur, Kerala 680005
Ph – +91 487 246 4346, +91 487 246 4347
Elite Mission hospital is a 300 bedded community-owned hospital with over 70 doctors and more than 500 paramedical and non-medical staff. The hospital has a comprehensive range of services available to meet the growing needs of patients, and they are well known in various clinical disciplines. Elite Mission is the best Cardiac Care hospital in Thrissur.
The Cardiology department facilities and services include cath lab, ICCU with central monitoring and remote monitoring facility, temporary pacemaker implantation, Color Doppler Echocardiogram, computerized Treadmill testing system, halter monitoring, and ambulatory blood pressure monitoring system, Echocardiogram-GE vivd3, TMT-schiller cordiovit CS-200, and ambulatory Holter monitoring.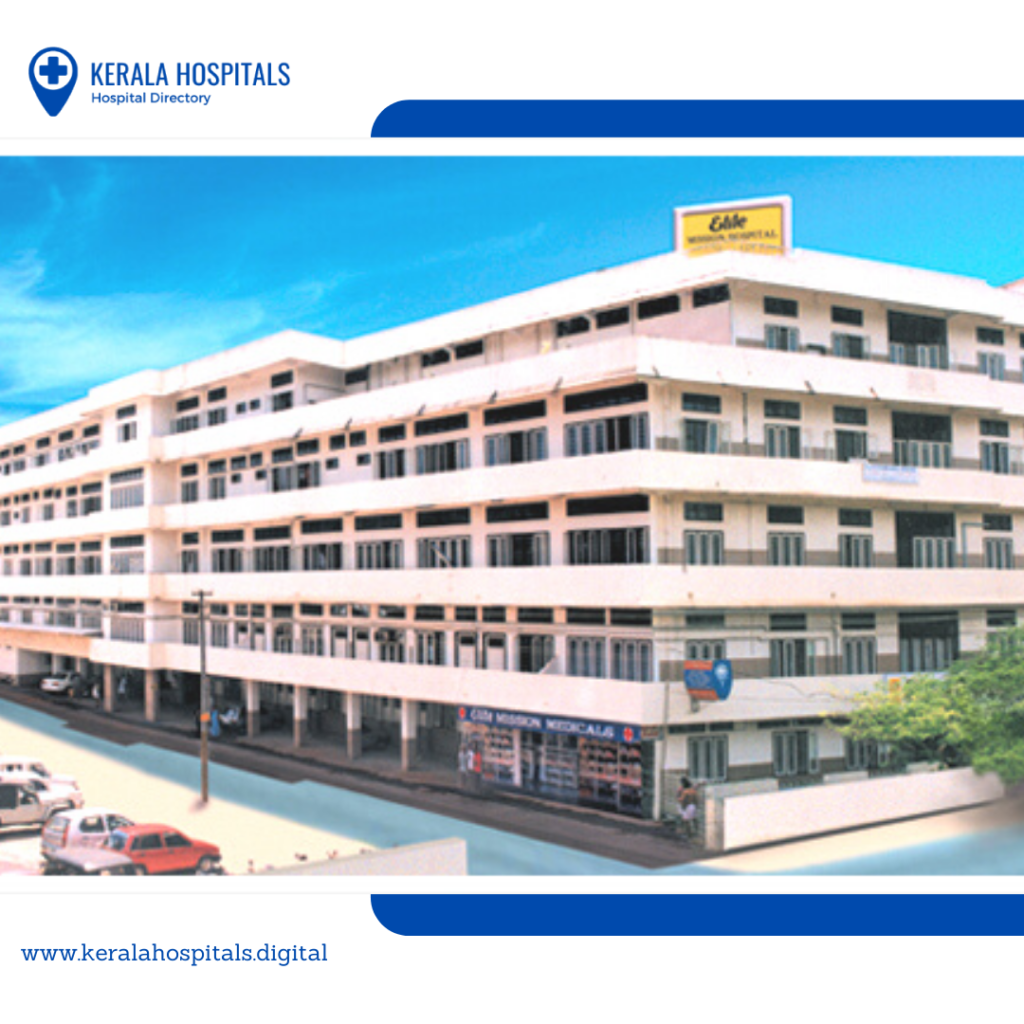 Address – Elite Mission Hospital
P. B. No. 1414
Koorkenchery PO
Thrissur, Kerala 680007
Ph – 0487 2436100
Westfort hospital began in 1989. It is a 250 bedded hospital equipped with all ultra-modern facilities. The Cardiology department at Westfort hospital is one of the best in Kerala. The department is equipped with an array of equipment and facilities like 2D Color Doppler, TMT, Holter Monitoring, Cardiac Pacer, and a well-equipped ICCU.
It has a team of cardiologists committed to the prevention and treatment of heart diseases, which has led to the achievement of better outcomes and improved quality of life for hundreds of cardiac patients. Since its inception, they have gleaned its contemporary expertise by combining continuous training, education, and practice to provide innovative and scientifically based treatments for heart disease.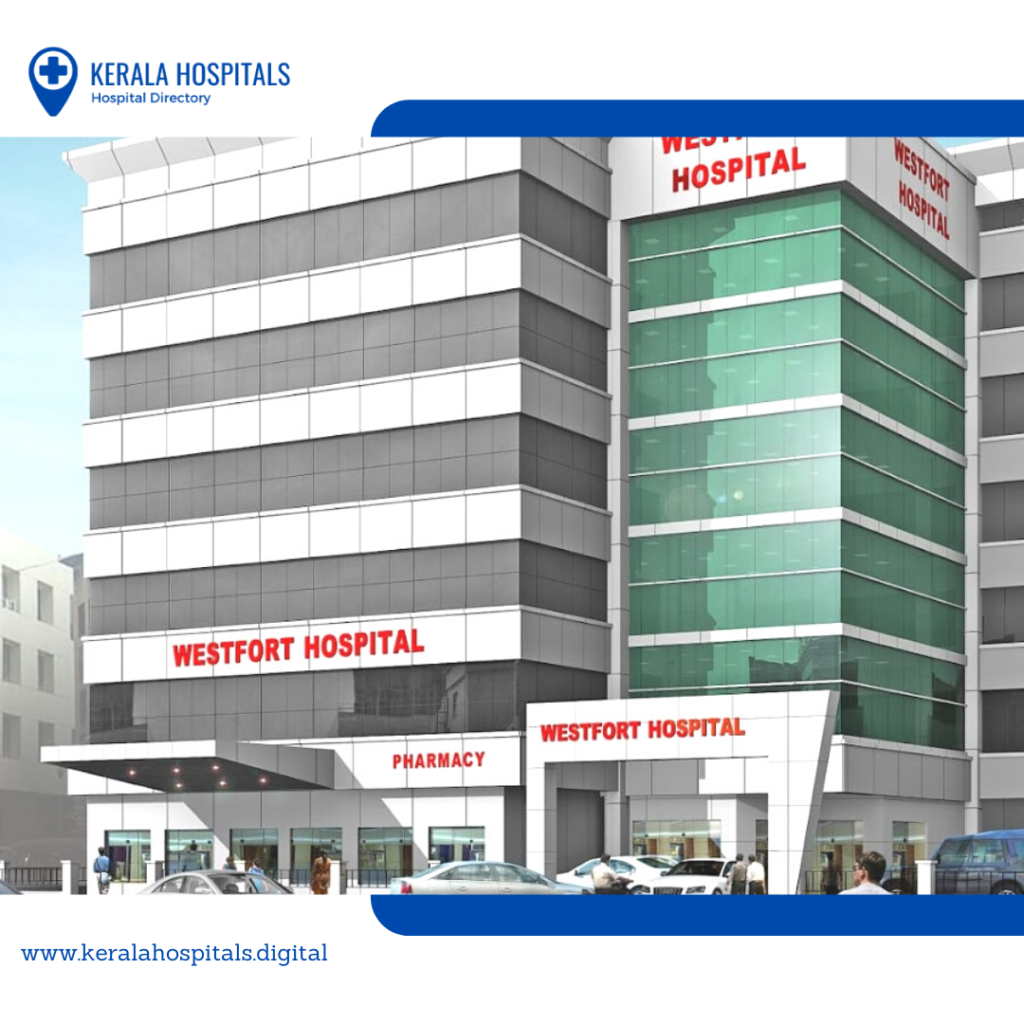 Address – Westfort Hospital
P. B. No. 803 West Fort
Thrissur, Kerala 680004
Ph – +91 487 2382130
Aswini hospital, a 300-bed multi-super speciality hospital, was established in 1987. One of the largest and leading private hospitals in the area, it provides sophisticated diagnostic and therapeutic care in almost every speciality of medicine and surgery. Aswini is one of the best cardiology hospitals in Thrissur, offering excellent care to patients having heart ailments.
The Cardiology department at Aswini hospital offers facilities like Holter Recording, Echo Color Doppler, Treadmill, Cathlab, Peripheral Vascular, and Diagnostic Angiogram. It has a 10 bedded Intensive Care Unit and Temporary and Permanent Pacemaker Implantation facility.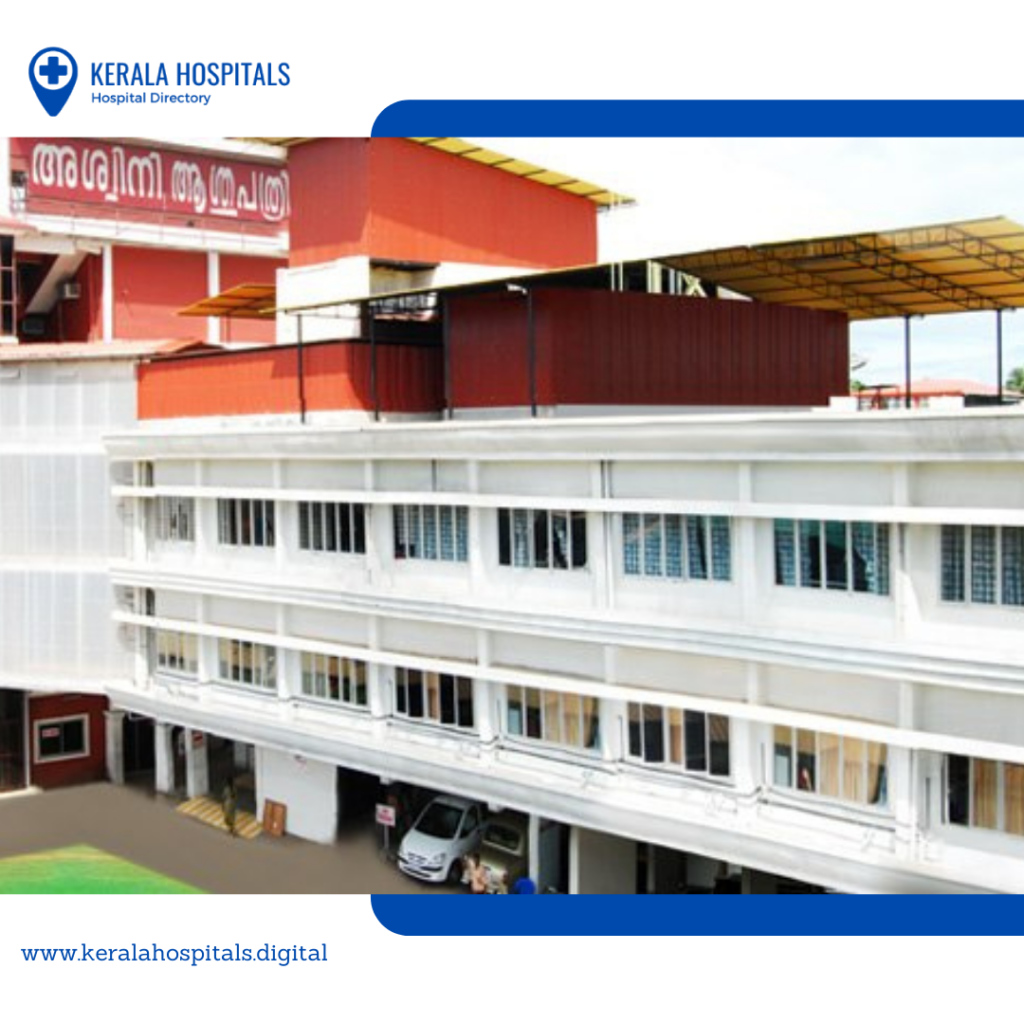 Address – Aswini Hospital
Karunakaran Nambiar Road
Thrissur, Kerala 680020
Ph – +91 487 661 2345
Bishop Alappat Mission hospital is a 100 bedded multi-super speciality hospital committed to serving the needy and aims to bring holistic healing to humanity. The Cardiology department at Bishop Alappat Mission hospital offers services in diagnosis and treatment for all heart ailments. The department is equipped with world-class facilities and has a team of dedicated and committed cardiologists and other staff. The goal of Bishop Alappat Mission hospital is to support and develop community health and medical services.
Address – Bishop Alappat Mission Hospital
Karanchira, Kattoor PO
Thrissur, Kerala 680702
Ph – 0480 2670267
Modern hospital is the first and the finest healthcare provider in the Kodungallur region. It is a 100 bedded, full-fledged multi-speciality tertiary care and referral hospital providing accessible, high-quality healthcare services with professional expertise, state-of-the-art technology, meticulous cleanliness, and courteous personal attention in a focused and caring environment affordable to the common masses. The department of Cardiology at the hospital aims at providing the highest quality medical care to patients with heart diseases.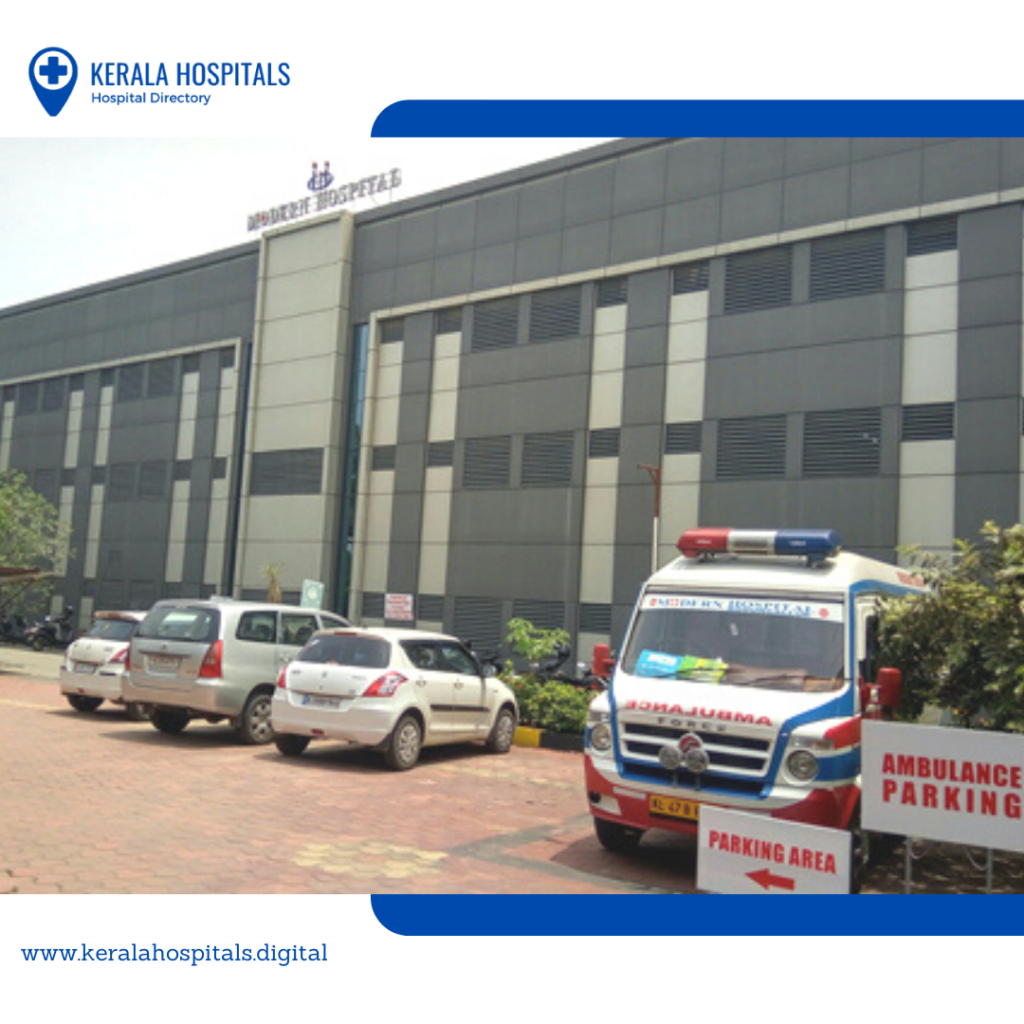 They are equipped with the most modern Cardiac Catheterisation Lab – Koroskope C that ensures detailed study of chambers, valves, coronary arteries, and blood flow. Their services include 24-Hour Primary Angioplasty, Elective Angioplasty, Temporary-Pacemaker Insertion, Permanent Pacemaker Insertion, 24 Hour Holter Monitoring, Colour Doppler Study Of The Heart, 2D Echocardiogram, Stress Echocardiogram, ECG (Electrocardiogram), Chest X-Ray, Evaluation Of Cardiovascular Diseases, Vascular Medicine, And Pulmonary Medicine, Exercise Electrocardiography Or Stress Tests (TMT), Lipid Management, Pharmacological Arrhythmia Therapy, Outpatient Care, Inpatient Services, Cardiac Critical Care Services, Palliative Care, Preventive Cardiology.
Address – Modern Hospital
Kodungallur Ltd.
P. B. No. 22, Kodungallur PO
Thrissur, Kerala 680664
Ph – 0480 2672700
Sun Medical and Research Center is a unit of Trichur Heart Hospital Ltd, intended to fill the vacuum of advanced treatment for seriously ill or injured patients who need critical care, especially those in the field of heart diseases and trauma cases, and make it affordable to the needy. They aim to provide excellent, affordable, and quality healthcare with personal care to the patients with advanced and exceptional medical services to achieve perfect patient satisfaction and safety.
The Cardiology Department offers all critical-care services for heart-related problems and ensures that the patients get the best treatment. The department facilities include ECG, Echo – Trans Thoracic, Echo – Trans Oesophageal, Color Doppler Echo Cardiogram, TMT, Holter Monitoring and Analysis, Coronary Angiogram, Coronary Angioplasty & Stenting/Peripheral Angioplasty & Stenting including Carotid Stenting, Emergency Primary PTCA & Rescue PTCA, Balloon Angioplasty and Stenting, Permanent Pacemaker Implantation / AICD Implantation, Intra Arterial Thrombolysis, and Device Closure of Intra Cardiac Septal Defects.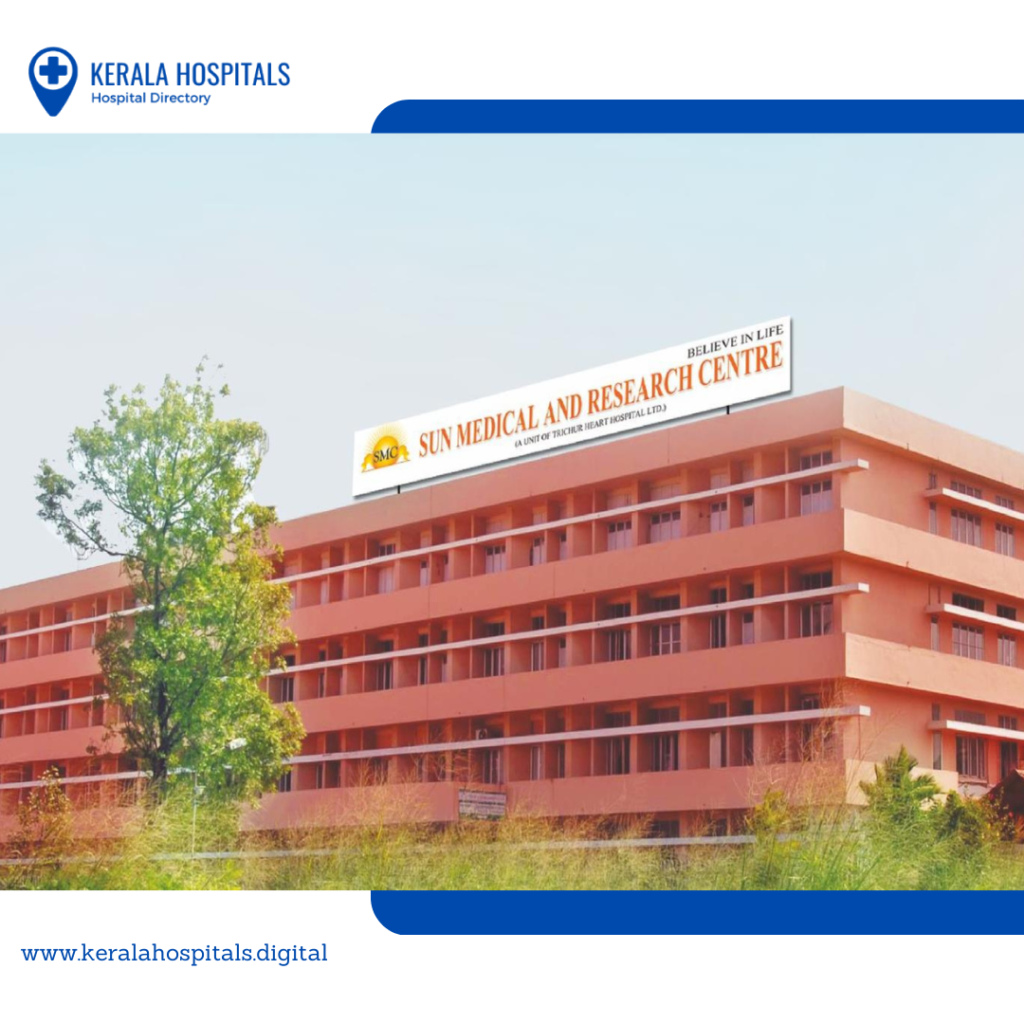 Address – Sun Medical and Research Center
Bus Stand, near Sakthan Thampuran
Sakthan Thampuran Nagar, Kannamkulangara
Thrissur, Kerala 680001
Ph – 91 487 2433100, 101
Trichur District Co-Operative hospital is a NABH accredited hospital that provides specialized services to all. It has a team of very efficient and dedicated specialists, super-specialist doctors, and other staff members offering healthcare services with reasonable consulting rates to support the welfare of the hospital. Apart from general speciality departments, the hospital has other specialized departments, including Cardiology. The Cardiology Department offers the best cardiac care services for all heart ailments. Their facilities include ECG, Echo Color Doppler, Computerized TMT, etc.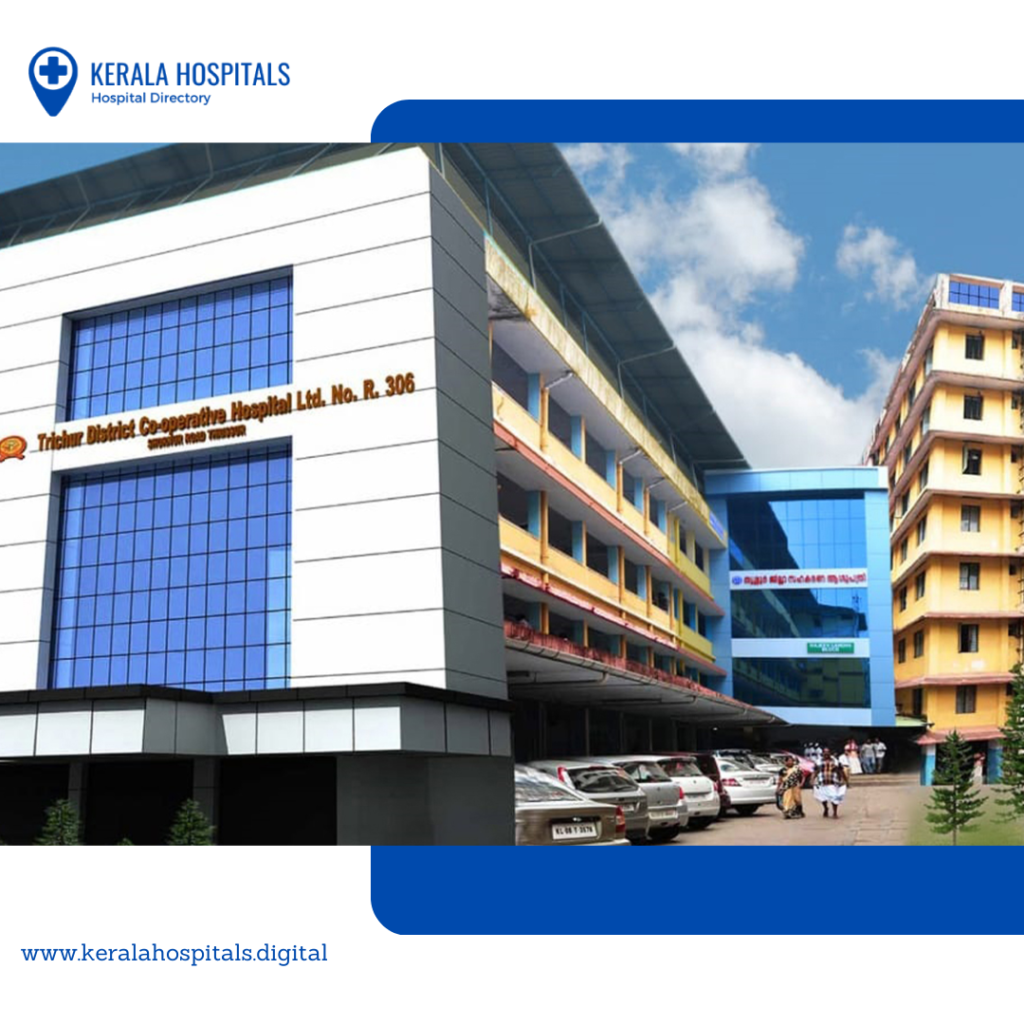 Address – Trichur District Co-Operative Hospital
District Co-Operative Hospital Ltd.
Reg. No: 306, Shornur Road
Thrissur, Kerala
Ph – 0487 2335550, 2335552, 2335551
Hayath hospital was started by a team of doctors with the vision to provide quality and affordable healthcare to the common masses. With state-of-the-art multi-disciplinary capabilities and world-class infrastructure and technology, the hospital enriches the quality of life of every patient in a caring and nurturing environment.
The Cardiology department at Hayath hospital comprises the best cardiologists and world-class facilities, making it a leading cardiology hospital in Thrissur. Patients get 24-hour care for all heart-related problems. The department offers services and facilities, including Angiogram, Angioplasty, Pacemaker Implantation, TMT, Echo, and Holter Monitoring.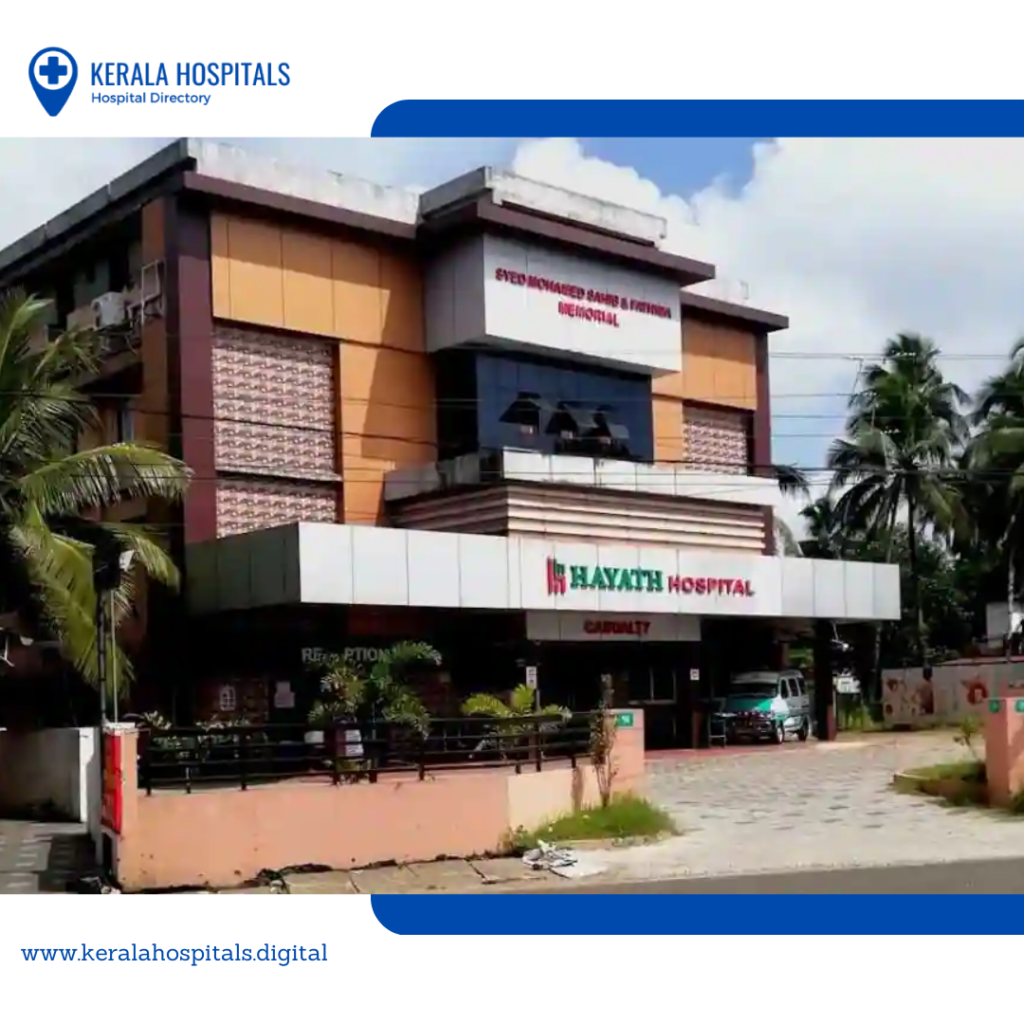 Address – Hayath Hospital
Main Road, Chavakad
Thrissur, Kerala 680506
Ph – 0487 2504500