Amrita Institute of Medical Sciences
VPS Lakeshore Hospital
Aster Medcity
Lisie Hospital
Rajagiri Hospital
Medical Trust Hospital
Ernakulam Medical Centre
Lourdes Hospital
V.G. Saraf Memorial Hospital
Apollo Adlux Hospital
Amrita Institute of Medical Sciences, founded in 1998 by Mata Amritanandamayi Devi, is recognized as one of the premier hospitals in South Asia. The hospital offers a full range of primary and speciality medical care services with cross-speciality consultation. The vision behind the hospital to provide advanced medical care to the poor and disadvantaged and commitment to affordable quality care has attracted a dedicated team of highly qualified medical professionals and healthcare professionals from across the world.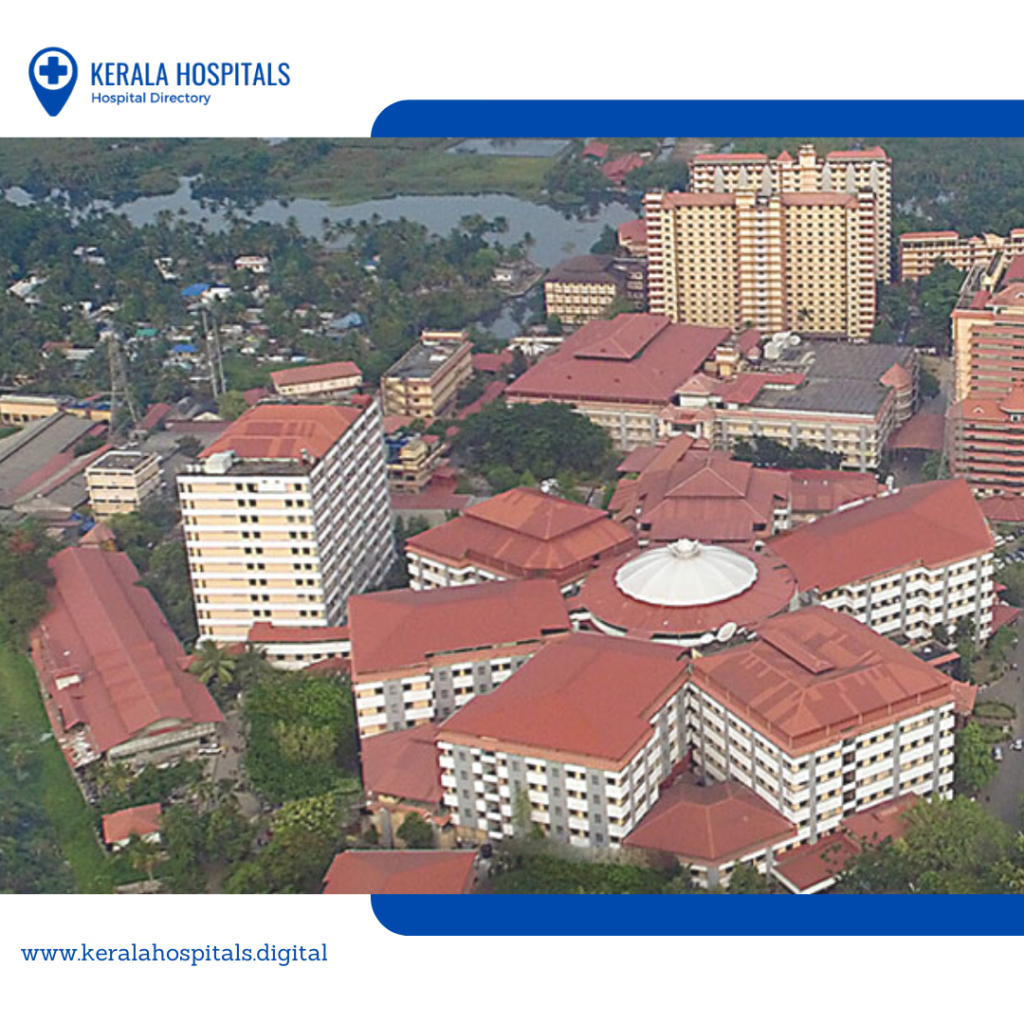 The hospital is an 1100 bed tertiary referral and teaching centre and has 12 super speciality departments, 45 other departments, 4500 support staff, and 670 faculty members. The massive healthcare infrastructure spread over 125 acres of land offers facilities comprising 28 modern operating theatres, 275 equipped intensive-care beds, a fully computerized and networked HIS, a fully digital radiology department, 17 NABL accredited clinical laboratories, and 24/7 telemedicine service.   South Asia's first-ever Bilateral Hand Transplant Surgery was done at Amrita hospital in 2015, and the hospital has achieved many national and international awards. 
Address – Amrita Institute of Medical Sciences
Ponekkare, AIMS (P.O)
Kochi, Kerala 682041
Ph – 91 484 668 1234, +91 484 285 1234
In 1996 VPS Lakeshore was incorporated as a public limited company. VPS Lakeshore hospital, one of the largest, most comprehensive, independent multi-speciality hospitals in Kerala, was officially entered into integrated healthcare in January 2003. The hospital is recognized as a leader in medical education, groundbreaking research, and innovative patient-centred clinical care.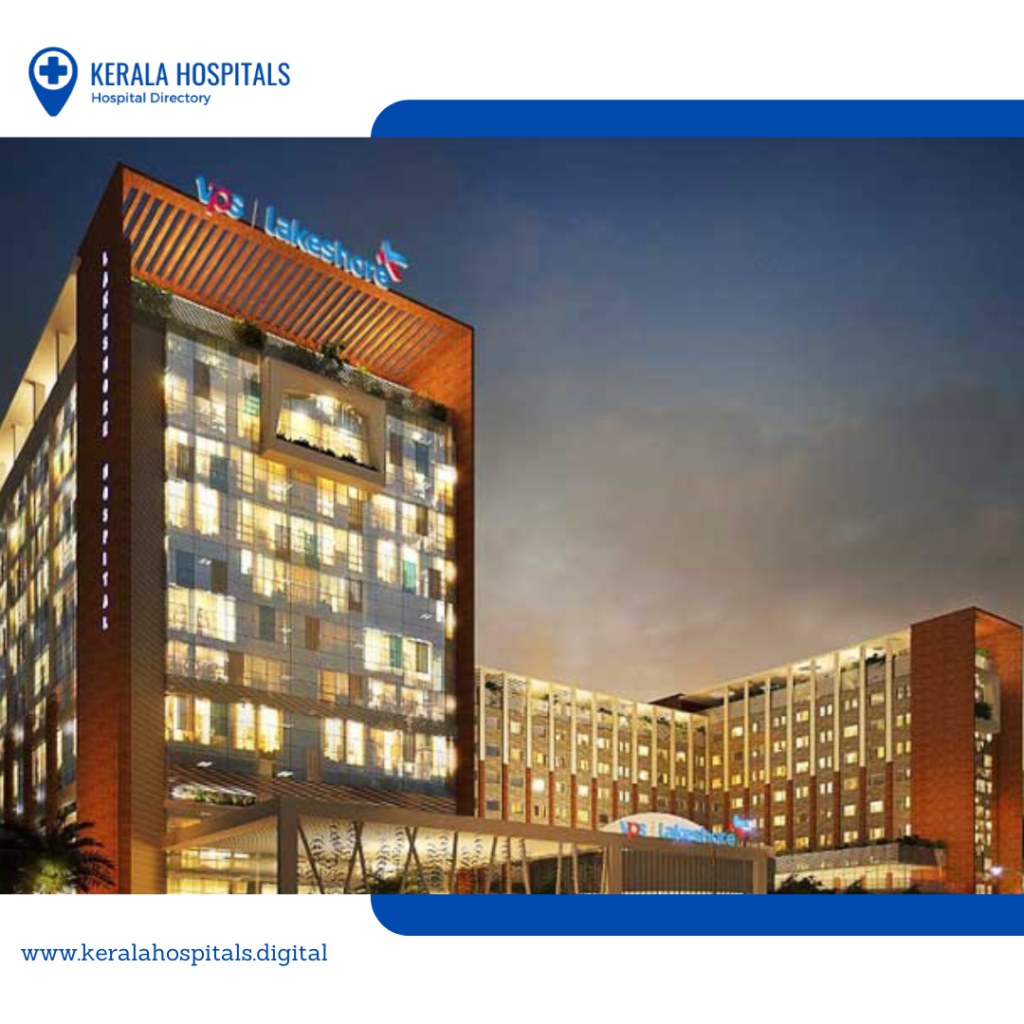 The hospital aims to provide international standards of healthcare to the patients and intends to satisfy the evolving needs of patients. With 350 beds, more than 30 specialities, and centre of excellence for multi-organ transplant services, VPS Lakeshore aims to achieve measurable excellence in healthcare delivery. The hospital places equal emphasis on continuous monitoring and evaluation, continuous training of all staff, and continuous efforts to improve the technology of healthcare delivery and level of expertise of the professional staff. The hospital functions with the objective to provide healthcare services affordable to the common man, and the charges are kept moderate to ensure that the benefits of modern healthcare reach all levels of society.                      
Address – VPS Lakeshore Hospital
NH-66 Bypass, Maradu, Nettoor P.O
Kochi, Kerala 682040
Ph – + 91 484 2701032, 2701033, 2703951
Aster Medcity, one of the most advanced healthcare destinations in India, is located on a 40-acre waterfront campus. The multi-speciality hospital is a 670-bed quaternary care facility that has 25+ specialities and 8 separate centres of excellence in cardiac sciences, neurosciences, orthopedics, rheumatology, nephrology, urology, oncology, women's health, child & adolescent health, and gastroenterology & hepatology.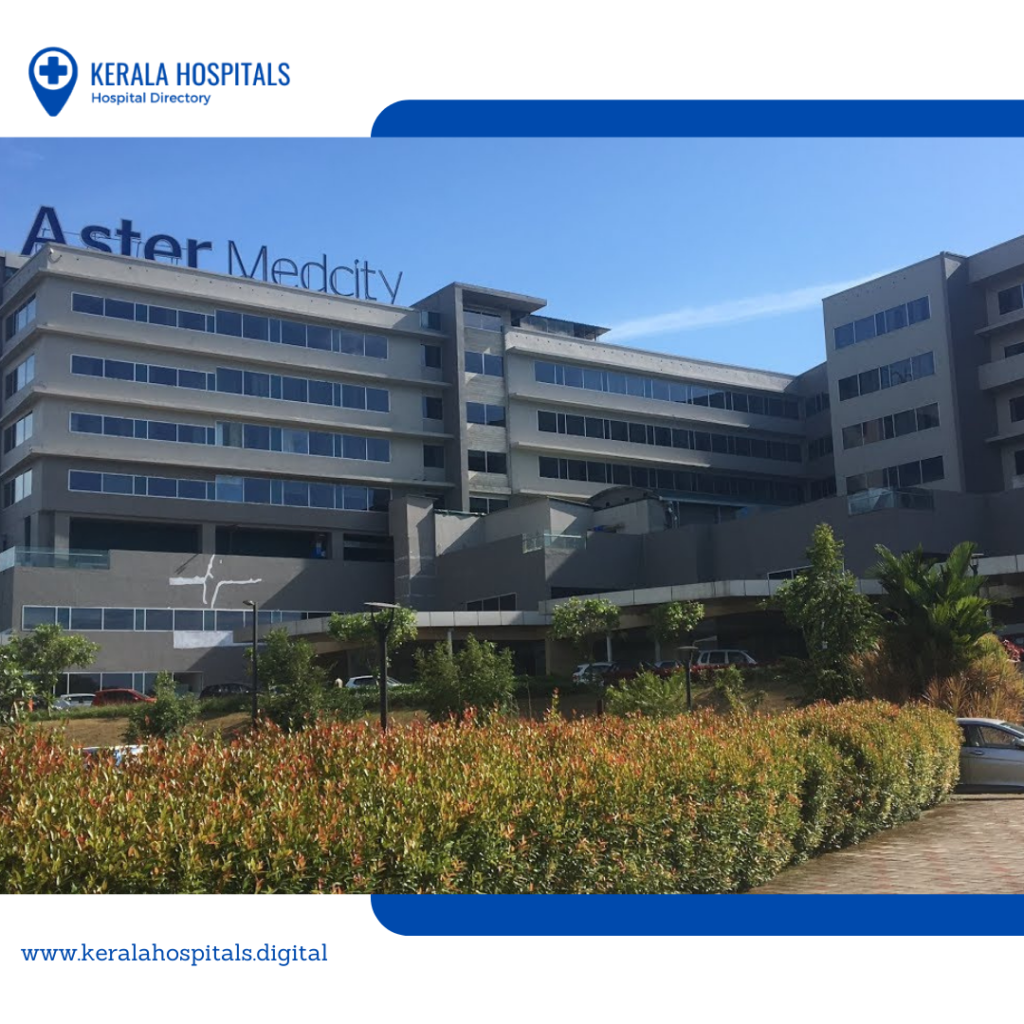 Aster Medcity is the first quaternary care hospital in Kerala to achieve the coveted JCI (Joint Commission International) accreditation – the gold standard in global healthcare. The hospital also won NABH accreditation – the first-ever NABH award for excellence in nursing and Green OT. The hospital provides comprehensive diagnostic and therapeutic technology to facilitate efficient and accurate treatment.
Address – Aster Medcity
Kochi, Kerala 682027
Ph – +91 484 66 99 999
Lisie hospital, founded in 1956, is an active expression of the apostolic concern and social responsibility of the Archdiocese of Ernakulam – Angamaly. The hospital is a registered charitable organization owned and managed by the Archdiocese. They are on a mission to promote healthcare with love and high-quality treatment of global standards for all at an affordable cost to bring a society where people enjoy physical, psychological, spiritual, and social health. The NABH accredited hospital has 20+ departments and provides world-class treatment in a patient-friendly environment through a qualified and trained healthcare professional team.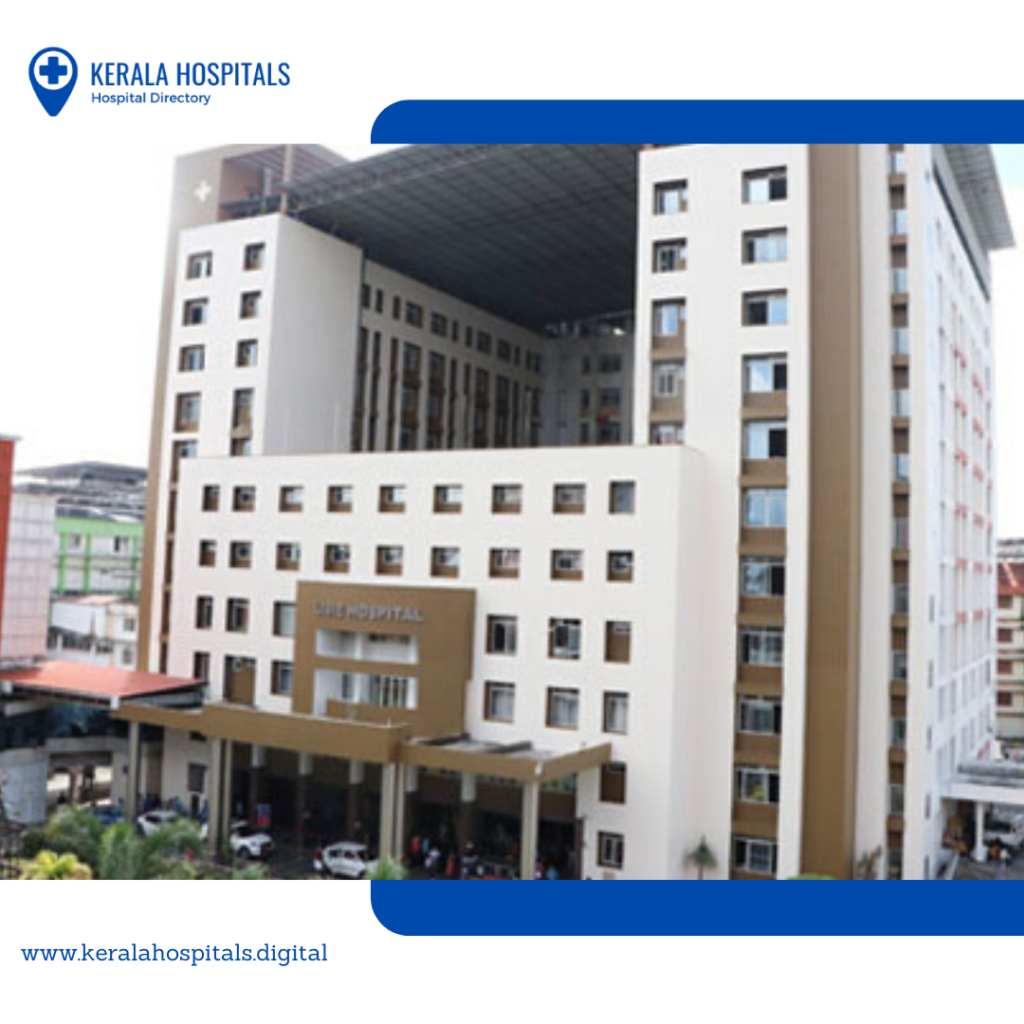 Address – Lisie Hospital
Kochi, Kerala 682017
Ph – 0484 2402044
Established in 2004, Rajagiri hospital has created its place on the map of quality healthcare delivery in South India. It was a thoughtful initiative from the Rajagiri (CMI) group of institutions to provide quality and affordable medical care to the common man, and the hospital has emerged as the leading quaternary care facility in the region. The 500 bedded hospital is accredited by JCI (Joint Commission International with a gold seal and also by NABH and NABL.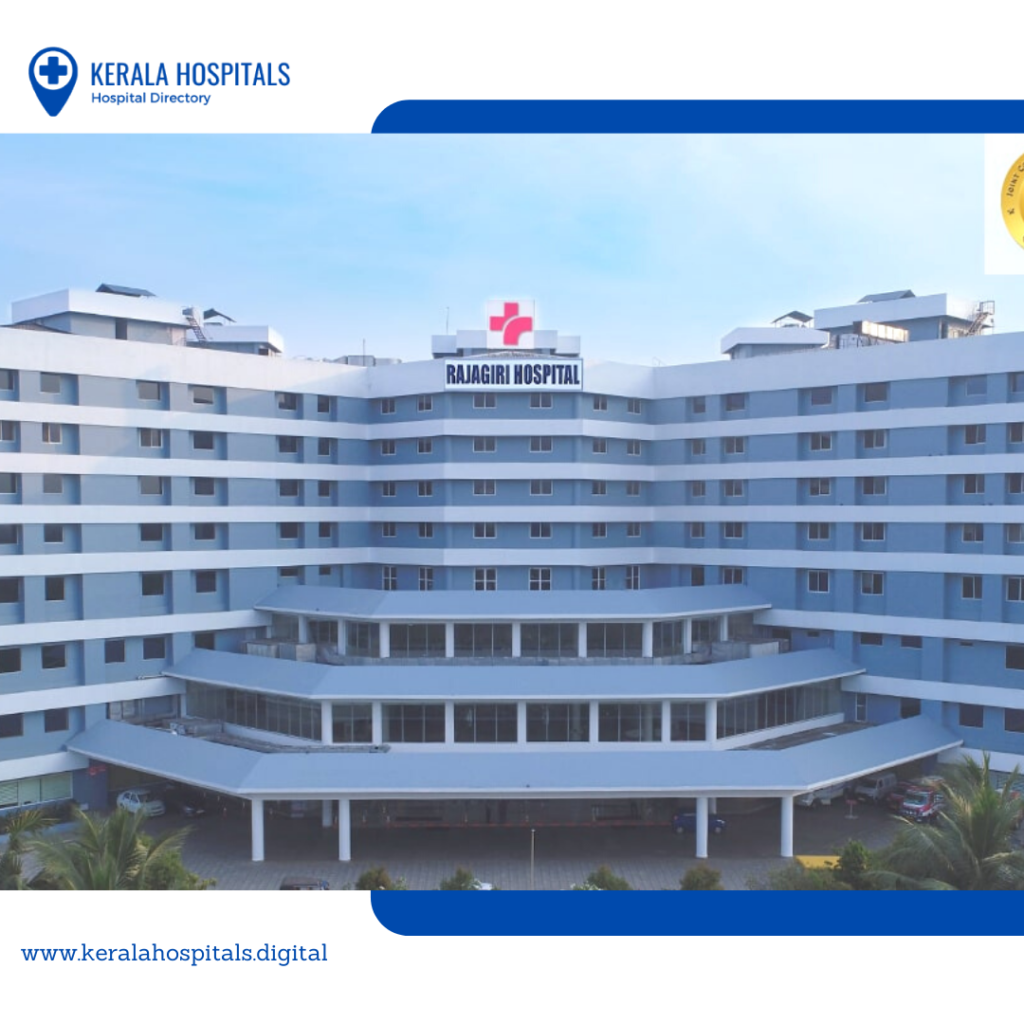 The hospital strives to provide healthcare services of world standard to all sections of society, with special concern for the marginalized. And "to grow into a model and global leader in healthcare, an innovative teacher in medical sciences and pioneering research centre on health." With the synergy of western medicine and Ayurveda and the integration of telehealth technology with its service spectrum, Rajagiri hospital has paved its way to reach out to patients beyond borders. Located in a 40-acre green landscape, the hospital is the closest facility to the Cochin International Airport.
Address – Rajagiri Hospital
Chunangamvely, Aluva
Kerala 683112
Ph – +91 484 290 5000, 718 4000
Since 1973 Medical Trust hospital comes a long way with the commitment and passion, as established by the founder Dr. P A Varghese. And now, the hospital has a world-class medical complex integrated with the best of all infrastructures and medical expertise. It also dedicates its advanced facilities to research and development for making inroads in the field of healthcare. The 750-bed multi-speciality hospital is one of the well-equipped and premier hospitals in South India. The hospital has 20+ departments providing personalized patient-centred care 24/7 service to cater to the needs of international and local patients with equal passion.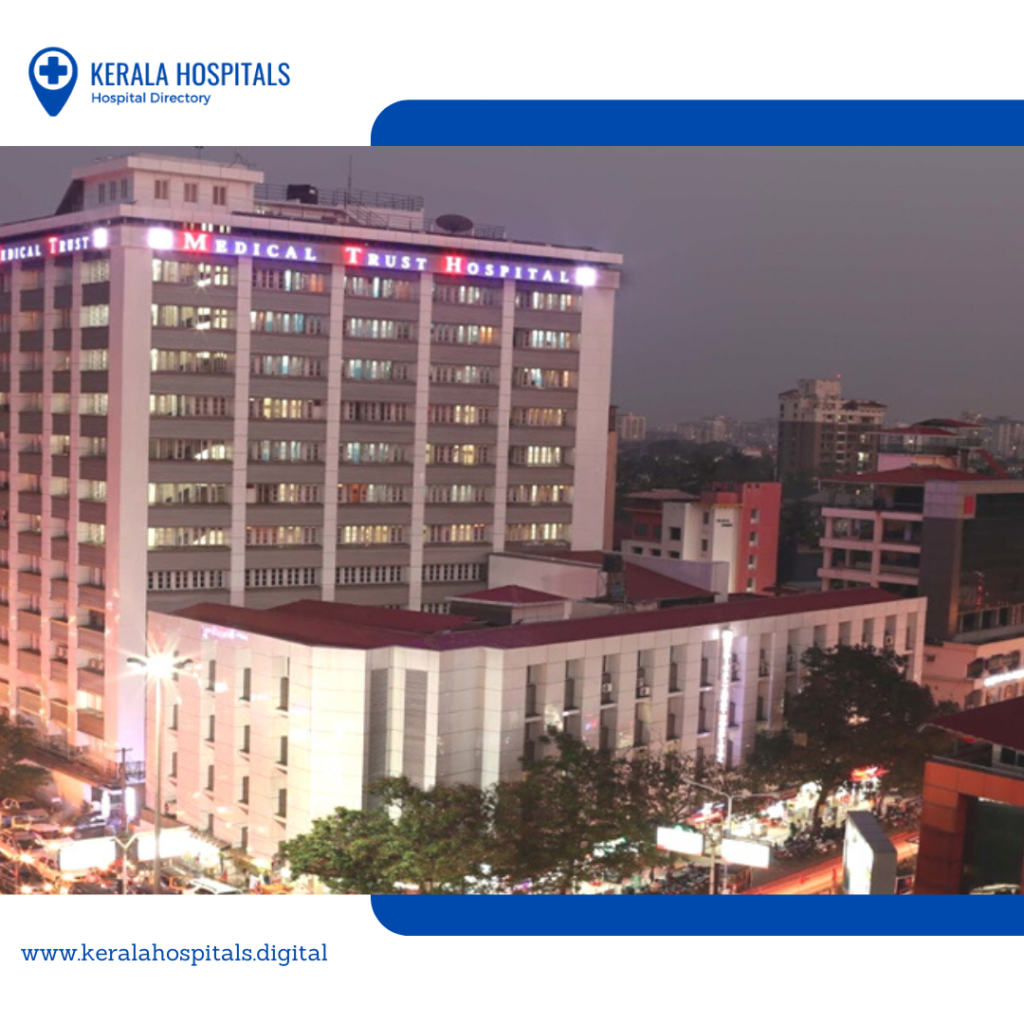 Being a premier provider of comprehensive healthcare services, Medical Trust hospital works towards enriching lives to promote good health. The hospital strives to reach out to the community and also excel in healthcare education and research for the benefit of humanity. They accredited by NABH since 2011. The hospital runs educational institutions in Nursing, Physiotherapy, Paramedical sciences, and Radiological Techniques to build an efficient workforce in healthcare professionals and handle global medical and surgical emergencies.
Address – Medical Trust Hospital
MG Road, Cochin, Kerala 682016
Ph – +91 484 2358001
Ernakulam Medical Centre
Founded in 1985 as a 50-bed hospital, EMC transformed into one of the best multi-speciality hospitals in Kochi with 250 beds and a full complement of services and facilities that assure quality and affordable healthcare to the community. The hospital is on a mission "to ensure excellent healthcare through selfless service, professional integrity, and teamwork" to deliver high-quality healthcare. The NABH accredited hospital is committed to providing compassionate and individualized care with the right attitude to patients in a safe and ambient environment. They ensure to have the support of advanced technologies and procedures in the healthcare industry. EMC is situated on the National Highway-66, easily accessible to Kochi and neighboring regions.
Address – Ernakulam Medical Centre (P) Ltd
NH Bypass, Kochi, Kerala 682028
Ph – +91 484 2907000, 2807101
Lourdes hospital, a premier multi-speciality hospital in Ernakulam, commenced in 1965 under the aegis of the Archdiocese of Verapoly. Lourdes is the first mission hospital in Kerala to get the NABH accreditation for the quality of services.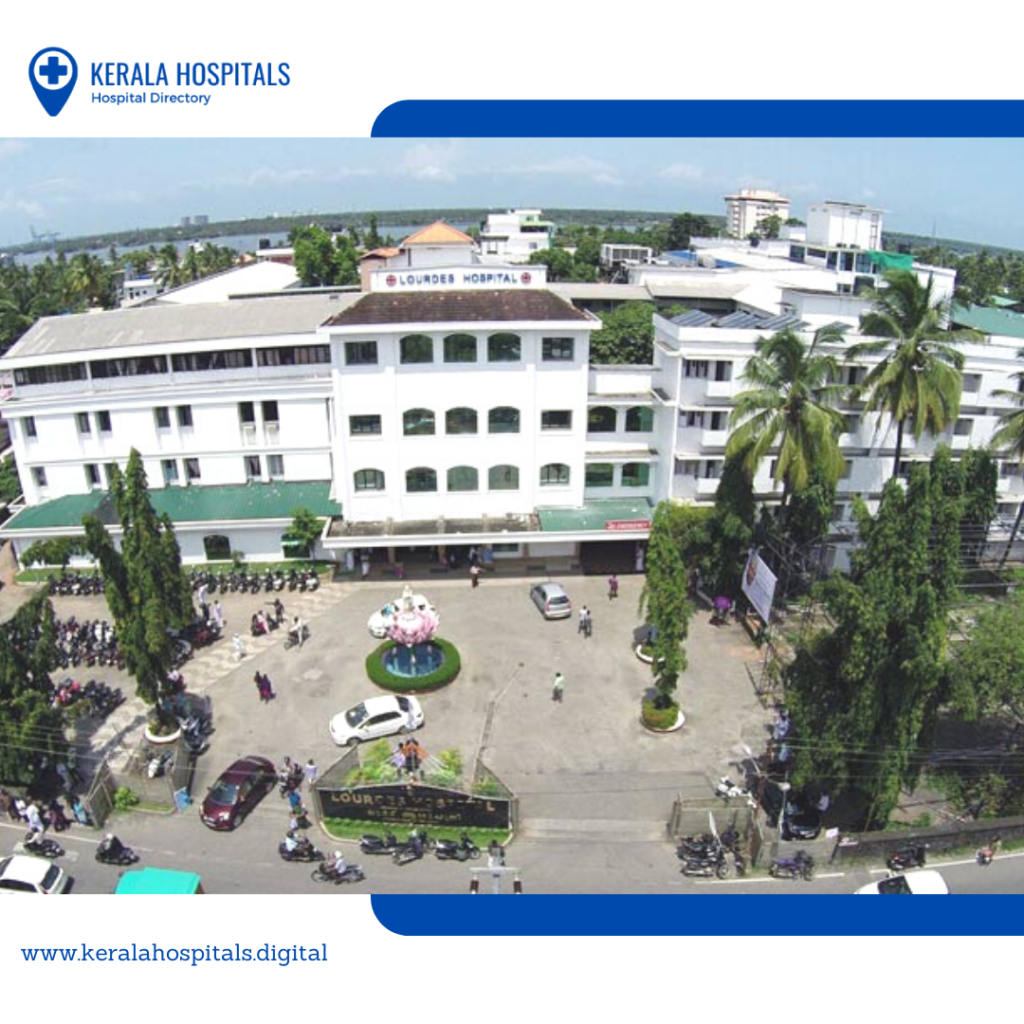 The hospital has around 36 established speciality departments that are equipped with state-of-the-art equipment and manned by trained and dedicated staff. They are on a mission to develop affordable and holistic healthcare to provide measurable benefits to all sections of society regardless of caste, creed, and color. The hospital does this through free outreach clinics and funding programs designed for financially backward sections of society. Lourdes emphasizes research and development initiatives and is also a full-fledged teaching institution conducting post-graduate courses in 14 specialties.
Address – Lourdes Hospital
Kochi, Ernakulam, Kerala 682012
Ph – +91 484 4123456
V.G. Saraf Memorial Hospital, also known as Saraf Hospital, is one of the most modern environment-friendly hospitals situated in the city centre. The hospital is focused on meeting the healthcare needs of patients and is committed to providing high-quality services. Since its humble beginning in 1999, the hospital built-in memory of Shri. Vithal Govindarao Saraf has served the local community.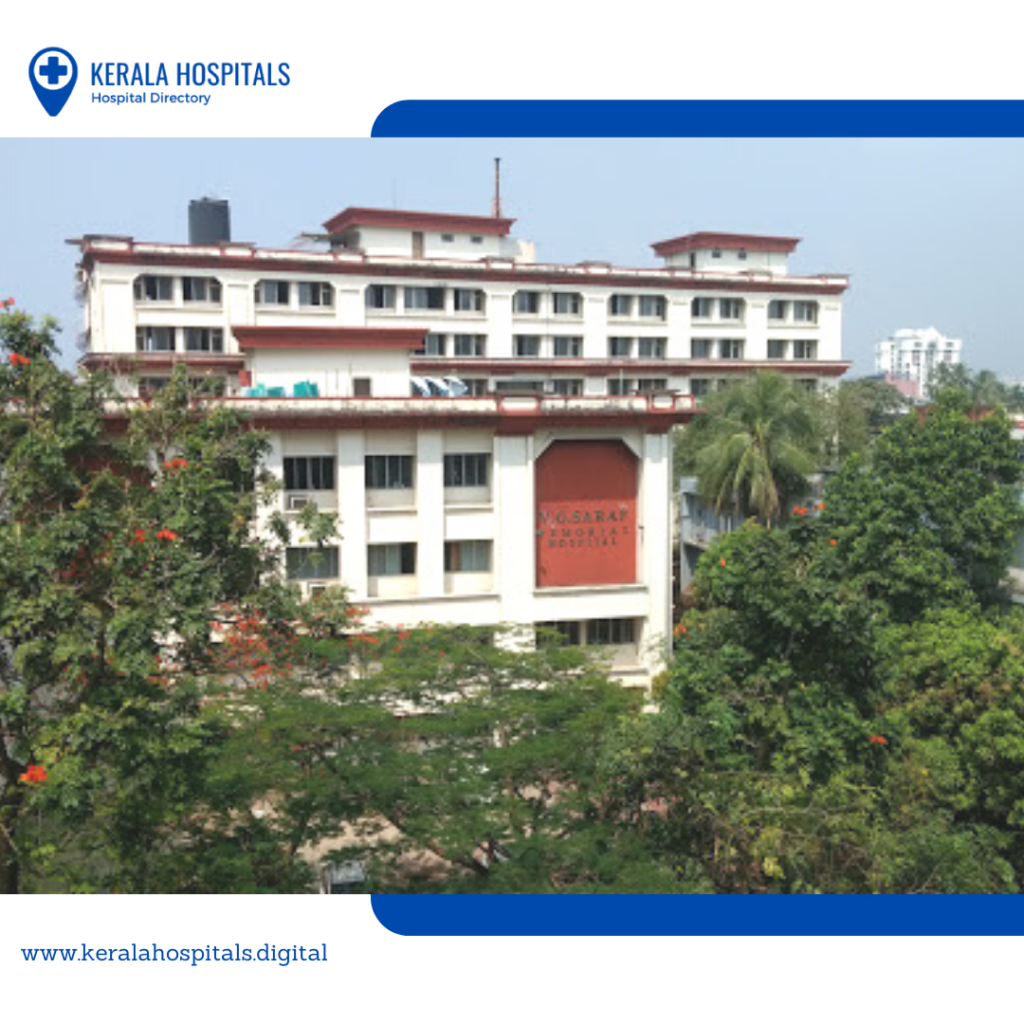 With 15+ departments and advanced equipment and facilities, the hospital caters to the medical requirements of the people. The NABH accredited hospital offers specialized care in a wide range of specialities.
Address – V.G. Saraf Memorial Hospital
Sreekandath Road, Ravipuram
Cochin, Kerala 682016
Ph – +91 484 2380452, +91 9207 422 224
Apollo Adlux hospital is the first venture of Apollo Adlux, the branch of the Apollo Group of hospitals in the state. The hospital is one of the most advanced super speciality hospitals in Kerala provides people easy accessibility to advanced medical care at an affordable cost.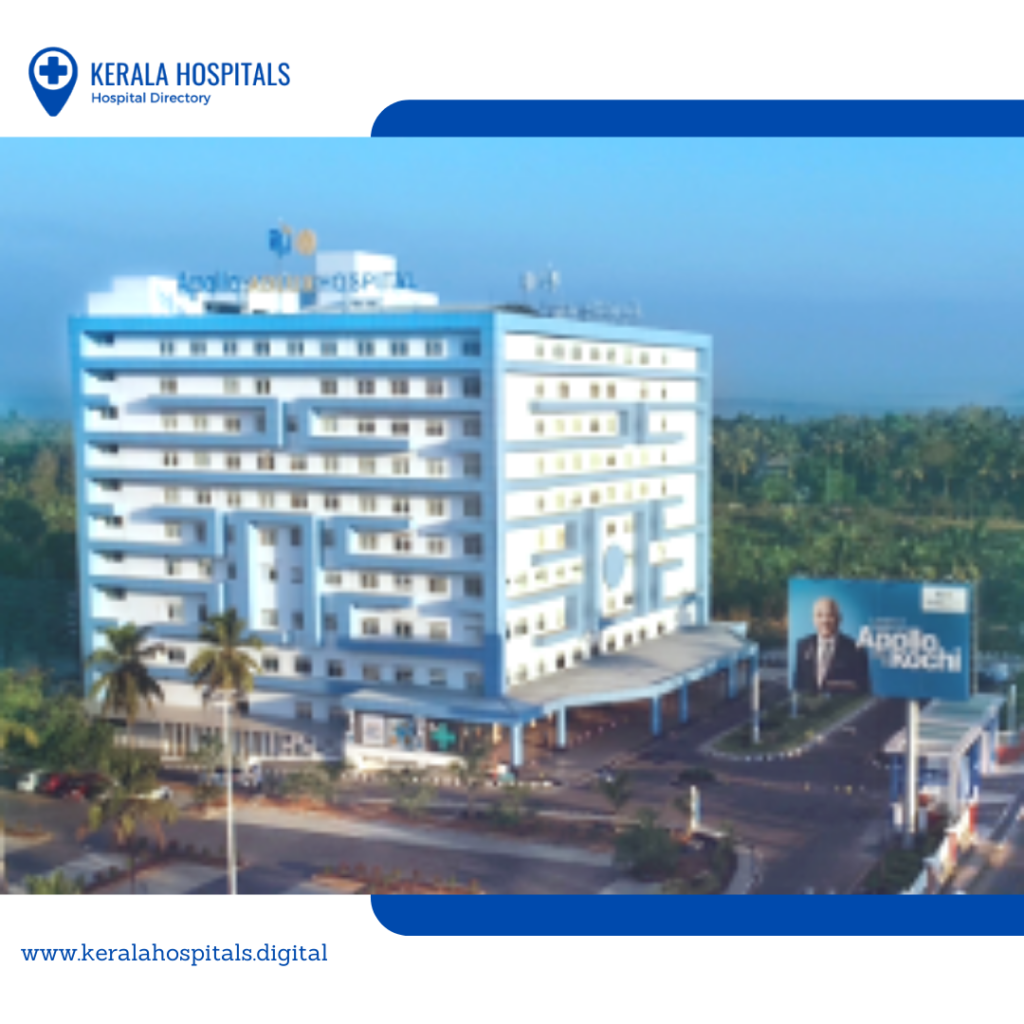 Apollo Adlux strives to serve the community and bring world-class healthcare services to the people. The 300 bedded hospital has access to world-class technologies, most modern operation theatres, advanced laboratory, and medical diagnostics. Placing patients at the core of operations, the hospital has developed robust quality standards, used expert diagnoses and treatment plans to provide the most appropriate treatment and services. Situated in Adlux Group's international exhibition and convention centre, the hospital is easily accessible from Cochin International Airport and well connected with road and rail transport.
Address – Apollo Adlux Hospital
Angamaly, Cable Junction
Ernakulam, NH-47, Karukutty
Kerala 683576
Ph – 0484 2735000, 0484 7185000