Bharath Hospital
Assisi Hospital
Matha Hospital
Caritas Hospital
Mar Sleeva Medicity cherpunkal
Marian Medical Centre
SH Medical Centre Hospital
Mandiram Hospital
Mitera Hospital
Mary Queens Mission Hospital
Bharath Charitable Hospital Society was formed in 1969 under the pioneering and enterprising leadership of Dr. A.N. Viswanathan Pillai, a well-known city doctor. It is a 175 bedded multi-disciplinary super-specialty hospital located adjacent to the Thirunakkara Mahadeva Temple in Kottayam. It is known for providing the highest quality care and innovative treatments at a cost that is affordable. In 1969, it was founded and has served the people of Kottayam ever since.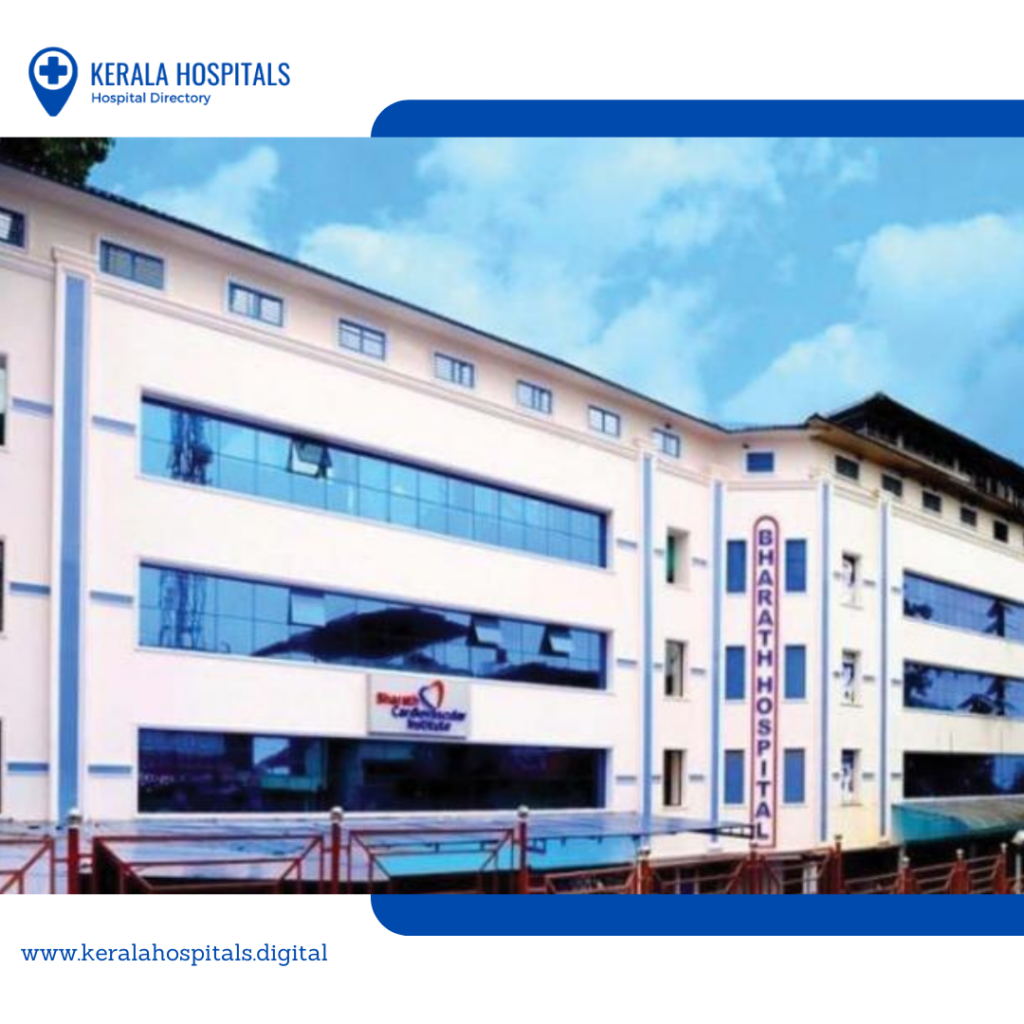 Bharath Hospital is one of the top hospitals in Kottayam with more than 60 consultants in various departments, arising from humble beginnings with just four departments – gynecology, general surgery, general medicine, and pediatrics.
Address: Azad Ln, Puthenangady
Kottayam, Kerala 686001
Phone: 0481 258 2947
Assisi Hospital celebrates 33 years of excellent service to the health care industry. This is a dream project of the Vijayapuram Diocese, under the patronage of Rt. Rev. Dr. Sebastian Thekethecheril, the bishop. It was founded in 1987 as a medical facility for the people in the community.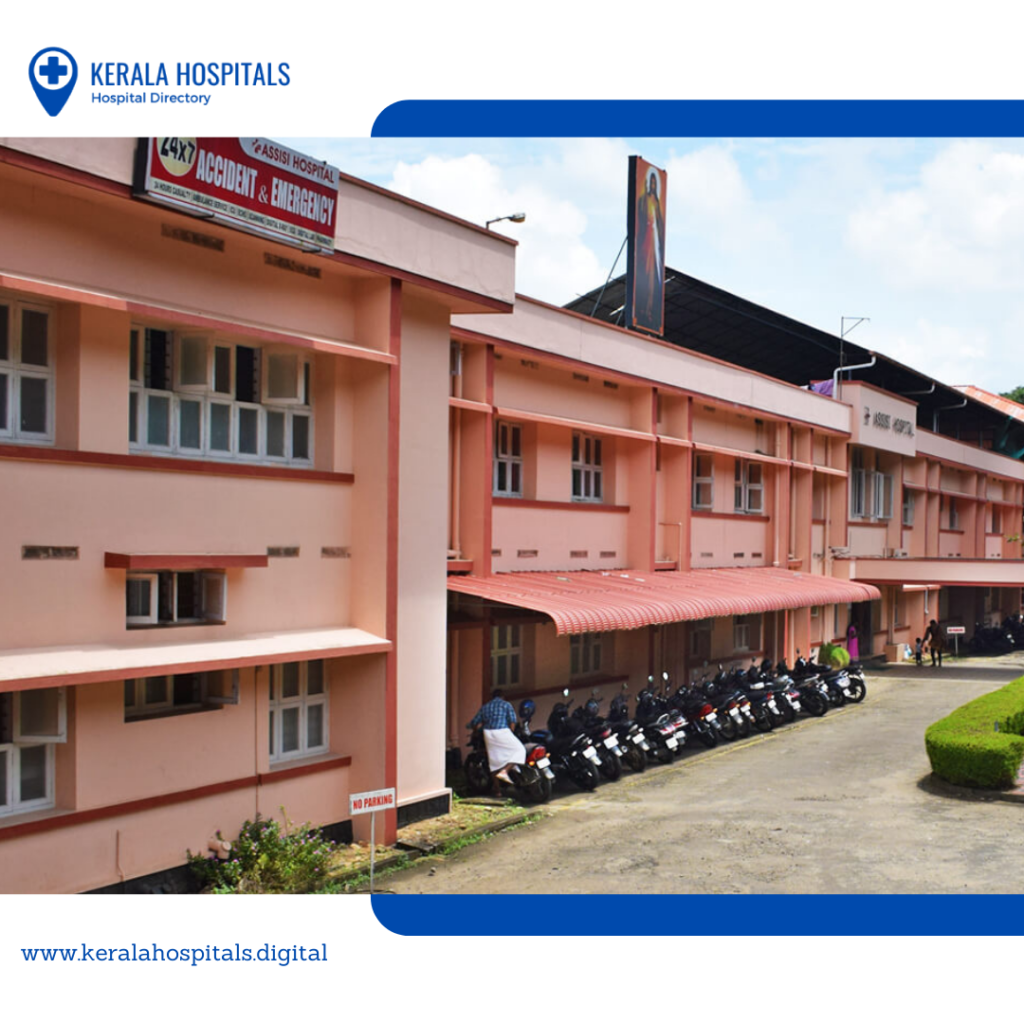 In our modern world, the Assisi hospital strives for a healthy and happy society, since there is nothing more important than being compassionate and caring. There are 250 beds at Assisi Hospital, including specialties in General Medicine, Cardiology, Pediatrics, Orthopedics, Neurology, ENT, obstetrics & gynecology, Psychiatry, General & Orthopedic Surgery, Dental, and a 24×7 Emergency Department. Assisi has now opened up its wings to include Assisi – a nursing college, school of nursing, and institute of paramedical sciences.
Address: Mukkoottuthara P.O, SH44
Mukkoottuthara, Kerala 686510
Phone: 085899 97358
The hospital, which was founded in the year 2000, has grown into a center of excellence in healthcare in all aspects. It has played a very significant role in leaping towards this dramatic success that the institution has been concerned with high-quality standards and patient satisfaction.
There are many departments of medicine under one roof in the hospital. Matha hospital also has a team of doctors and healthcare professionals who work in sync and harmony with one another to benefit the patients and their families. There is a high level of experience and expertise among all of the healthcare professionals. Medical departments are interconnected, which makes it easy to resolve many medical complications.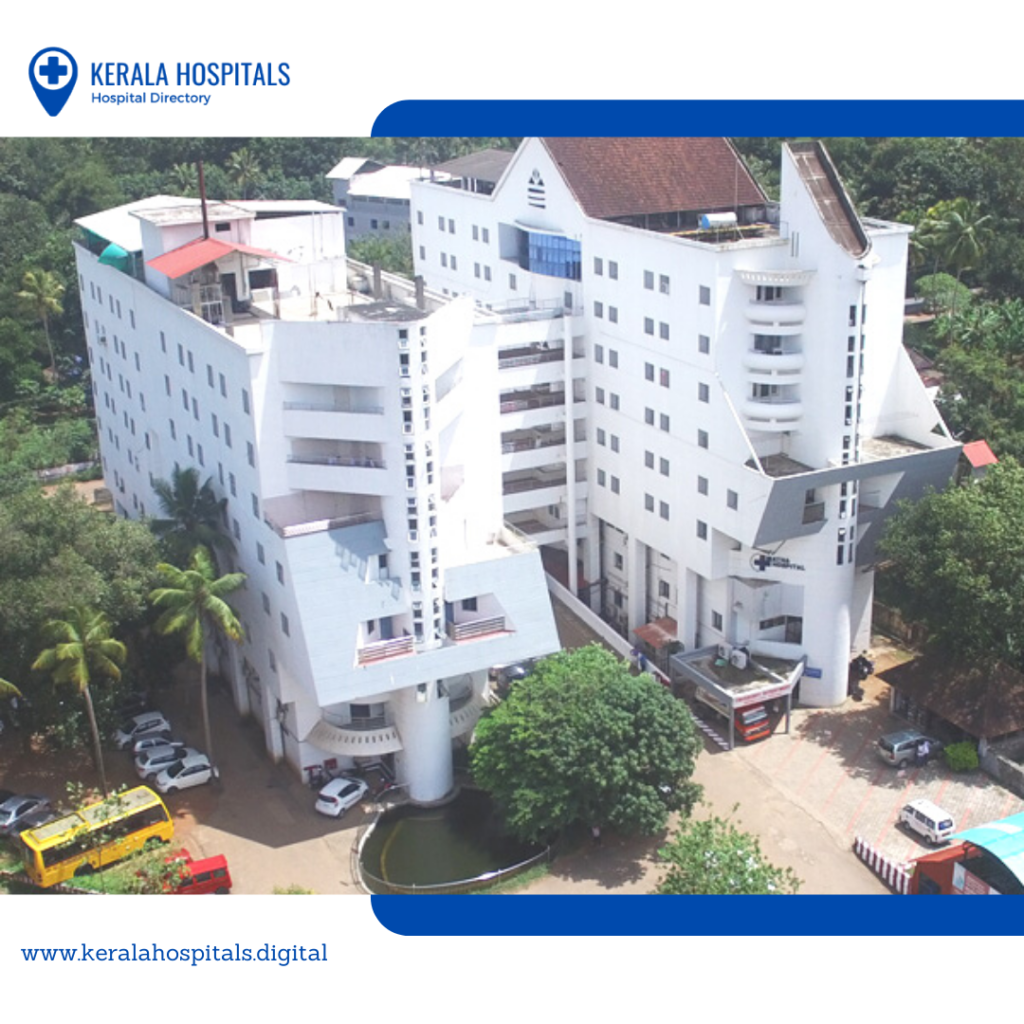 People from different distant locations can easily access the hospital due to its location. Matha Hospital is known throughout central Kerala for its futuristic model of operation and patient-centric approach. It aims to continue its growth track and provide the best medical facilities for the entire society.
Address: Matha Hospital, MC Road, Thellakom (P.O)
Kottayam, Kerala – 686630
Phone: +91 481 2792500
The towering lighthouse of good health and healing in central Kerala is the Caritas Hospital, Kottayam. In 58 years of health care service, Caritas Hospital has led millions of people to a life of peace and happiness. This is because they have eliminated the fear they associate with illness and disease. Their motto is 'Kenotic love saves life' and they take their cues from the spirit of Jesus Christ who wanted all people to enjoy life to the fullest. Individuals and communities receive holistic care that promotes and sustains their health. Located in the Knanaya Catholic Archdiocese of Kottayam, Caritas Hospital is a charitable trust registered under registration number 510/IV/95.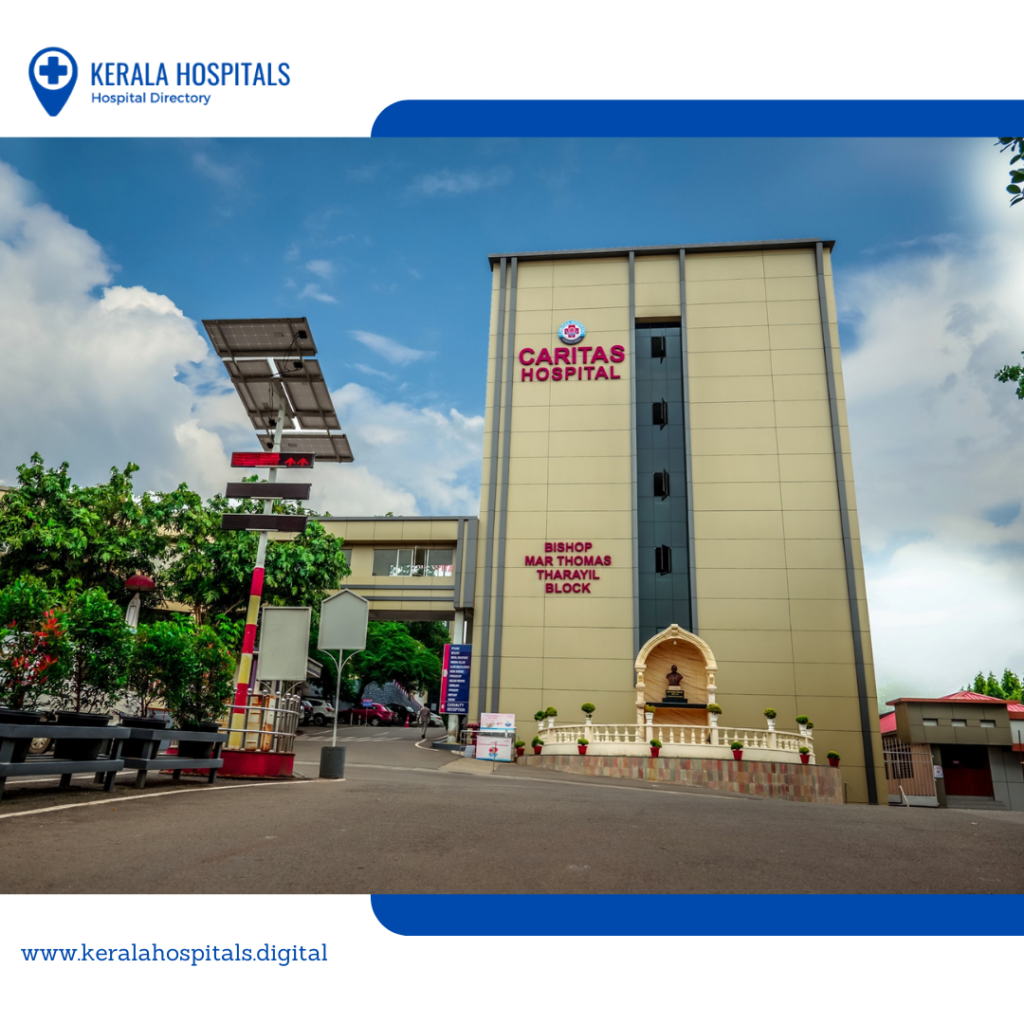 The hospital's quality management system and healthcare procedures are NABH accredited and ISO 9001:2015 certified. With more than 38 clinics and departments, Caritas Hospital has grown into one of Central Kerala's best healthcare providers. Multi-organ transplantation centers are well equipped for kidney, heart, lungs, and liver transplantation. Furthermore, Caritas Hospital stands out for having the highest number of patients in Central Kerala.
Address: Caritas Hospital Thellakom P O
Kerala 686630
Phone: 0481 279 0025
The Mar Sleeva Medical Center Palai is a tertiary care hospital founded by the diocese of Palai and under the management and administration of the Palai diocesan medical education trust (PDMET). As a Catholic health care facility, it guarantees advanced medical care to all, observing the medical ethics, morals, and beliefs upheld by the church. The hospital is near the river meenachil at Cherpunkal, a quaint town with old traditions, located roughly seven kilometers from Pala and twelve kilometers from Ettumanoor.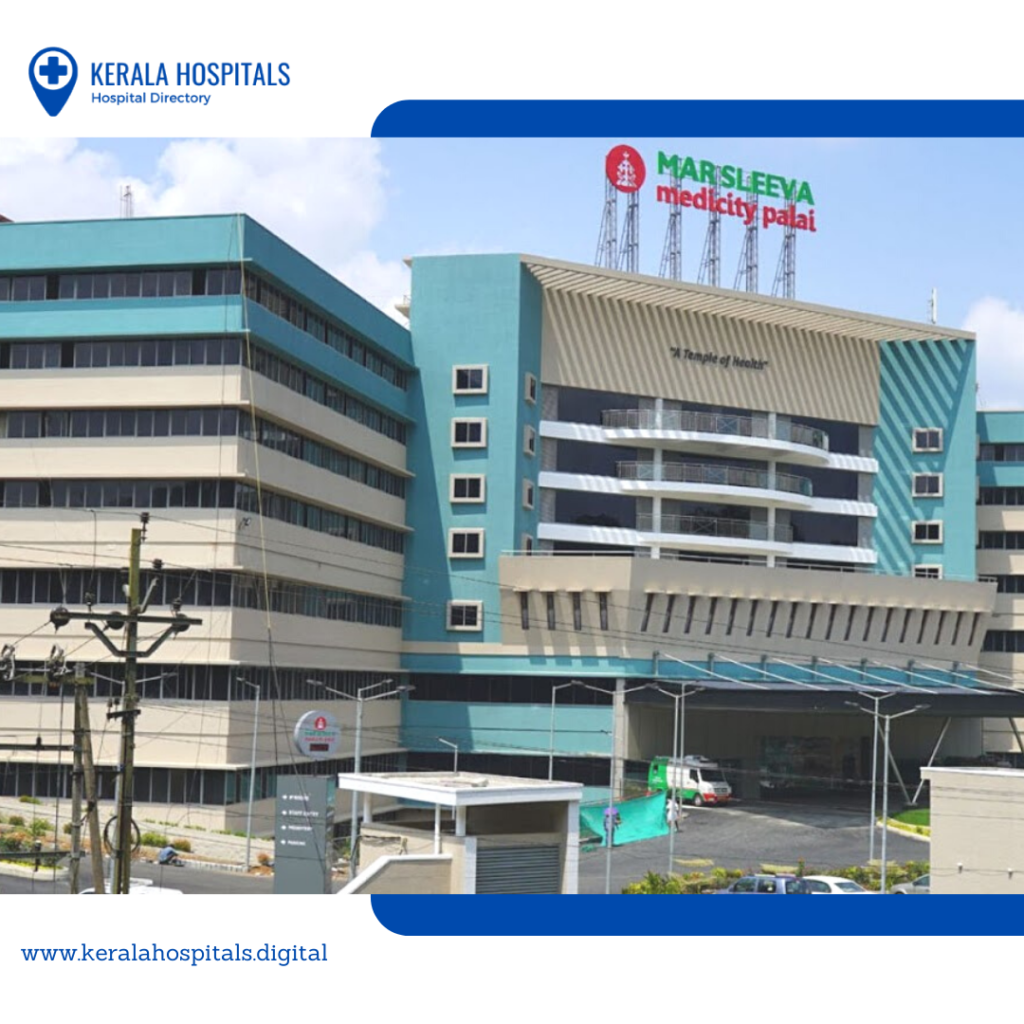 There are many departments of medicine under one roof in the hospital. Mar Sleeva Medical Center also has a team of doctors and healthcare professionals who work in sync and harmony with one another to benefit the patients and their families.
Address: Cherpunkal – Kozhuvanal Road
Cherpunkal, Kerala 686584
Phone: 04822 269 500
Mary Medical Center, Pala has been in existence since 1973 under the direction of the Franciscan Clarist Congregation, Alphonsa Province in the Diocese of Pala. The Society was incorporated on 12th June 1980 with Reg.No. K. 286 according to the 12th Registration Act of 1955 the Travancore-Cochin Literary Scientific Charitable Societies Act, and registered under Foreign Contribution Regulation Act. Franciscans aim to serve the poor, the marginalized, and the young in areas including education, health, and social development.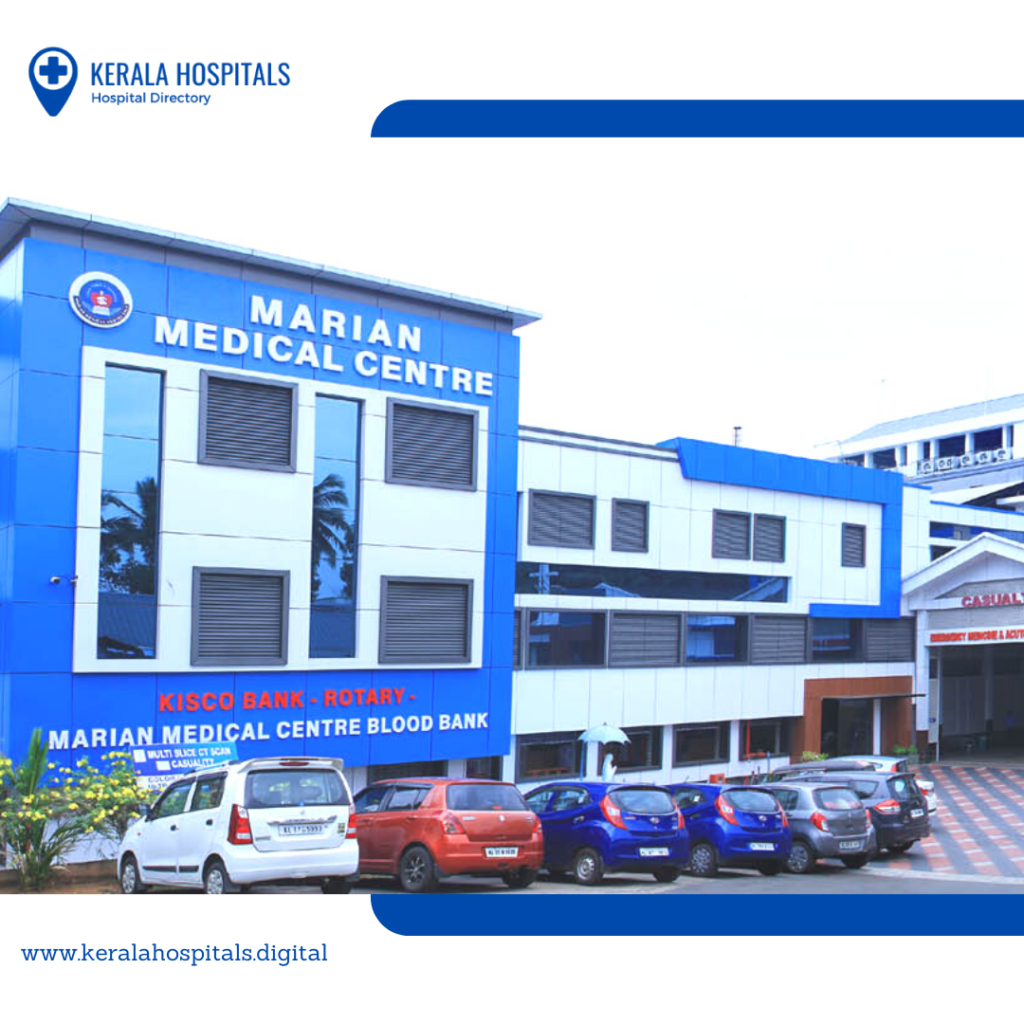 The Marian Medical Center Hospital was established in the Marian Community for the service of the sick, disabled, downtrodden, and other needy thousands in the Marian area. From its humble beginnings as a 20-bed health care facility in 1973, it has grown into a national institution. Today, it encompasses almost all of the departments and facilities of a 100-bed multi-specialty hospital. Growing and developing the hospital is the result of the untiring efforts and selfless service of the sisters. These efforts are devoted and highly qualified doctors and staff, and the dire need for better health care among the people in and around the hospital.
Address: PM46+CWF, Arunapuram, Pala
Kerala 686574
Phone: 04822 215 519
Long ago, the authorities of the S H Congregation recognized the importance of providing medical/health care to the poor and needy. In 1968, a Cancer Institute and a Maternity Centre were set up in a rented house in Kottayam. Congregation members from all walks of life supported and encouraged the congregation to move forward. On 21st September 1969, a full-fledged hospital was dedicated in the name of the Sacred Heart of Jesus and inaugurated by Blessed Rev. Mathew Kavukattu, archbishop of Changanacherry.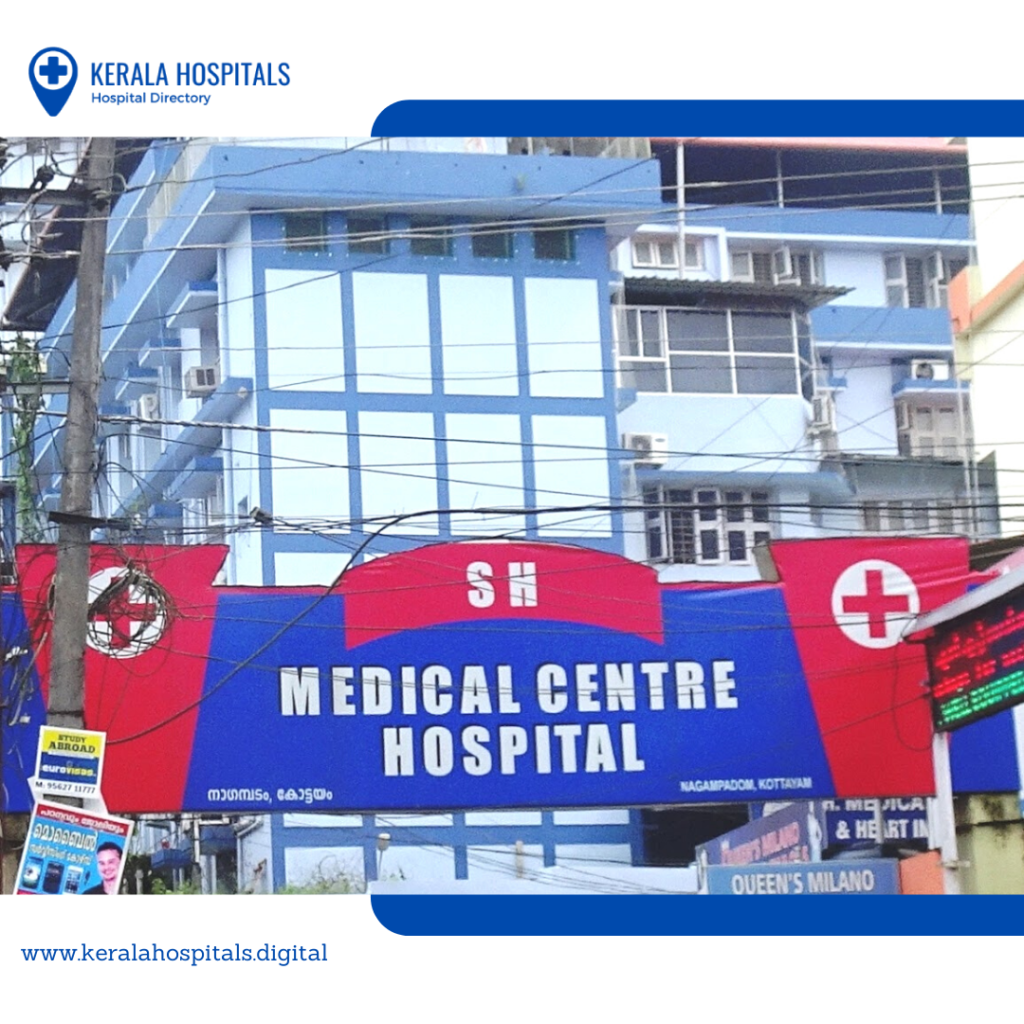 A charitable institution, the hospital is registered (K 268/87) under the Travancore-Cochin Literary, Scientific and Charitable Society's Registration Act 1955. St. Mathews Province of the SH Congregation, Parel, Changanacherry, owns and operates the S H Medical Centre. It is situated in the district of Kottayam and offers a wide range of highly specialized medical, surgical, and diagnostic services using sophisticated technology.
From a humble beginning in 1969 with ten beds and one house, S. H. Medical Centre has grown into a multi-specialty hospital with six main blocks covering an area of 6 lakh square feet. The Hospital's efforts to provide quality health care with compassion have helped it become one of Kerala's top healthcare providers. S H Medical Centre provides cost-effective and user-friendly medications with its service-oriented healthcare delivery model.
Address: Nagampadam, Kottayam
Kerala 686001
Phone: 0481 256 2240
The simple faith of Shri P. C. George and his sister Leyamma in God and humanity laid the foundations for Mundakapadam Mandirams Society – the opening of Agathi Mandiram (Home for the Poor). Multiple institutions and community service centers have been established by Mandirams Society over the years. The selfless service, generosity, and patronage of millions of men and women, families, organizations, and philanthropists make this possible.
Members of the Mandirams Society are volunteers from three Episcopal churches – the Malankara Mar Thoma Church, the Malankara Orthodox Church, and the Diocese of Madhya Kerala of the Church of South India.
Address: Near Mandiram Hospital, Kalathilpady, Manganam
Kottayam, Kerala 686018
Phone: 0481 257 2063
Mitera is the Greek word for mother. It is dedicated to the woman who has been given the power to bring life to the Earth. MITERA believes that women deserve ultimate wellness and joy throughout their lives. Mitera is a joyful, caring place dedicated to the wellbeing of women and to holding their hands as they pursue their dreams.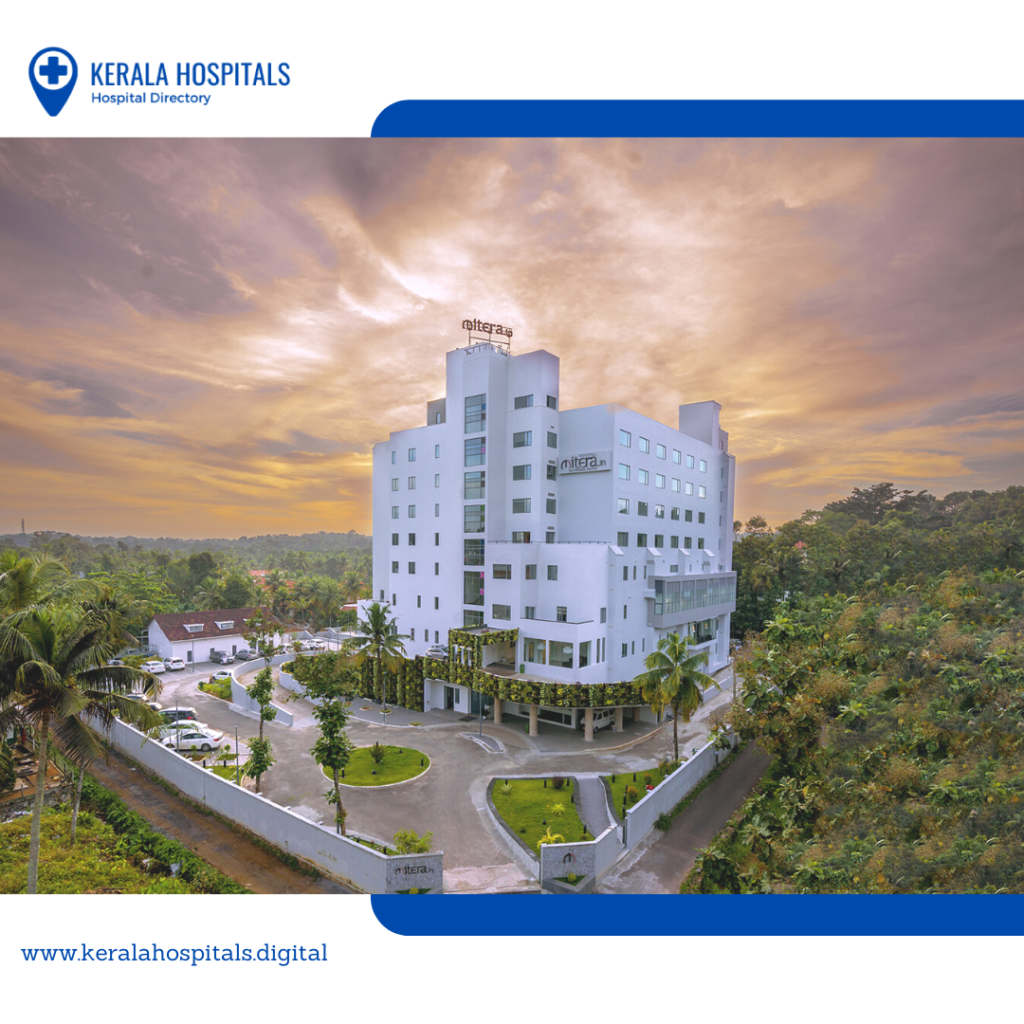 Vision: To provide the highest level of quality care and to uphold the highest ethical standards for women and children.
Mission: Women should be assured of ultimate wellness throughout their lives, as well as endowed with the greatest joy of motherhood.
Address: SH 1, Thellakom, Ettumanoor
Kerala 686630
Phone: 0481 279 2999
It began 65 years ago as a charitable institution and has been a part of the divine journey ever since. Founded by the first indigenous congregation in the Catholic Church of India, the Carmelites of Mary Immaculate (CMI), MQMH is a living expression of the Church's concern and social responsibility. Ownership and management of the hospital are under the control of CMI St. Joseph's Province, Kottayam, as the premier project of Mary Queen's Mission Hospital Trust, a registered non-profit.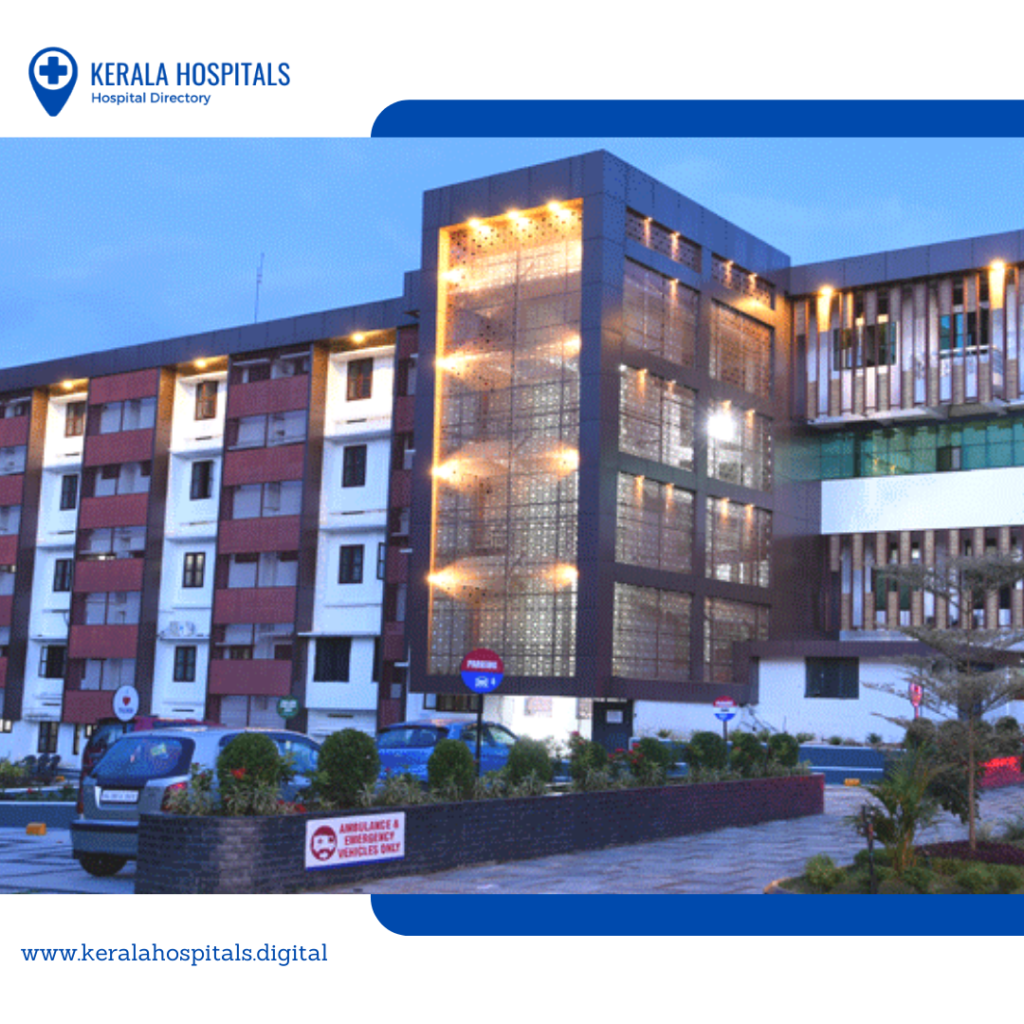 Besides offering help to the sick and suffering, Jesus is guiding us to provide comfort and healing through our health care services. In fact, they firmly believe that quality care should not be an exclusive privilege, but a right that belongs to all. We envision establishing an exemplary centric patient care system whose primary focus is the safety and dignity of each patient. A global team of medical, administrative, and support staff is dedicated to providing comprehensive quality health care to all, ensuring world-class service. 
Address: Kanjirapally – Erumely Road, Palampra Rd
Kottayam, Kerala 686518
Phone: 04828 201 300