Dr. Lijo's skin clinic
Elite Mission Hospital
Mother Hospital
Amala Institute of Medical Science
Atreya Hospital
Westfort Hospital
Holy Family Medical Centre
Royal Hospital
Aswini Hospital
Dr. Lijo's skin clinic, Dedicated to Providing Quality Skin Care. Care for the skin refers to a range of practices that promote skin integrity, such as nutrition, avoidance of excessive sun exposure, and appropriate use of emollients; that enhance appearance such as the use of cosmetics, botulinum, exfoliation, fillers, laser resurfacing, microdermabrasion, peels, retinol therapy; and that remediate skin break down and relieve skin conditions. Skincare is a routine daily task in many settings, including preventing incontinence-associated dermatitis and preventing skin injuries. Providing skincare is essential for treating wounds, promoting wound healing, and treating neonates, the elderly, and patients undergoing radiation treatment.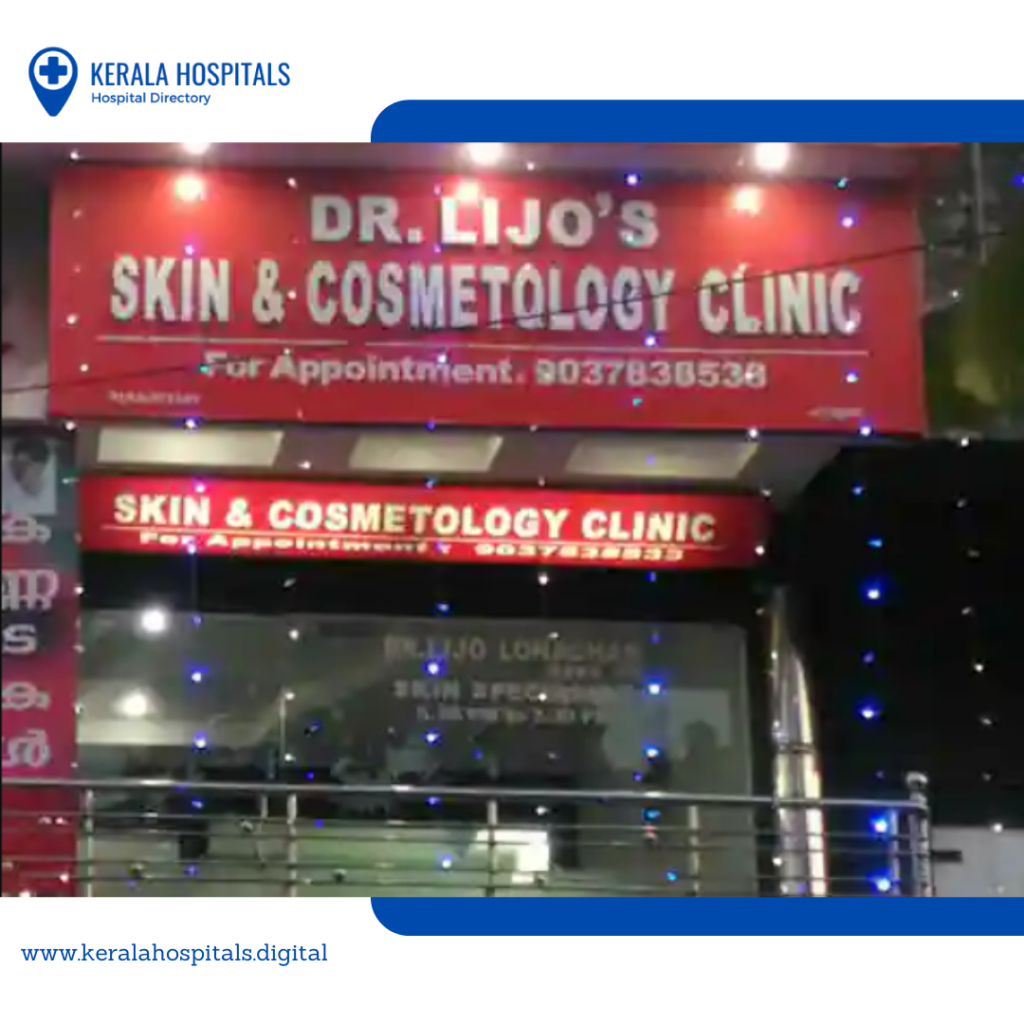 Address: Mar Addai Sleeha Church Complex, Near South Indian Bank
Paravattani Thrissur 5, Kerala, 680005
Phone: 9037838533
Elite Mission Hospital has been providing quality healthcare to communities in Thrissur and central Kerala since 1979. Providing the latest medical advances closer to home remains a top priority for them.
Providing both inpatient and outpatient care, our 300-bed hospital is owned and operated by the local community. Take a look around to learn more about taking care of yourself and your family. It is always about the patients. Patient recovery can be made as smooth as possible if they receive appropriate specialized care and support during their treatment.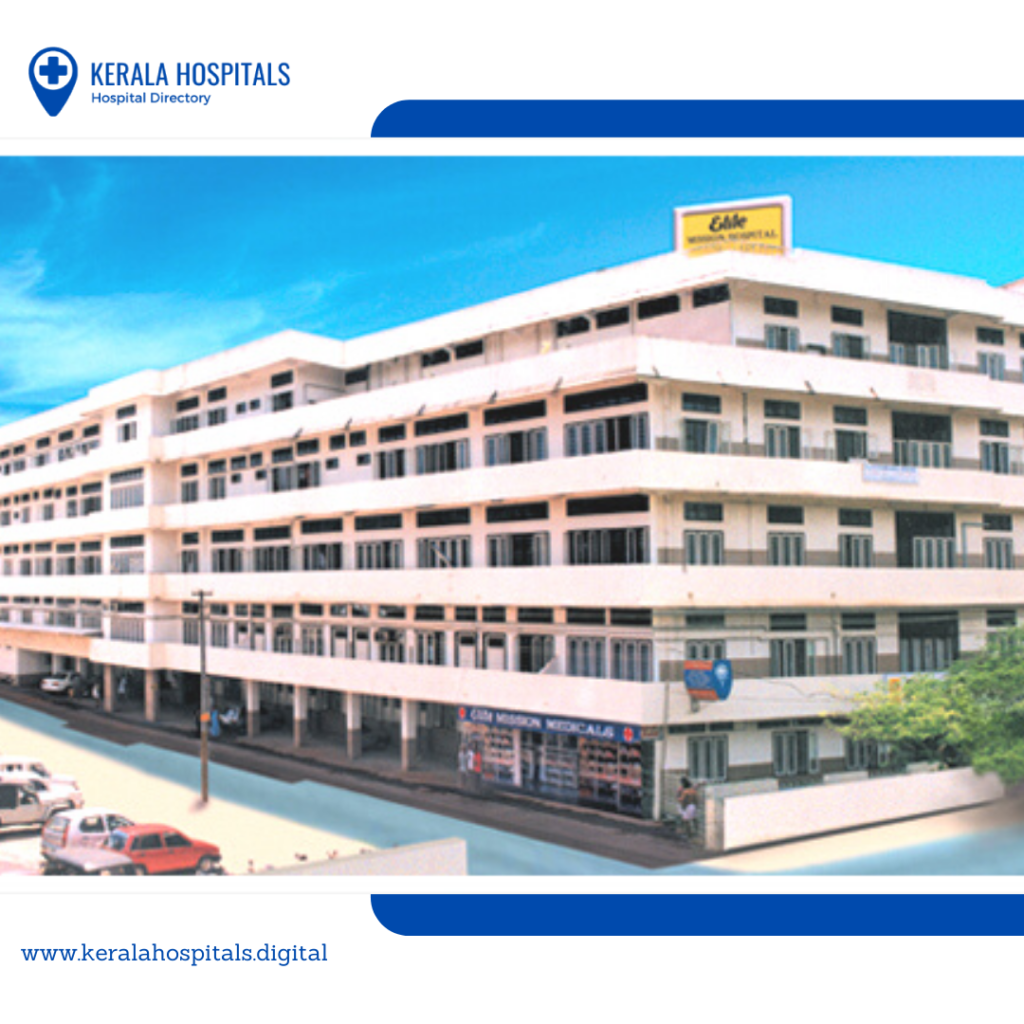 Address: Koorkenchery Rd, Koorkenchery
Thrissur, Kerala 680007
Phone: 0487 243 6100
The Mother Hospital is a multi-specialty hospital in Olari, close to the city of Thrissur in Kerala, India. It has built an unmatched reputation with its patients for more than two decades by combining the best medical expertise with fast medical care for its patients. These patients are critically ill.
With a well-trained and experienced team of doctors and support staff, we are extremely proud to serve patients from different walks of life and from both inside and outside the country with multi-specialty and super-specialty care. What truly reflects our approach to healthcare is the mother's touch. There is one of its kind neonatal care center in the city.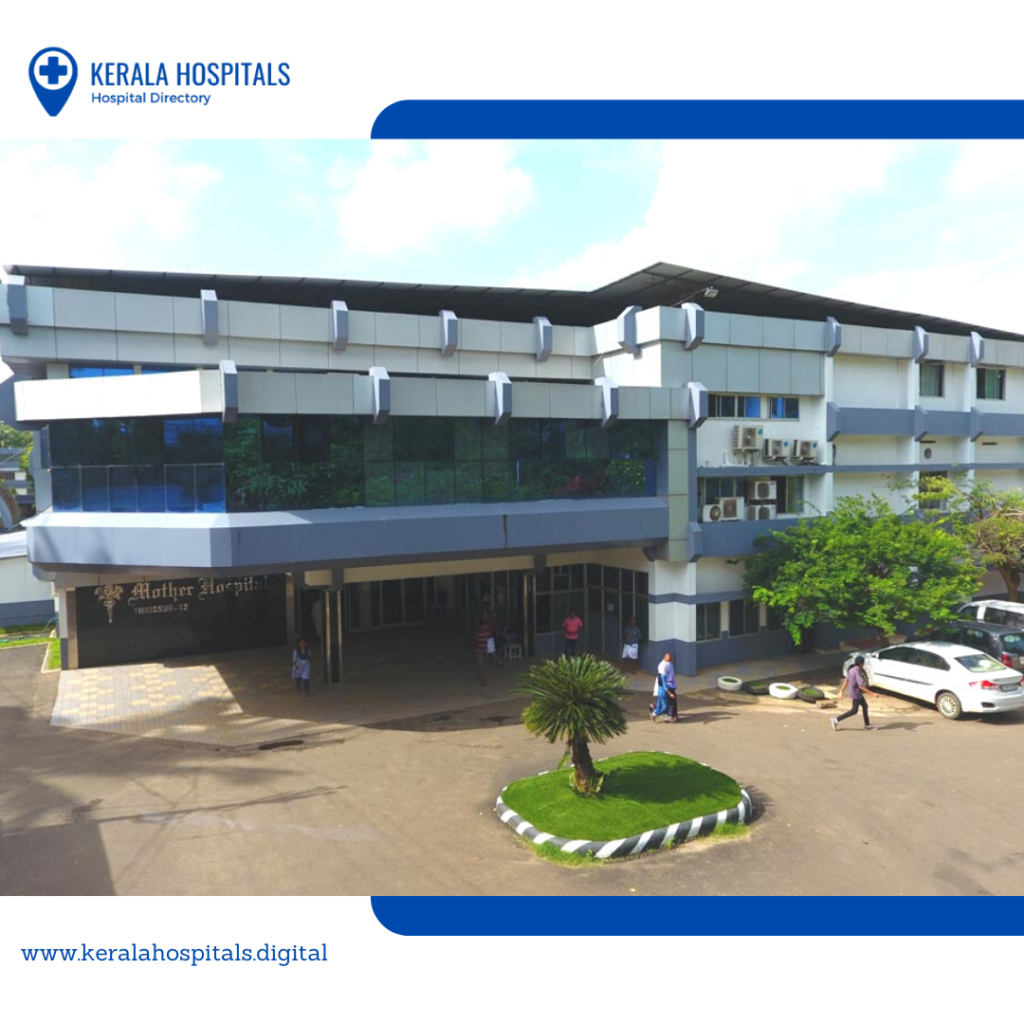 Address: P.O, Olari – Pullazhi Rd, Pullazhi
Thrissur, Kerala 680012
Phone: 0487 243 4100
Amala Institute of Medical Sciences (AIMS), named after the Blessed Virgin Mary, is a multidisciplinary medical network offering pedagogy, therapy, research, and outreach services. AIMS traces its origins to Amala Cancer Hospital, which was established in 1978. Founded by St. Kuriakose Elias Chavara, the CMI Congregation's Devamatha Province manages the center.
The field of dermatology, a crucial component of medical science, is making rapid advances and remains on par with other specialties. Amala hospital is one of the leading Dermatology hospitals in Thrissur and aspires to be a valuable contributor to this field.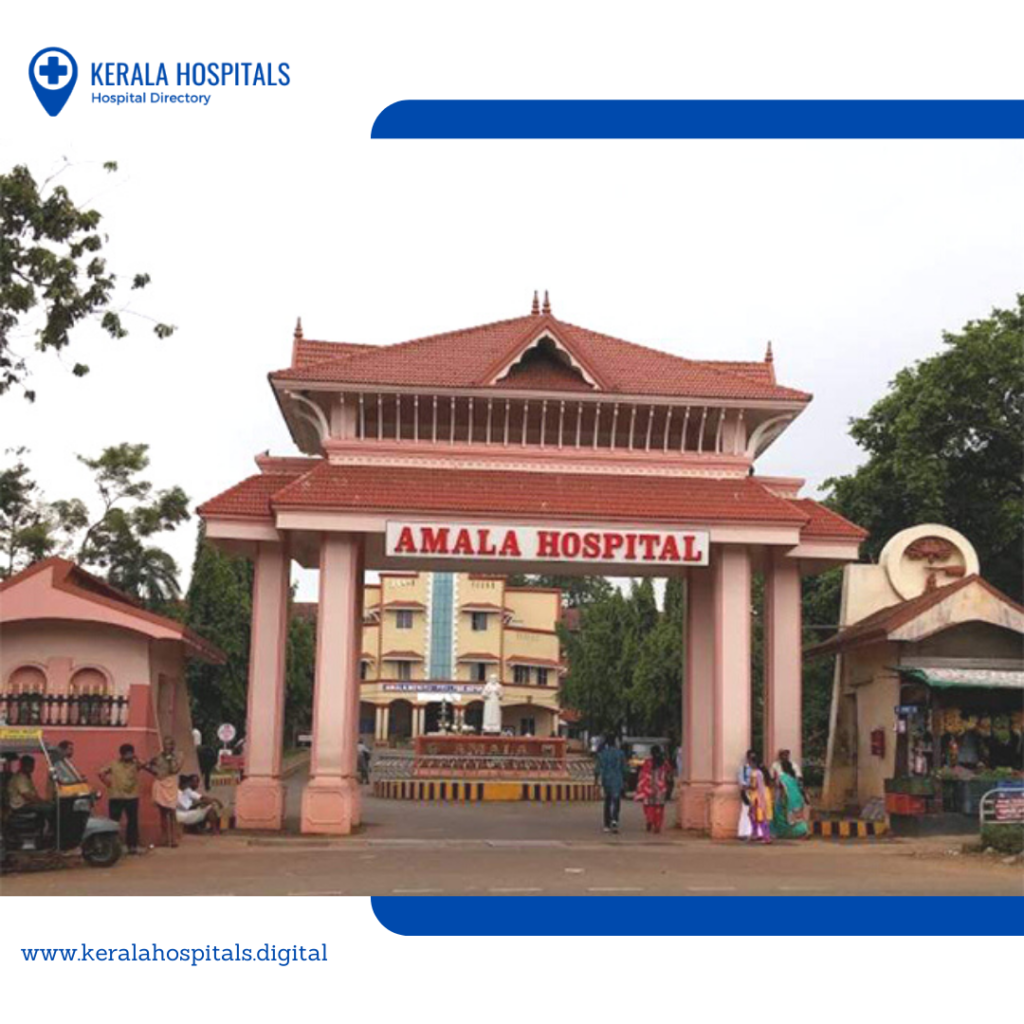 Both out-patients and in-patients are taken care of by the well-trained staff. The department also teaches undergraduate and graduate students. A Skin ICU and two well-equipped Operation Theatres (OT) are available in the department. Laser surgery and phototherapy are also available.
Address: SH69, Amalanagar, Thrissur
Kerala 680555
Phone: 0487 230 4170
Atreya was set up in 2008 in Thrissur as a clinic called Carewell Clinical Center with the aim of providing quality health care. The hospital is considered one of the best in the region. In the last decade, the clinic has been able to make a name for itself thanks to its pristine and specialized services, even within the constraints of variable resources.
Green building norms have been followed when constructing Atreya. A high priority has been given to conserving energy and water. Patients' movements have been made as comfortable as possible. This hospital offers state-of-the-art medical equipment, which ensures a safe and fast recovery after surgery. The department of neurosciences offers excellent medical care and the surgical outcomes have been exceptional. The most advanced lasers are used in plastic surgery, aesthetics, and dermatology procedures.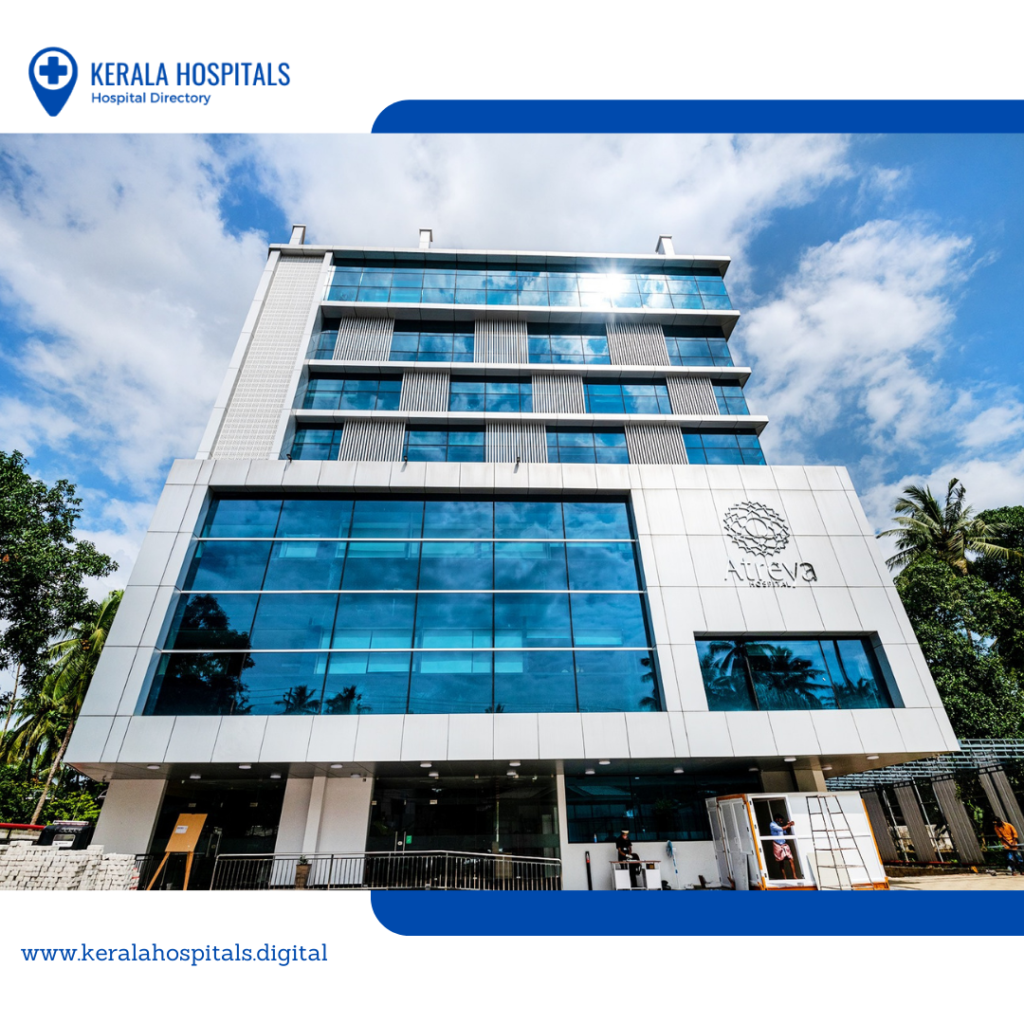 Address: Guruvayur Road, near Pipeline Jn, East Fort
Thrissur, Kerala 680005
Phone: 0487 662 7766
Westfort Hospital in Thrissur, Kerala, India, has 250 beds. The hospital opened in 1989. There are several first-of-its-kind facilities at the hospital, including a Trauma Unit with neurology and neurosurgery facilities, a spiral CT Scan Unit, a nephrology unit, a nuclear medicine department, and a bone densitometer in orthopedics. The hospital provides renal transplantation services. A private bus stop and the Thrissur and Punkunnam railway stations are close to the hospital.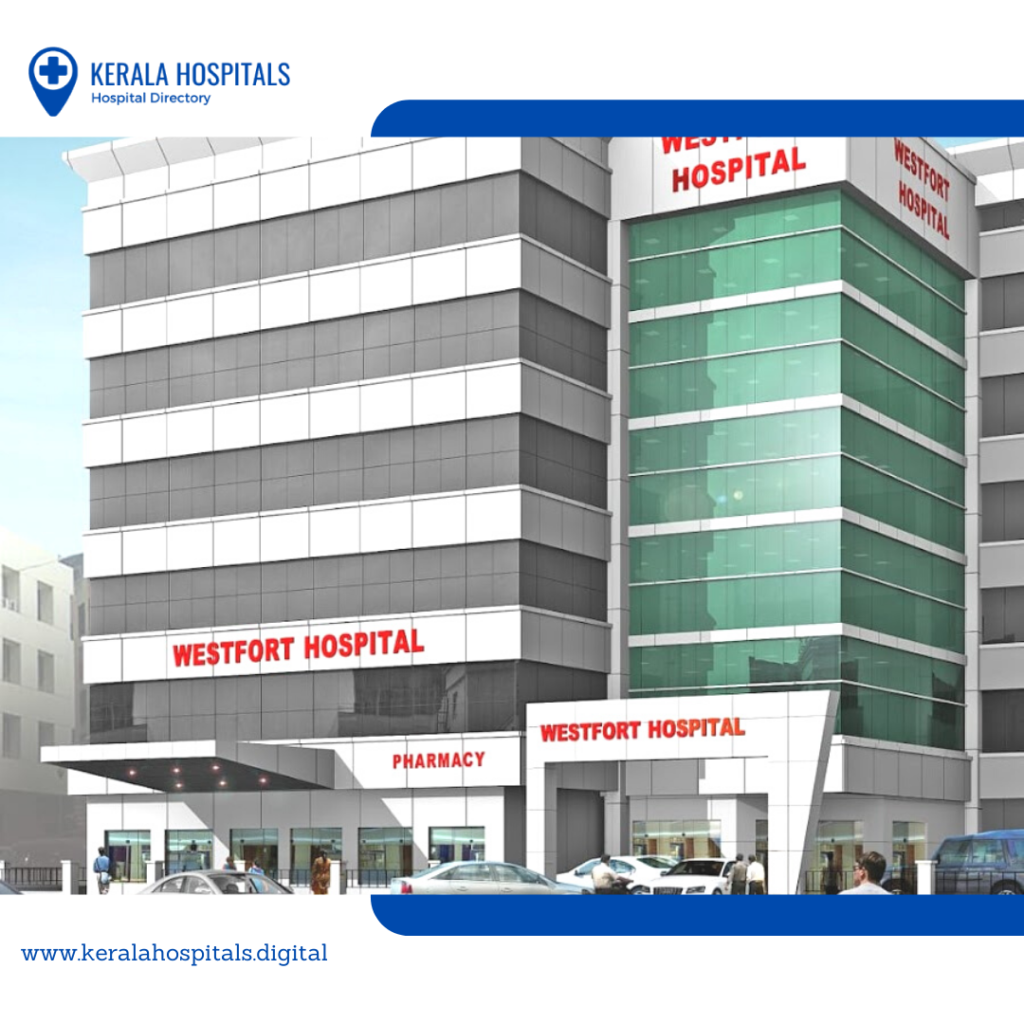 It is a leading Dermatology hospital in Thrissur that deals with diagnosing, treating, and preventing diseases and disorders of the skin. The branch also includes conditions related to nails and hair, primarily since both of these are composed of dead skin cells.
Address: RB. No. 803, W Fort Rd
Thrissur, Kerala 680004
Phone: 0487 238 2130
Dr. Anto T. Joseph founded Holy Family nursing home in 1989 with the intention of bringing better care to those in need. As a result of the growing popularity, Holy Family Hospital was opened in 1991 with advanced facilities. It quickly became one of the most sought-after maternity care centers with the help of Dr. Reni Anto. Affordable health care was always the hallmark of this institution. A team of experienced doctors and dedicated staff provided a relaxing environment for the patients to recover quickly.
Over two decades since its inception, Holy Family Medical Center marks a fresh start, while preserving the values that made it the de facto name of common households. The facility is located between Ollur center and industrial estate and provides services such as casualty, pharmacy, digital X-ray, electrocardiogram, and laboratory 24 hours a day. Gynecology, Orthopaedics, General Medicine, General Surgery, Paediatrics, ENT, Dermatology, Cardiology, Pulmonology, and Dental are some of the specialties available.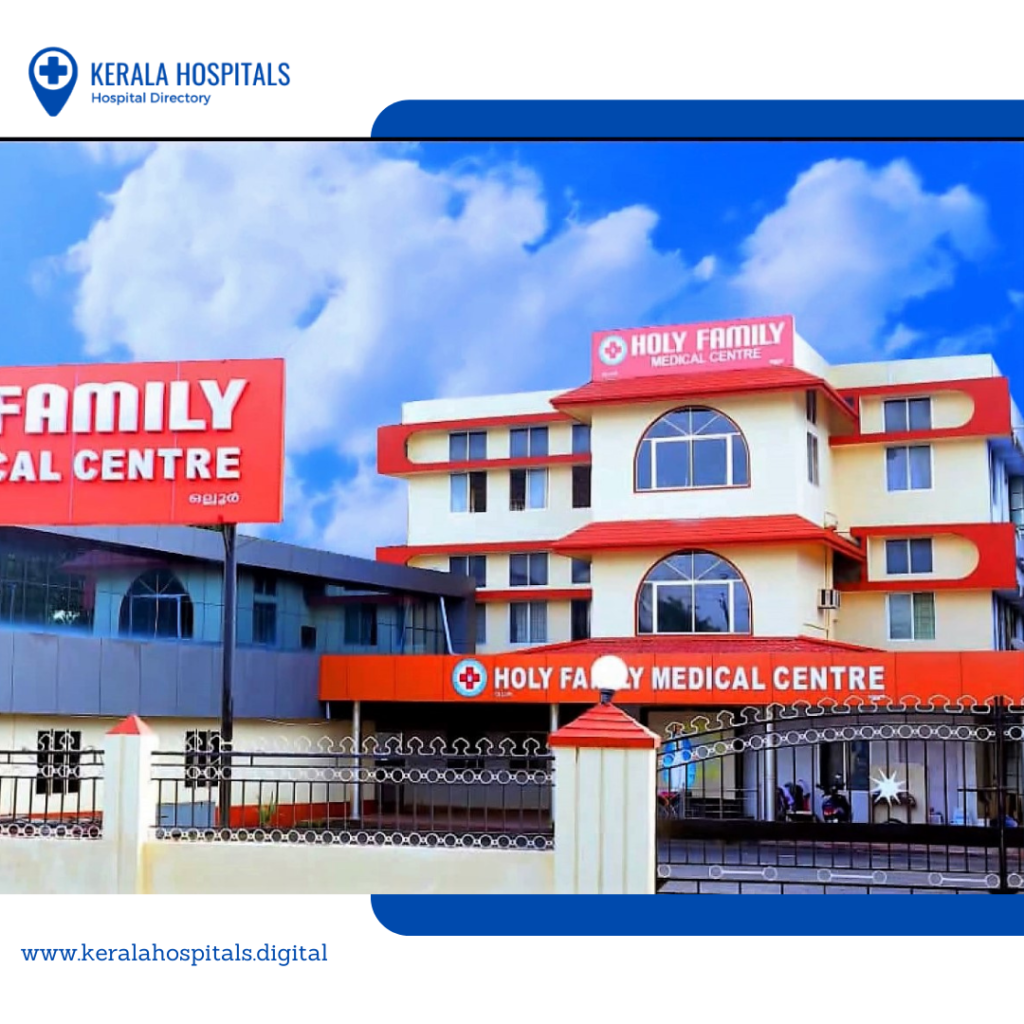 Address: Main Road, Near Industrial Estate, Ollur Industrial Estate, Ollur
Thrissur, Kerala 680306
Phone: 080787 63032
The Royal Hospital was established in 1975 and continues to serve the people of Kunnamkulam and its surrounding areas. Its Managing Director and Founder, Dr. Thomas Mathew (MBBS, MS), is an experienced Consultant Surgeon who is highly qualified. For the people residing in surrounding areas of Kunnamkulam, Royal Hospital provides quality, modern medical care.
Dermatology deals with diagnosing, treating, and preventing diseases and disorders of the skin. The branch also includes conditions related to nails and hair, primarily since both of these are composed of dead skin cells.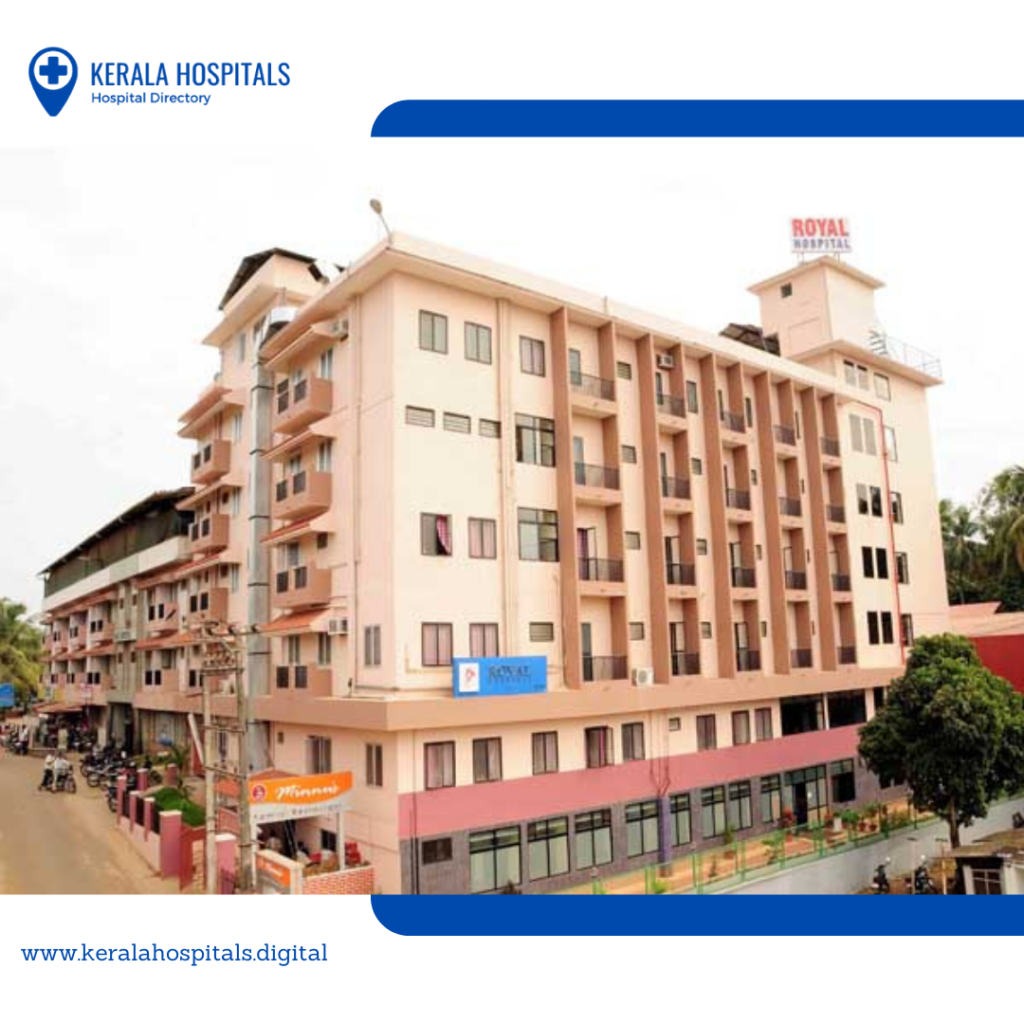 Address: Guruvayur, Kunnamkulam
Kerala 680503
Phone: 04885-215700, +91 94471 51741
A leading private hospital in the region, ASWINI Hospital offers a wide spectrum of diagnoses and treatments in virtually every field of medicine and surgery. Each year, Aswini Hospital treats thousands of patients from the Thrissur, Palakkad, and Malappuram districts, as well as tourists and foreign residents.
With the warmth and caring nature of Aswini Hospital, they have an enviable reputation for providing high-quality and cost-efficient hospital services. The dermatology department is run by two very senior consultants. Formerly the additional director of Kerala Health Services and consultant dermatologist at various district hospitals, Dr. Ramankutty joined the Department of Dermatology in 1999.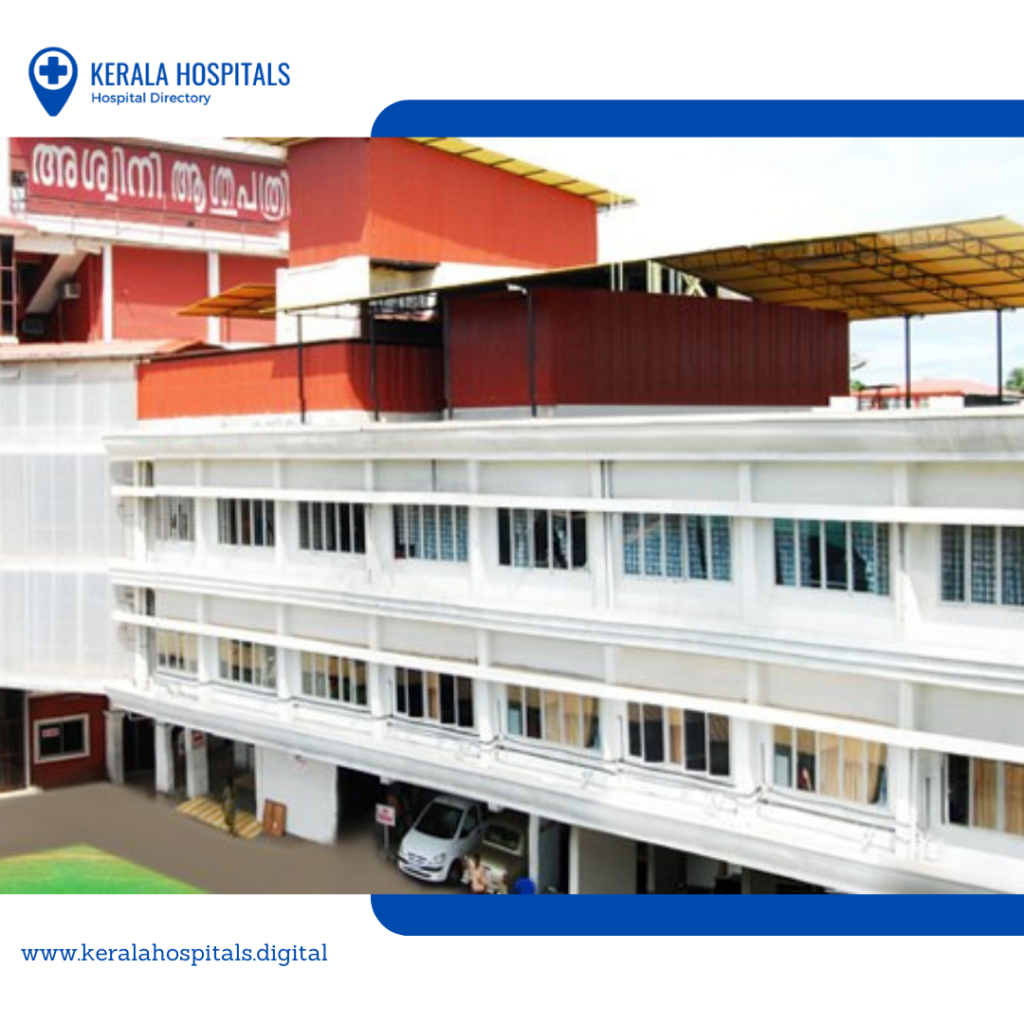 In 2003, Dr. Paul Neelamkavil, former Head of the Department and Associate Professor at St. John's Medical College, Bangalore, as well as a consultant dermatologist at Amala Cancer Hospital, Thrissur, joined the Department. Skin diseases are treated both outpatient and inpatient by the department, which includes life-threatening conditions.
Address: Karunakaran Nambiar Rd, aswani junction, Patturaikkal, opposite Big Bazaar
Thrissur, Kerala 680020
Phone: 0487 661 2345