Sanjivani Multispeciality Hospital
Dr. K M Cherian Institute of Medical Sciences
KVM Hospital
T D Medical College
Sreekantapuram Hospital
Providence Hospital
Sanjivani is a multi-speciality hospital owned and managed by Mr. R S Pillai, the chairman. Established on 22 March 2008, it grew successfully with its reputation. The hospital is situated in a serene and peaceful location. It has 30 departments and 60 doctors and is equipped with more than 100 beds.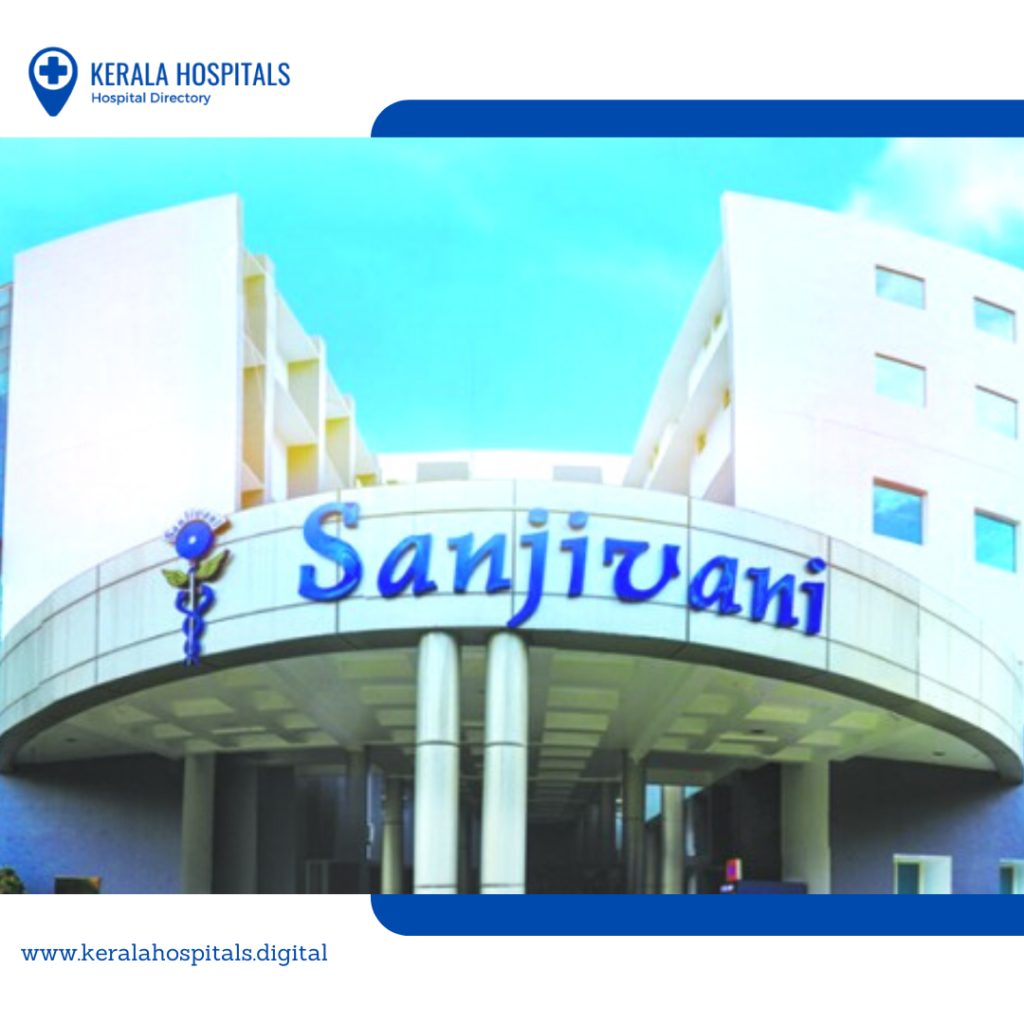 Sanjivani is a leading cardiology hospital in Alappuzha. They have developed a reputation for non-invasive and preventive cardiac care with the support of a well-experienced cardiac team. The doctors and nurses aim to provide quality treatment with compassion and love. Equipped with 9 bedded modern CCU, state-of-the-art facilities, and an in-house registrar in cardiology to attend emergencies, they provide excellent treatment services for cardiac ailments.
Address – Kollakadavu P O, Chengannur, Alappuzha
Ph – +91 9446080605, +91 9447704787
A super-speciality hospital, Dr. K M Cherian Institute of Medical Sciences, started with a vision to provide affordable tertiary level patient care in a high volume-based setting. It is a group of professionals and entrepreneurs operating the hospital under the leadership of P M Sebastian, an industrialist, and healthcare entrepreneur. And the clinical leadership is provided by Padmashree Dr. K M Cherian, a renowned cardiac surgeon. Committed to providing fair, uniform, and quality healthcare, they strive to meet the needs of patients. And they also aim for the continual development of subspecialties to deliver multi-speciality treatments.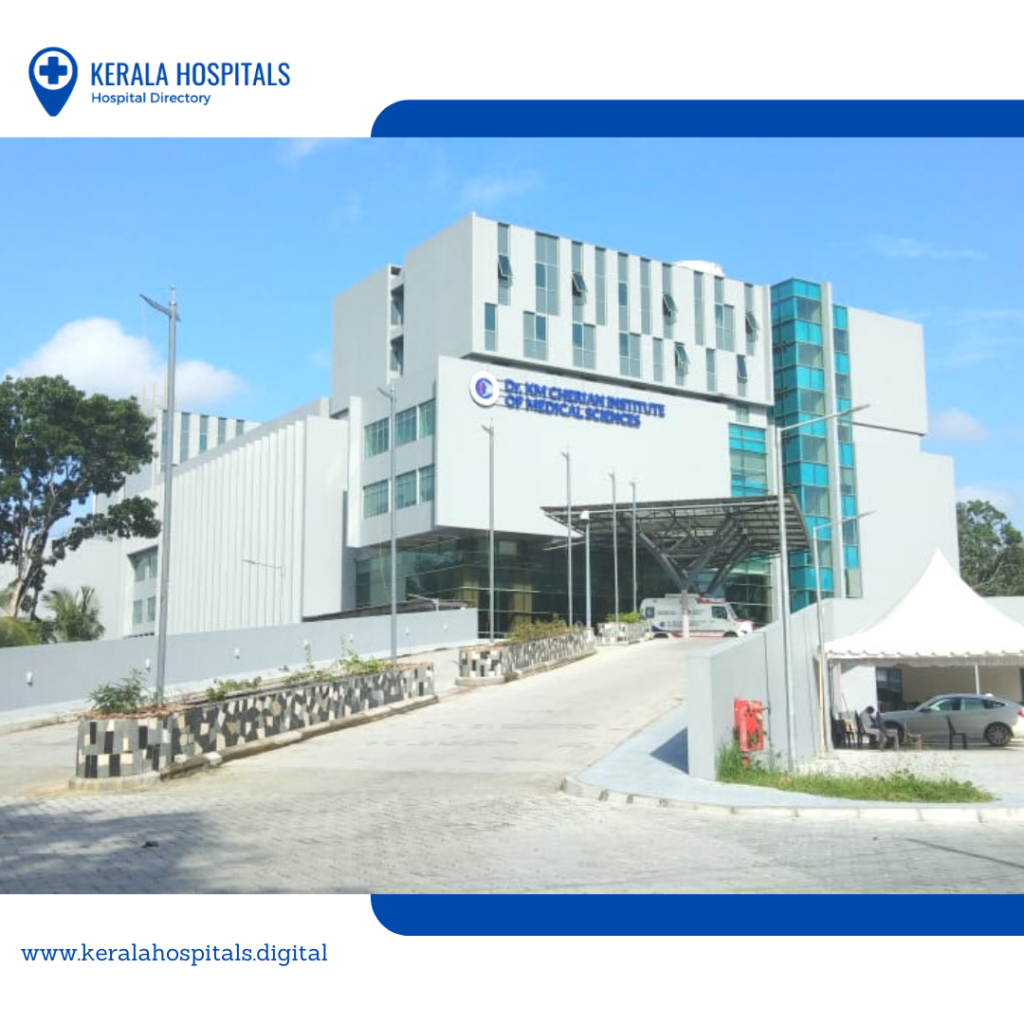 The medical cardiology department at the hospital offers state-of-the-art cardiac care treatment to patients. Equipped with cutting-edge facilities, the department delivers quality services for cardiac ailments. It is well-staffed with experienced cardiologists in the region and trained nurses.
Address – Kallissery, Umayattukara Road, Chengannur, Kerala, 689124
Ph – 0479 236 3456, 0479 2427007, 0479 236 3300, 9188954800
KVM hospital was established on 17 October 1972 by Dr. VV Haridas. It is founded in memory of his father, Sri Velayudhan, a philanthropist who cares about the health and welfare of people. The hospital strives to provide world-class treatment facilities to people from all social classes. They are backed with a vision to be the centre of excellence in the healthcare field, providing state-of-the-art treatment services, educating future doctors and nurses, conducting basic and clinical research, and innovating and inventing new technologies for the advancement of healthcare.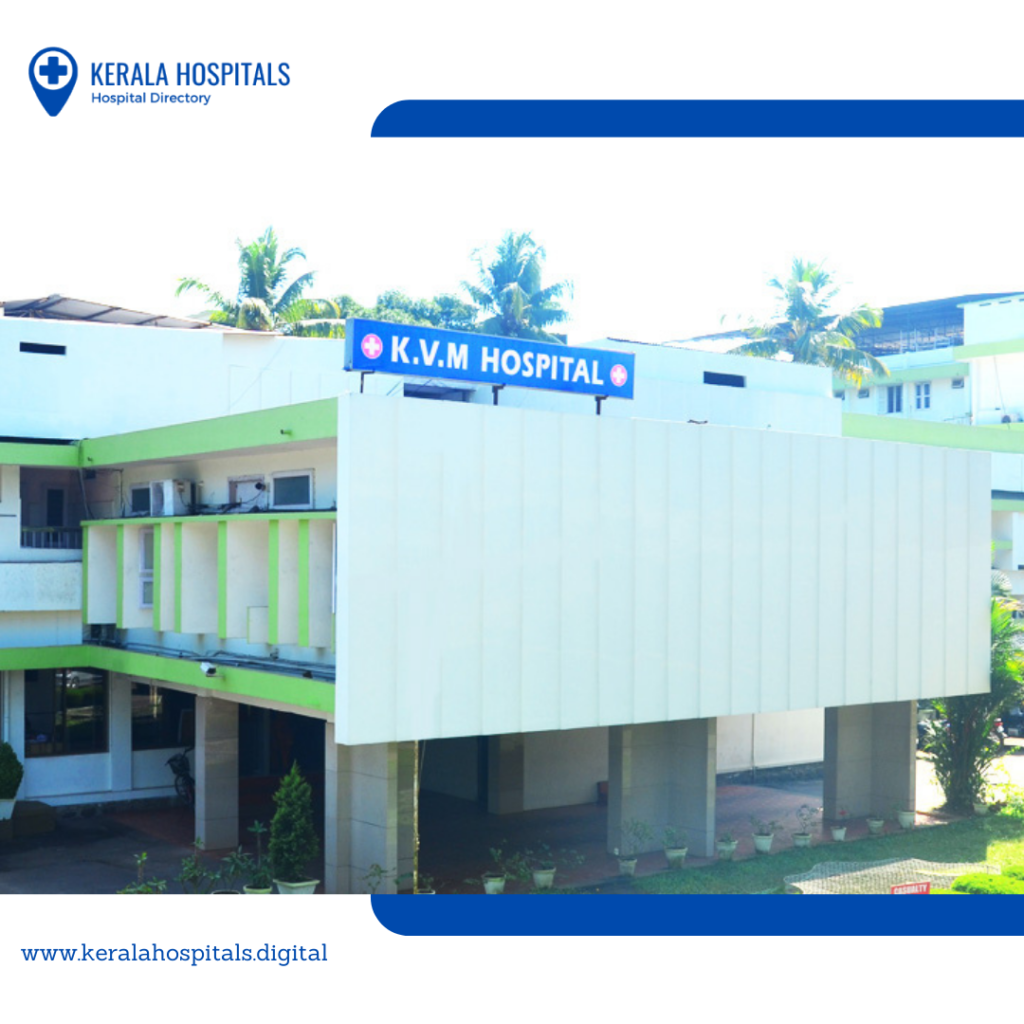 As a leading cardiology hospital in Alappuzha, the cardiology department offers quality treatment services with loving care. The department is equipped with top-notch facilities, including a cardiac cath lab interventional suite. The interventional cardiologists offer ultra-early Angiograms, Angioplasty, and Stenting for mild and massive attacks (Myocardial Infarction).
Address – National Highway, NH 66, Cherthala, Kerala 688524
Ph – 0478 283 2300
T D Medical College (Thirumala Devaswom Medical College), the first medical college in the state started under private management, was established in 1963 under the patronage of the T D temple at Anantha Narayana Puram. On 17 October 1967, Govt took over the institution's management, and it became vested with the Govt of Kerala on 17 October 1972.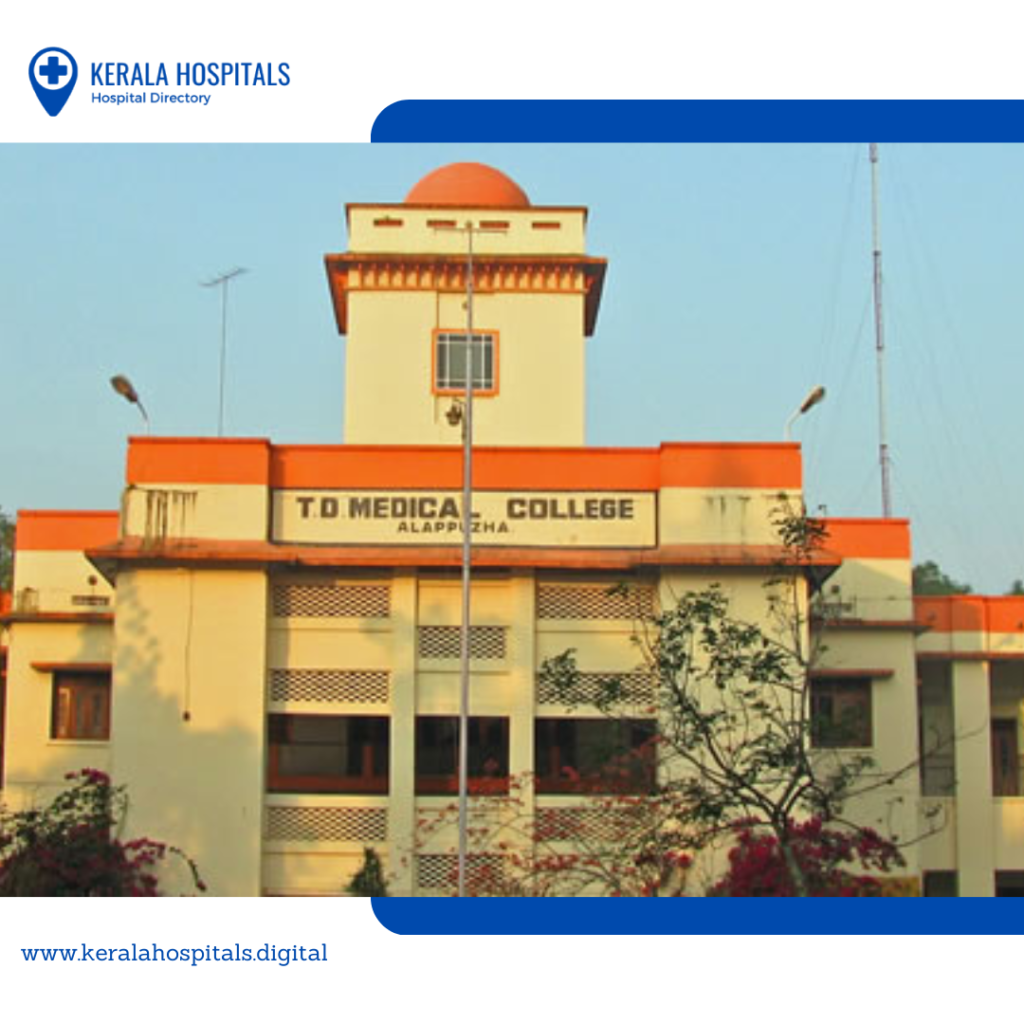 The hospital is backed by a vision to provide the best healthcare facilities by developing the institute as a centre of excellence. And they strive to have a state-of-the-art medical college, fully equipped in all respects. The cardiology department at T D Medical College is a cutting-edge facility for almost all cardiac ailments. It has experienced professionals and the latest technologies to ensure quality cardiac care. Patients with heart problems receive utmost care with dedication and compassion.
Address – Vandanam, Alappuzha, Kerala, India
Ph – 0477 – 2282367, 0477 – 2282368, 0477 – 2282369
Established in 1947 by the late Dr. G S Thampi, Sreekantapuram hospital is a multi-speciality facility. It was started as a small clinic and later expanded into a multi-speciality hospital by his son Dr. S Sreekantan. The hospital strives to deliver comprehensive care on a personalized level. They have a dedicated team of doctors and other support staff. And the hospital aims to improve the community's well-being by delivering quality treatment facilities that are affordable to the needy.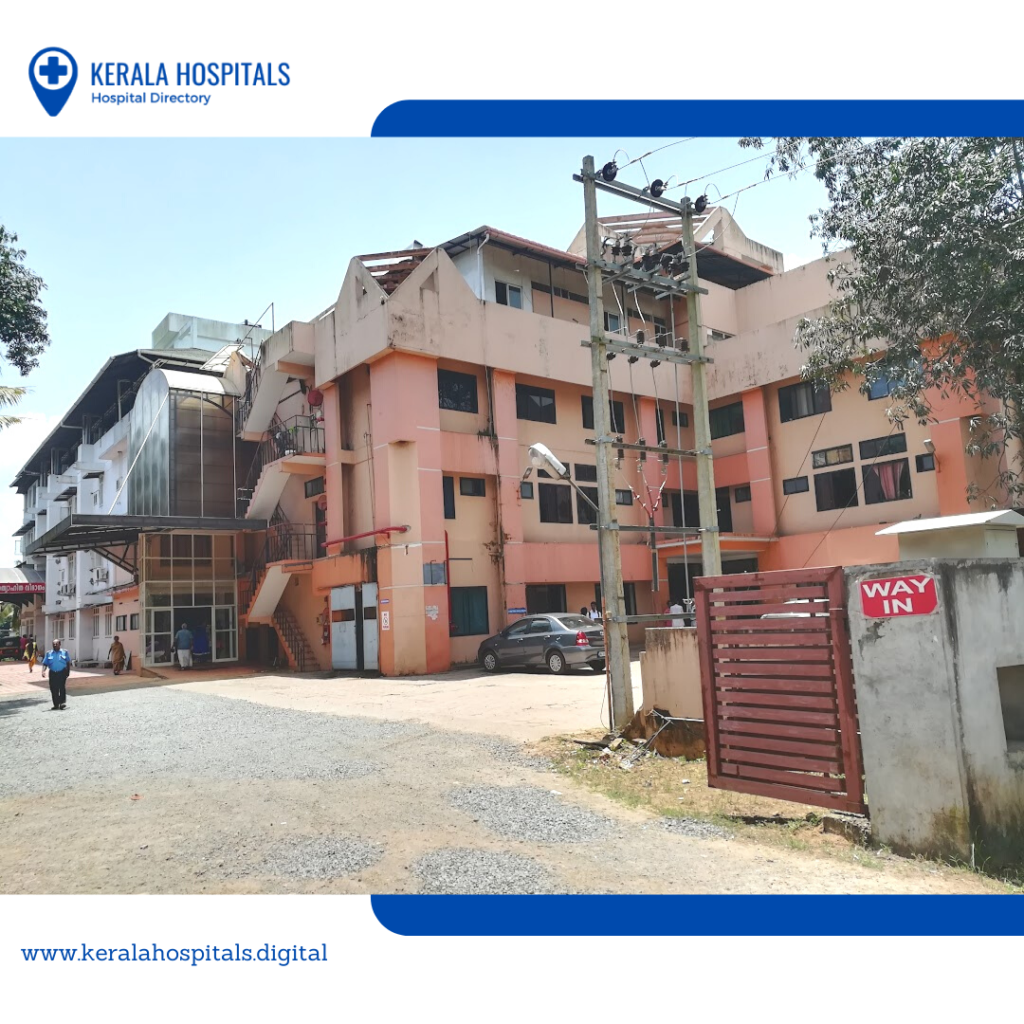 The hospital offers cardiac care facilities to patients with heart problems. They have experienced cardiologists in the region providing world-class treatment services to the patients. Equipped with the latest technologies, the cardiology department offers quality diagnosis and treatment to ensure patient recovery.
Address – Kandiyoor, Mavelikara, Kerala, 690 103
Ph – +91(479) 2309000, 2302764, 2305028
The super-specialty unit of Poyanil Hospital, Providence, is a 100-bedded multi-speciality hospital providing quality treatment at an affordable cost. With a group of committed professionals and state-of-the-art facilities, the hospital serves the healthcare needs of people. They adhere to strict ethical standards and provide services responsibly and prudently while generating measurable benefits. Providence fulfills the needs of patients with genuine care and concern for their welfare and strives for excellence by constantly improving all they do.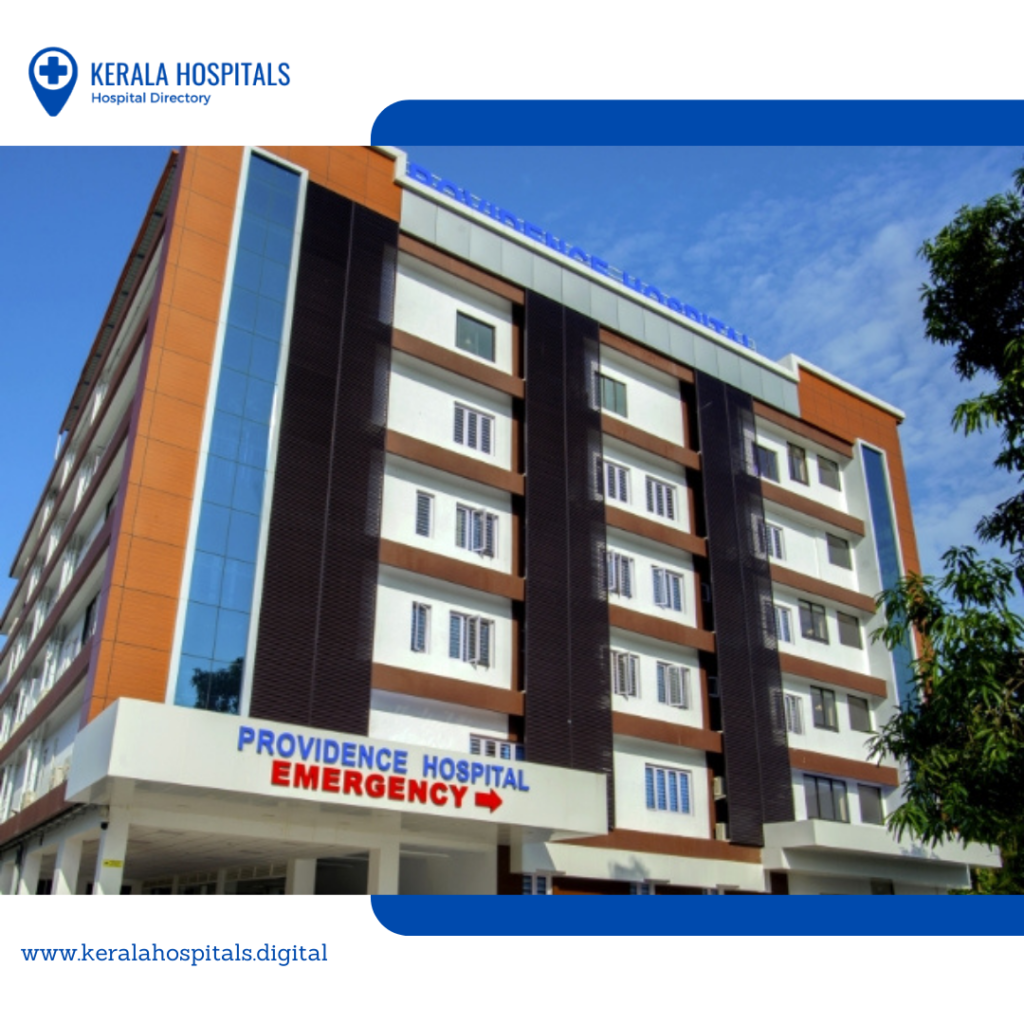 It is one of the best cardiology hospitals in Alappuzha, the first private hospital in the district that offers 24*7 cardiac care facilities. The cardiology department is equipped with modern machines for conducting echocardiograms, treadmill tests, and Holter studies. It provides facilities for urgent angioplasty, pacemaker implantation, peripheral arterial procedures, and device closures. Critically ill patients receive competent care in the intensive care unit.
Address – Providence Hospital, Thumpoly, Alappuzha, Kerala 688521
Ph – +91 477 2250100