N.S Cooperative Hospital
Dr. Nair's Hospital
KIMS Health Hospital
Skindays Clinic
Holy Cross Hospital
Travancore Medicity
Azeezia Medical College Hospital
Meditrina Hospital
Padmavathy Hospital
Vijaya Hospital
The N. S. Memorial Institute of Medical Sciences is a co-operative hospital in Kollam, India. The organization was established in 2000 in memory of N. Sreedharan, a communist organizer who served in the Communist Party secretariat.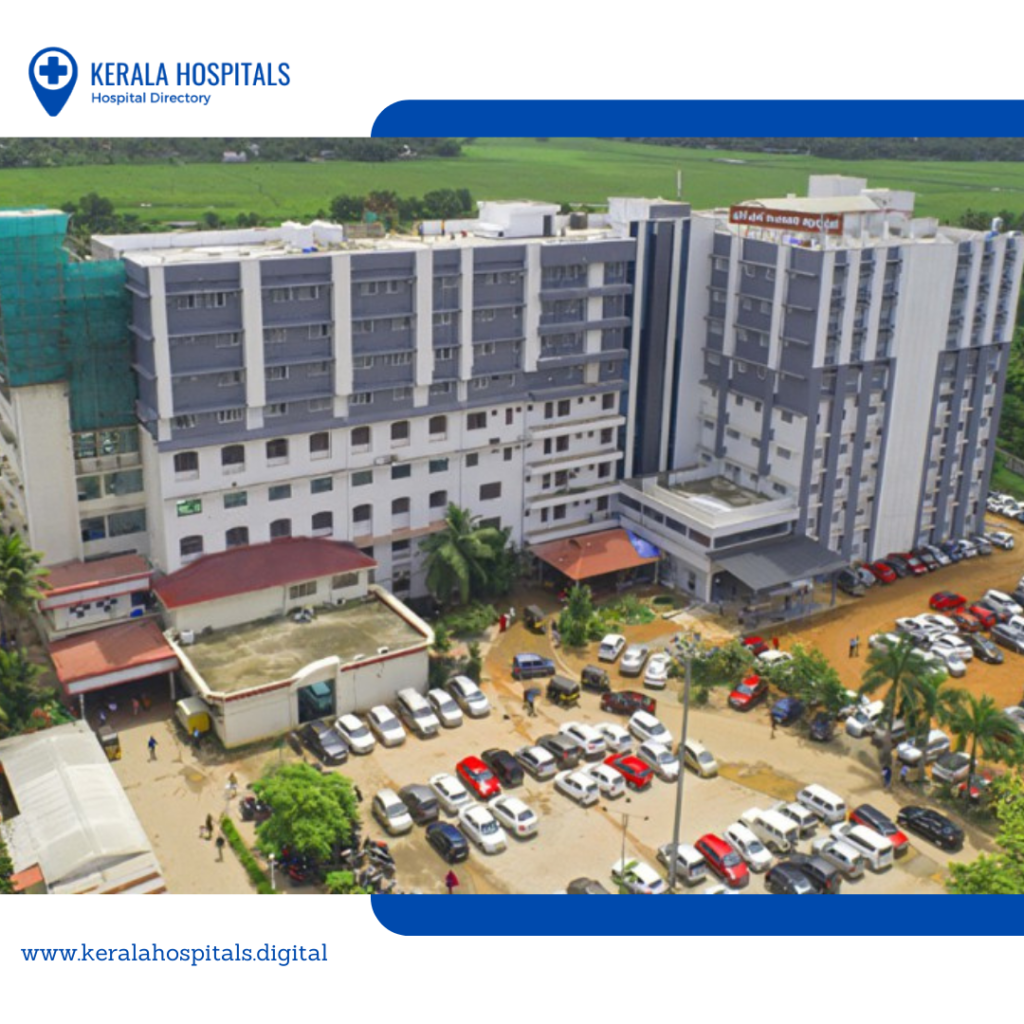 You can maintain healthy and glowing skin by seeking treatment at NS Hospitals' Department of Dermatology & Cosmetology. The NS Hospitals have excellent dermatologists that treat skin, hair, nails, dental and sexual diseases, as well as cosmetology and dermato-surgery.
Address: Mylapure, Palathara, Thazhuthala
Kerala 691020
Phone: 0474 272 3199
Dr. Nair's Hospital was founded on 5-12-1968 by Dr. K.P. Nair and Smt. Lekshmikutty Amma as a small nursing home. Currently operated by Dr. P. Mohan Nair, MS, DHHM, ISO 9001:2008 certified Multi Speciality Hospital. Ms. Usha Nair, the CEO, assists him.
From a ten-bed hospital founded on 5-12-1968 by Dr.K.P. Nair, FRCS, to an international center including departments of Anesthesiology, Dermatology, Dentistry, Gastroenterology, Gynecology, General Medicine, Neonatology, Nephrology, ENT, Neurology, Orthopaedics, Ophthalmology, Paediatrics, Psychiatry, Plastic & Reconstructive Surgery, Surgery & Urology. A Consultant from each department has earned a reputation in the field in which they specialize. The Dr. Nair's Speciality Hospital was started in 2002, with departments from Cardiology to Medical & Surgical Gastroenterology, Pediatrics to Neonatology, Neurology to Nephrology, Plastic & Reconstructive Surgery to Urology.
 The dermatology department at Dr. Nair's Hospital provides advanced diagnosis and treatment of diseases of the skin, hair, and nails, as well as venereal (sexually transmitted) diseases. As one of the top dermatology hospitals in Kollam, the hospital has experienced and qualified dermatologists, and they are experts at treating the most common skin conditions. These include acne, eczema, skin allergies, hair loss, psoriasis, contact dermatitis, leg ulcers, pigment disorders, and the most difficult skin diseases like blistering skin diseases, scleroderma, and cutaneous lymphomas. The department also offers Cosmetic Dermatology services to help you look your best and feel confident both inside and out.
Address: Residency Rd, Asramam
Kollam, Kerala 691002
Phone: 0474 276 6180
KIMS Health Hospital kollam opened in April 2013 in Kottiyam, Kollam is another hospital & clinic operated by KIMSHEALTH. The KIMS Health group has hospitals in Trivandrum, Kerala, and in various places in India and the Middle East, making it one of Asia's most reputable health care providers. KIMS Health founded by Dr. M. I. Sahadulla, has brought new-age healthcare to millions and set standards for others to follow. Several national and international agencies have awarded the group accreditation or recognition for its commitment to high-end services and expertise.
KIMS Health has achieved both National (National Accreditation Board for Hospitals and Healthcare Providers – NABH) and International (Australian Council on Healthcare Standards International – ACHSI) accreditation in its commitment to healthcare excellence. KIMS Health has successfully served skin and health care needs since 2002 with its Department of Dermatology and Cosmetology. They offer a broad selection of dermatological medical services, including minor skin problems and more advanced treatments. All patients are treated with dignity and respect, and it makes the hospital one of the best dermatology hospitals in Kollam.
Address: Sithara Jn, Kottiyam
Kerala 691571
Phone: 0474 294 1000
Each day should be a beautiful day for the skin. Skindays bring to the forefront of the beauty scene state-of-the-art equipment and procedures. Skindays provides unique skincare ideologies and concepts. Your skin care regimen will be revitalized with utmost care. With Skindays, you can enjoy healthy skin and feel confident.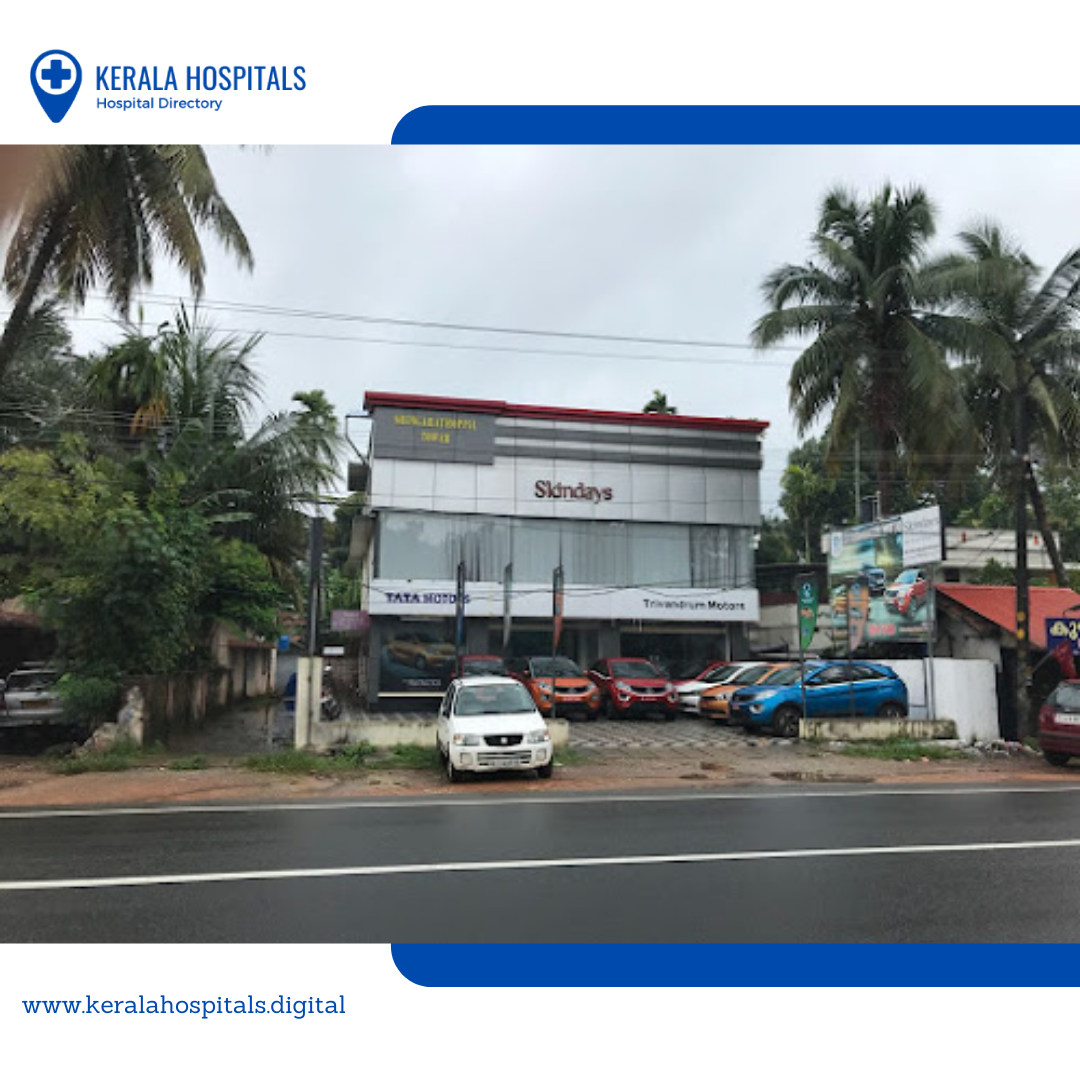 The branch of medicine that deals with the skin are dermatology. It includes both medical and surgical aspects. Skin, hair, and nail problems, as well as cosmetic problems, are treated by dermatologists. The Dermatology & Cosmetology Department at skin days clinic offers treatments that provide healthy and glowing skin.
Address: Shingarathoppil Tower Vallikeezhu Kavanadu
Kollam, Kerala 691003
Phone: 094003 05070
The Holy Cross Hospital, Kottiyam, Kollam is one of the premier medical centers in the state of Kerala. The hospital run by the Sisters of the Holy Cross completes 67 years of service as a health care provider. The organization has earned a special place in the health care industry as a result of its noble and selfless care. Holy Cross Hospital was founded in 1952 as a small hospital with 20 beds.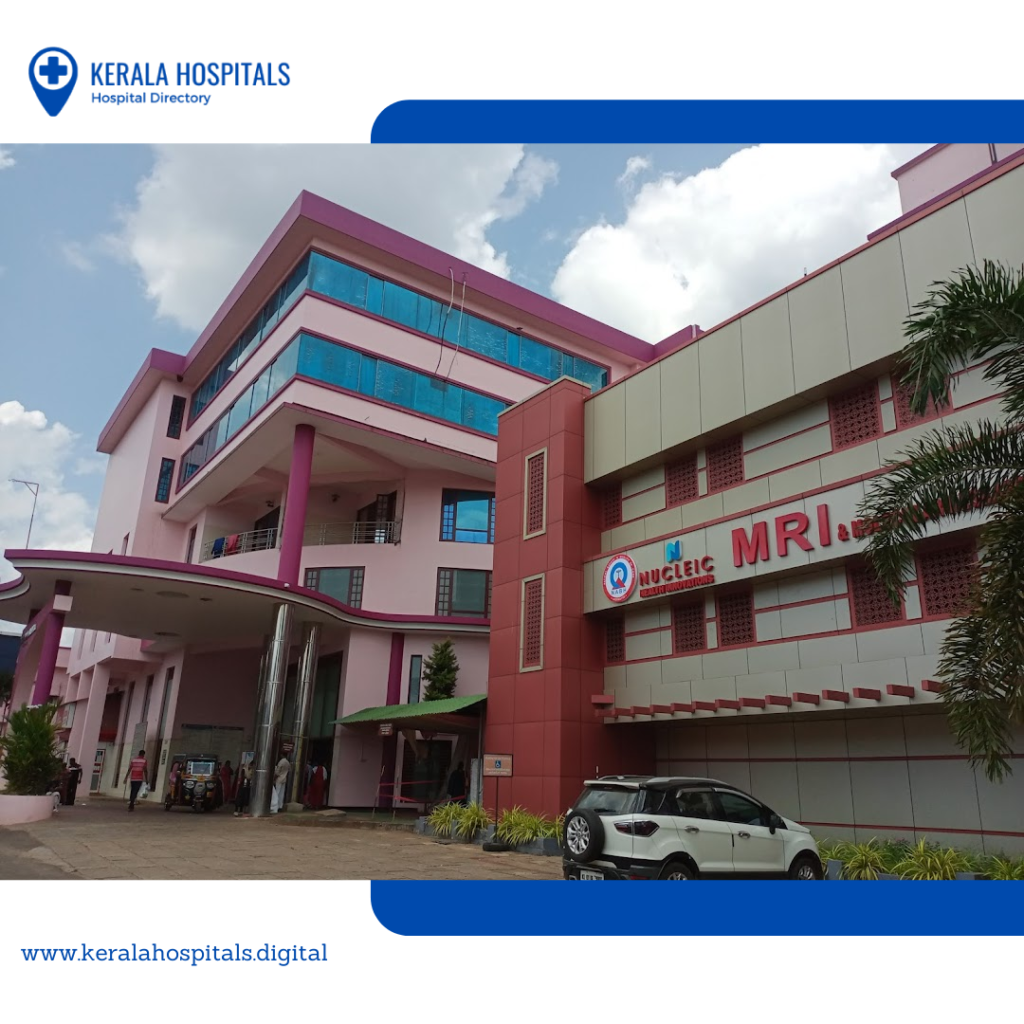 Department of Dermatology provides general dermatological treatment for skin problems utilizing the latest techniques. All sexual diseases and rheumatologic skin diseases are also treated.
Address: Holycross Hospital Rd, Kottiyam
Kerala 691571
Phone: 0474 253 8000
Travancore Medicity, located conveniently in Kollam district in Mylapore, is a multi-specialty, life-sustaining hospital. With years of experience in both education and healthcare, they guarantee to provide the best possible care. Having ultra-modern technology available further strengthens the facility's commitment to providing the best healthcare to its patients. Staff members and departments are required to abide by the quality domains. By encouraging a culture of respect, integrity, teamwork, and monitoring and evaluating its performance against national and international standards, Travancore Medicity, motivates its team members to achieve excellence in healthcare.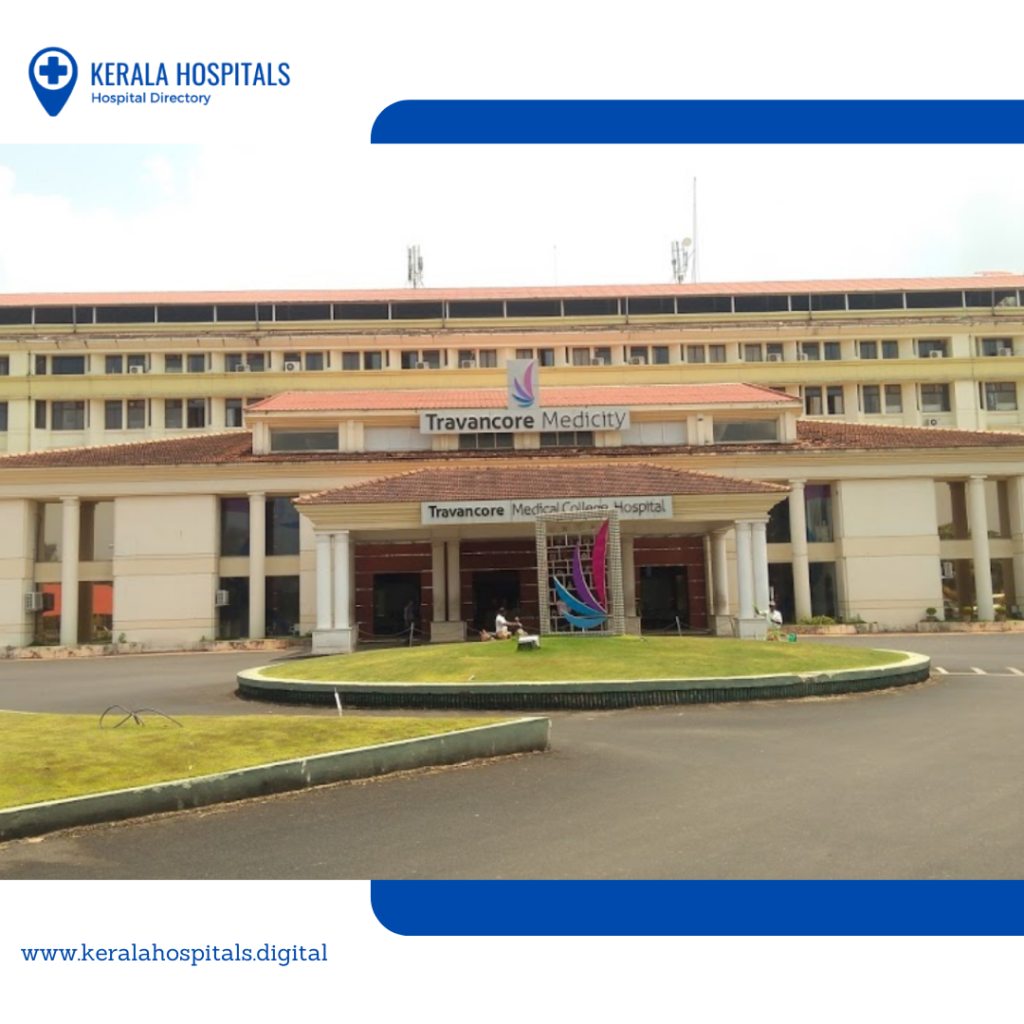 As Travancore Medicity grows from its successes and failures, it strives to improve through innovation and change; and collaborates with all local healthcare agencies. There is a broad range of dermatological and cosmetic treatments available at Travancore Medicity for issues relating to skin, hair, and nails. With Travancore Medicity, dermato-surgery, laser surgery, and dermatological problems are managed by highly qualified experts.
Address: Travancore Medical College Hospital N H bypass Mylapore, ThattamalaP. O
Kollam, Kerala 691020
Phone: 0474 272 9393
The Azeezia Medical College Hospital in Kerala provides healthcare services. With 540 beds, it is a multi-specialty hospital. Treatment at the hospital is offered in a variety of specialties, such as medicine, surgery, obstetrics and gynecology, dermatology, psychiatry, pediatrics, orthopedics, ophthalmology, otolaryngology, anesthesiology, radiology, emergency services, and laparoscopic surgery.
Departments offering super-specialty care include cardiothoracic, neurological, nephrological, pulmonological, gastroenterological, endocrinological, and neurosurgical. In addition to super-specialty units, the medical college has colleges offering medical, dental, and nursing courses. The Department of Dermatology provides general dermatological treatment for skin problems using the latest techniques.
Address: Kummalloor – Meeyannoor Rd, Diamond Hill
Meeyannoor, Kerala 691537
Phone: 0474 272 2222
One of India's fastest growing hospital chains, Meditrina Hospital, Kollam is managed by a team of dedicated professionals and offers both primary and tertiary healthcare services. Today, Meditrina Hospital is the largest chain of hospitals in Kollam with a pan-India presence, founded by Dr. Pratap Kumar. Meditrina Group of Hospitals is renowned for its ethical medical practices, which makes it a preferred choice for patients.
Meditrina Hospital also makes advanced procedures inexpensive, while creating clinical outcomes that meet or exceed international standards. Dermatology is the branch of medicine that deals with the skin. Both medical and surgical aspects are involved. Dermatologists specialize in skin, hair, and nail problems as well as cosmetic problems.
Address: Kollam – Ayoor Road, Bypass Road, Ayathil
Kollam, Kerala 691021
Phone: 0474 272 1111
The Padmavathy Medical Foundation, a super specialty hospital that offers affordable care and exceeds international standards, delivers quality care above all. The PMF is a 100-bed tertiary super-specialty hospital located on the banks of the Sasthamkotta Lake. The PMF aims to provide advanced high-quality medical care in a responsible and safe environment.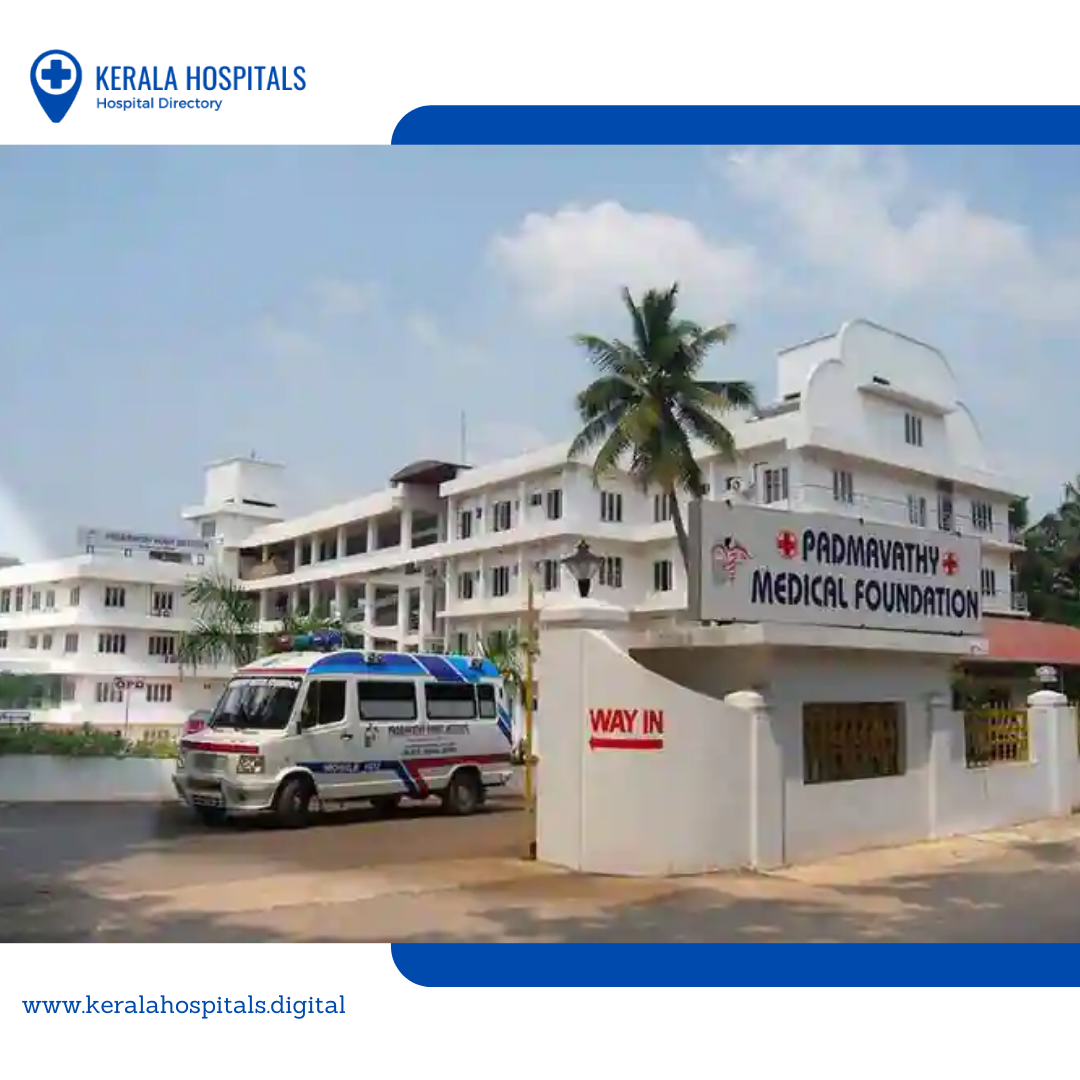 Padmavathy hospital is a leading dermatology hospital in Kollam. The Department of Dermatology has the expertise to treat a variety of skin problems. Qualified medical professionals will identify the best treatment for all dermatological problems. Patient care is the top priority at the practice. Patients are helped by the practice to diagnose and treat their skin problems so that they may look and feel their best.
Address: Adoor Road, Sasthamkotta
Bharanikavu, Kerala 690521
Phone: 0476 265 4200
Vijaya hospital has brought a refreshing change to the healthcare sector since its inception in 1998. People in Kollam and Pathanamthitta district are familiar with Vijaya hospital. A remarkable success story was authored by the dynamic leadership of Dr. V S Rajeev, Chairman, and Managing Director, and Dr. Mini Rajeev, Vice Chairman & Medical Superintendent, along with the dedicated efforts of the team of doctors and staff. The hospital has now expanded to provide tertiary care medical services, as well as education, including the Vijaya College of Nursing and the Vijaya College of Paramedical Sciences.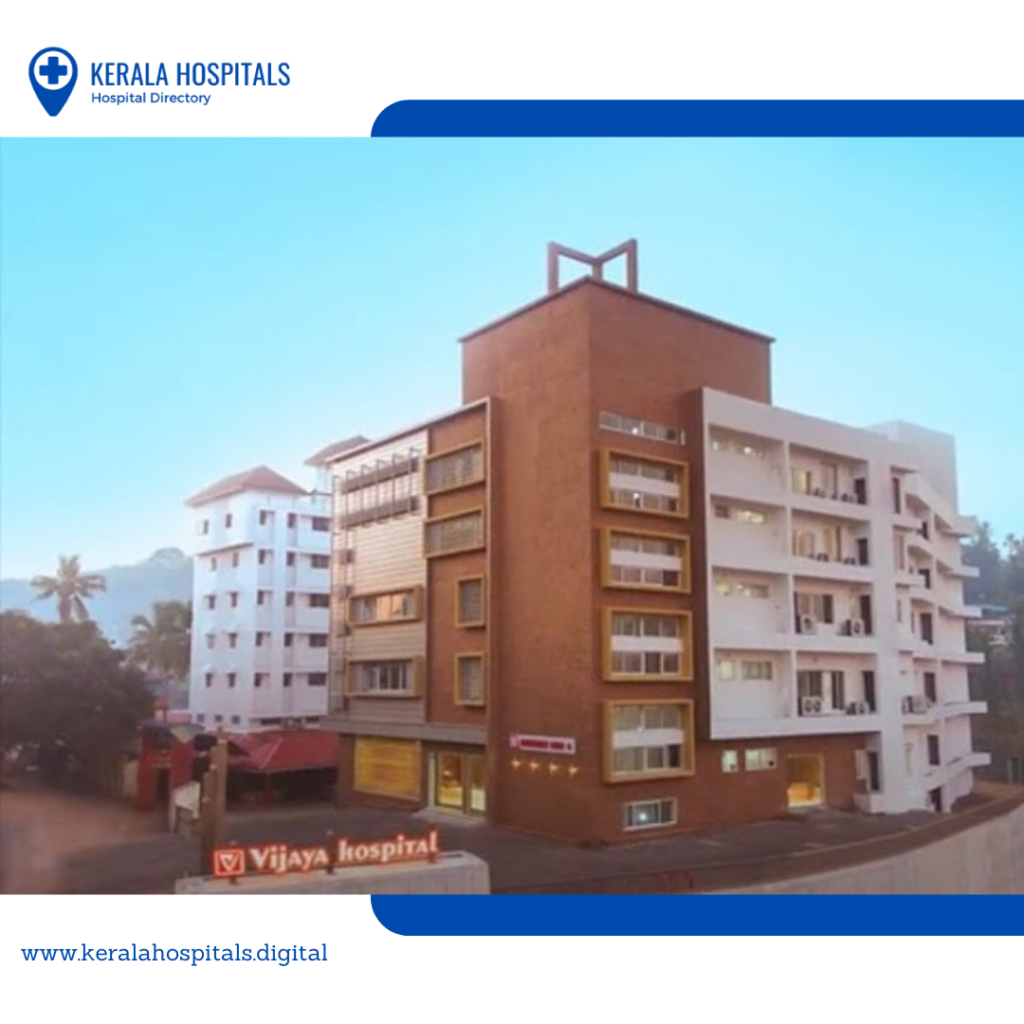 Vijaya Hospital's Department of Dermatology provides comprehensive clinical and cosmetic dermatology care. There will be advanced dermatological services available to treat problems like aging skin, acne scars, pigmentation, corns, calluses, hair loss, moles, skin tags, warts, and vitiligo. In addition, there will be general dermatological and clinical problems.
Address: Pulamon Bridge, Kollam – Tenkasi Rd, Pulamon Junction
Kottarakkara, Kerala 691531
Phone: 0474 265 3000