Mother Hospital
Daya General Hospital & Speciality Surgical Centre
Elite Mission Hospital    
Jubilee Mission Hospital
Amala Hospital
Westfort Hospital
Nyle Hospital
Aswini Hospital
Karthiyani Nursing Home Hospital                                  
Multi-specialty hospital Mother Hospital is situated in Olari, near Thrissur, in Kerala state, India. Since Mother Hospital has served its patients for over two decades, it has built a strong foundation based on the best medical expertise and quick medical treatment for critical patients. High-quality support staff and a multi-specialty and super-specialty team of doctors work at Mother Hospital to provide patients with medical care from within India as well as from international locations across the globe. The hospital's approach has always been humane; reflecting the essence of its motto "a mother's touch to healthcare". This is the best neonatal care center in the city.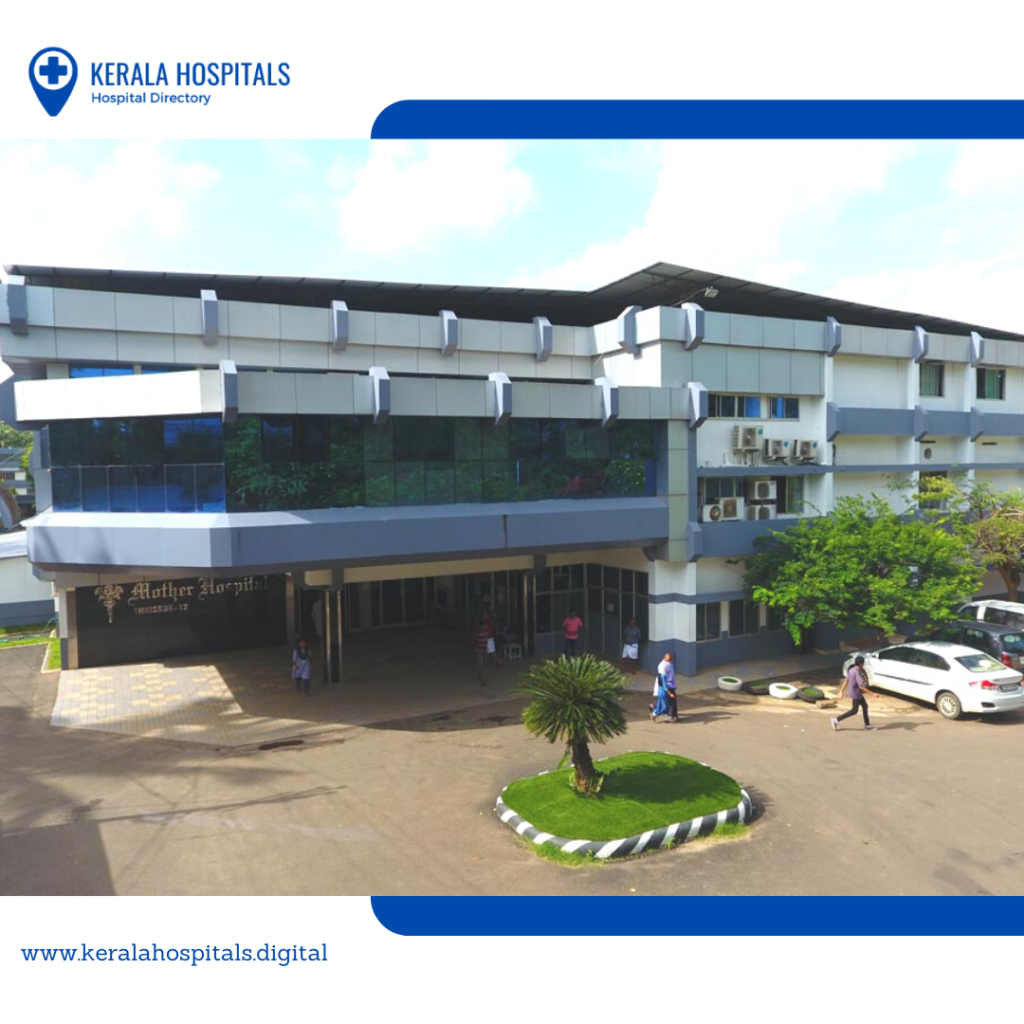 Dr. Ali and Dr. Aysha Ali founded the hospital in 1991 with 15 doctors, seven departments, 70 paramedical personnel, and 100 beds. They have 65 doctors, 30 departments, 400 employees, and 300 beds with amenities such as Cardiology, Neurology, Urology, Nephrology, Gynecology, Rheumatology, Pediatric surgery & Neonatology.
Address: P.O, Olari – Pullazhi Rd, Pullazhi, Thrissur, Kerala 680012
Phone: 0487 243 4100
Dr. V.K. Abdul Azeez, Late Mukundan Menon, and their friends founded Daya Hospital in 2001 with 50 beds, and they took a distinct approach from the beginning. With a transparent method, they were able to break the traditional way of doing things without complicating cases or increasing costs. All patients were treated scientifically and without compromising care quality by reducing investigations, length of stay, and medicines. The initial phases of the project resulted in 300 surgeries and 50 beds.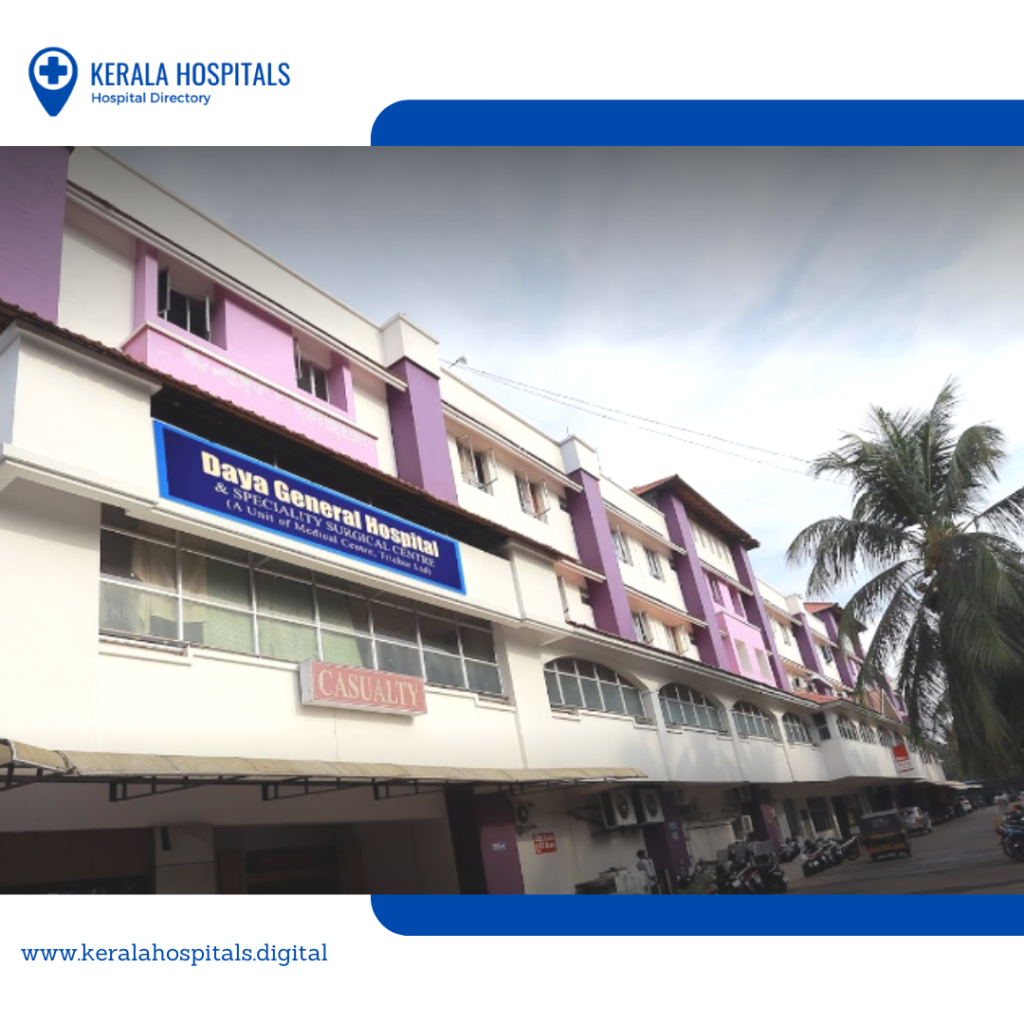 Through health discussions and debates, V.K. Abdul Azeez reached out to such a community and shared his vision for helping the poor. Medical treatments were also offered at discounted rates to those in need. The benefit of patients always came first for Daya as it avoided marketing practices that are devastating to patients. People's support helped Daya to achieve new heights. The hospital has grown to over 300 beds and offers all major medical specialties, making it a trusted and leading healthcare provider in Thrissur. It is located 500 meters from the State Highway near Shornur road at Thrissur, Kerala. Prof. Ahammed Koya and the board of directors adhere to a strong principle which is that no patient should be denied treatment due to financial insufficiency.
The Obstetrics and Gynaecology Department offers all kinds of Obstetric care, which includes managing high-risk Obstetric problems, conducting painless labors with continuous fetal cardiotocography and emergency ultrasounds.
Address: State Highway 22, Viyyoor-Peringavu Rd
Peringavu, Thrissur, Kerala 680022
Phone: 0487 247 5100
Elite Mission Hospital has been providing quality healthcare to communities in Thrissur and central Kerala since 1979. It is their continued commitment to you that they bring you the latest medical advancements. Community-owned hospital with 300 beds offering both inpatient and outpatient care. Patient care always comes first.
After its humble beginning in 1979 as Elite Arogya Bhavan with only 20 beds and two departments, it grew into a building that looms large over the skyline of Thrissur with 300 beds and more than 700 personnel. The hospital now has all departments offering super-specialty services.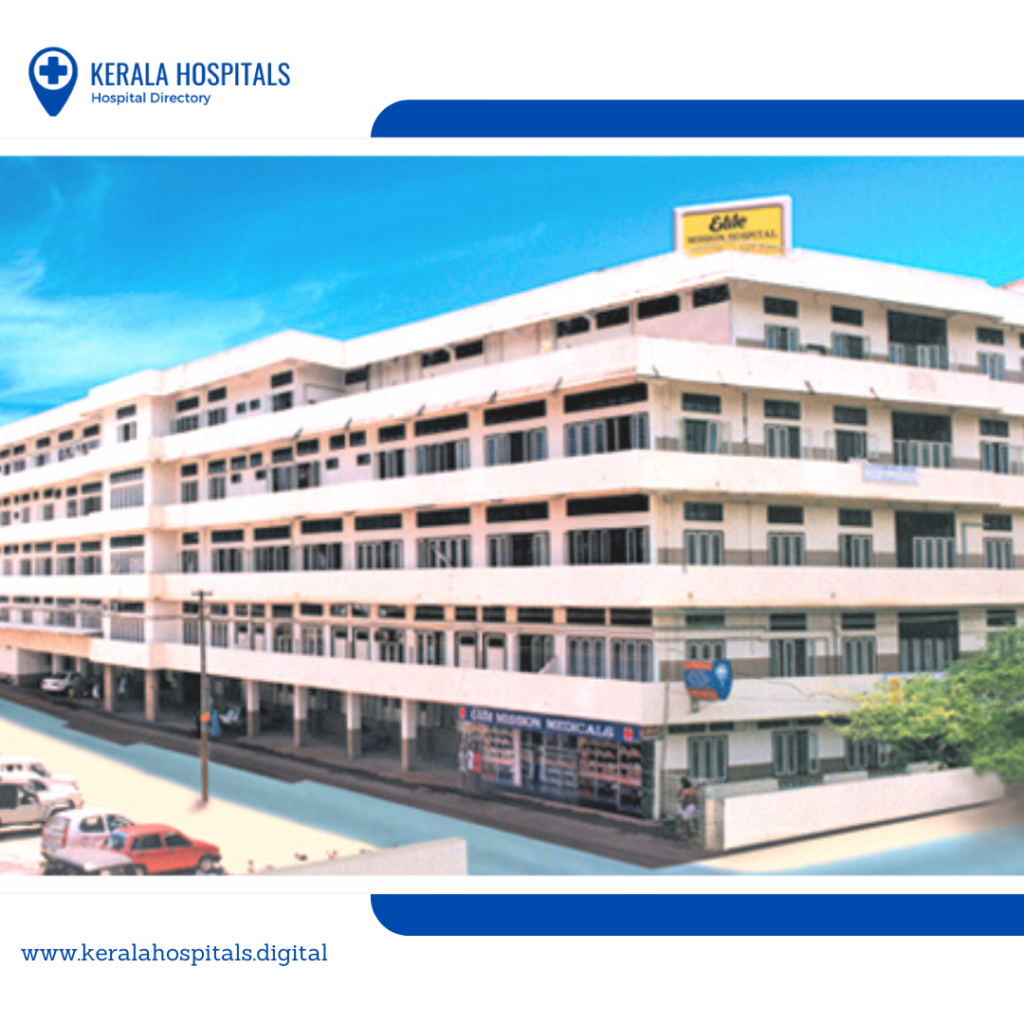 The Obstetric Unit has a good neonatology department and blood bank as well as providing high-risk pregnancy care, major laparoscopic surgery, hysterectomy, Painless Hysteroscopic Surgeries, Tubal Microsurgery, Thermal Endometrial Ablation, Sperm washing, and Intrauterine, Insemination, Semen Banking, and AID with Matching Donors, Vaginal Ultrasonography and Follicular study, etc.
Address: Koorkenchery Rd, Koorkenchery
Thrissur, Kerala 680007
Phone: 0487 243 6100
On 17th December 1951, a small dispensary was opened at Thrissur as part of the healing mission of the Archdiocese. In the end, the small dispensary has developed into Jubilee Mission Medical College & Research Institute today, with a 1450-bed multi-specialty hospital and medical education centers, such as a medical college, school of nursing, and other allied health science courses.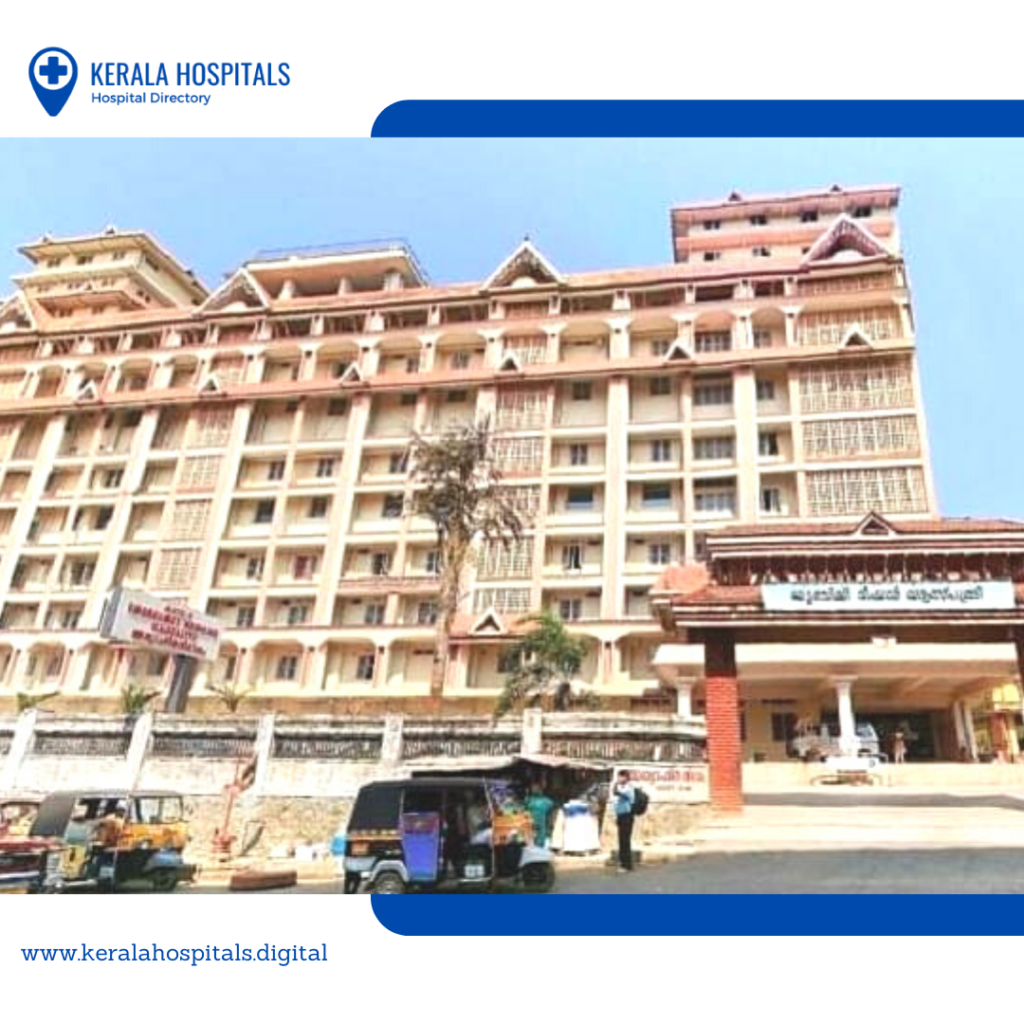 The Obstetrics and Gynecology Department of Jubilee Mission Medical College is an excellent referral center with the expertise and resources to operate on a wide variety of complicated cases. From a humble beginning in the 1950s, they have grown to be a team dedicated to providing patient-centered care to over a thousand patients every day in their Outpatient Department. They have over 250 patients on their inpatient list.
Address: P.B, No.737, Jubilee Mission Rd
Thrissur, Kerala 680005
Phone: 0487 246 4347
The Amala Institute of Medical Sciences (aims), named after the Blessed Virgin Mary, is a multidisciplinary medical network with educational, therapeutic, research, and outreach programs. Since 1978, aims has been affiliated with Amala cancer hospital. It is administered by the Devamatha Province of cmi congregation founded by St. Kuriakose Elias Chavara.
Women of all ages can receive comprehensive health care from the obstetrics & gynecology department, which is organized into two units. Modern diagnostic and treatment modalities are an added benefit. Since the hospital is multispecialty, the department works closely with other specialties such as neonatology, anesthesia, urology, oncology, etc., which adds to its effectiveness.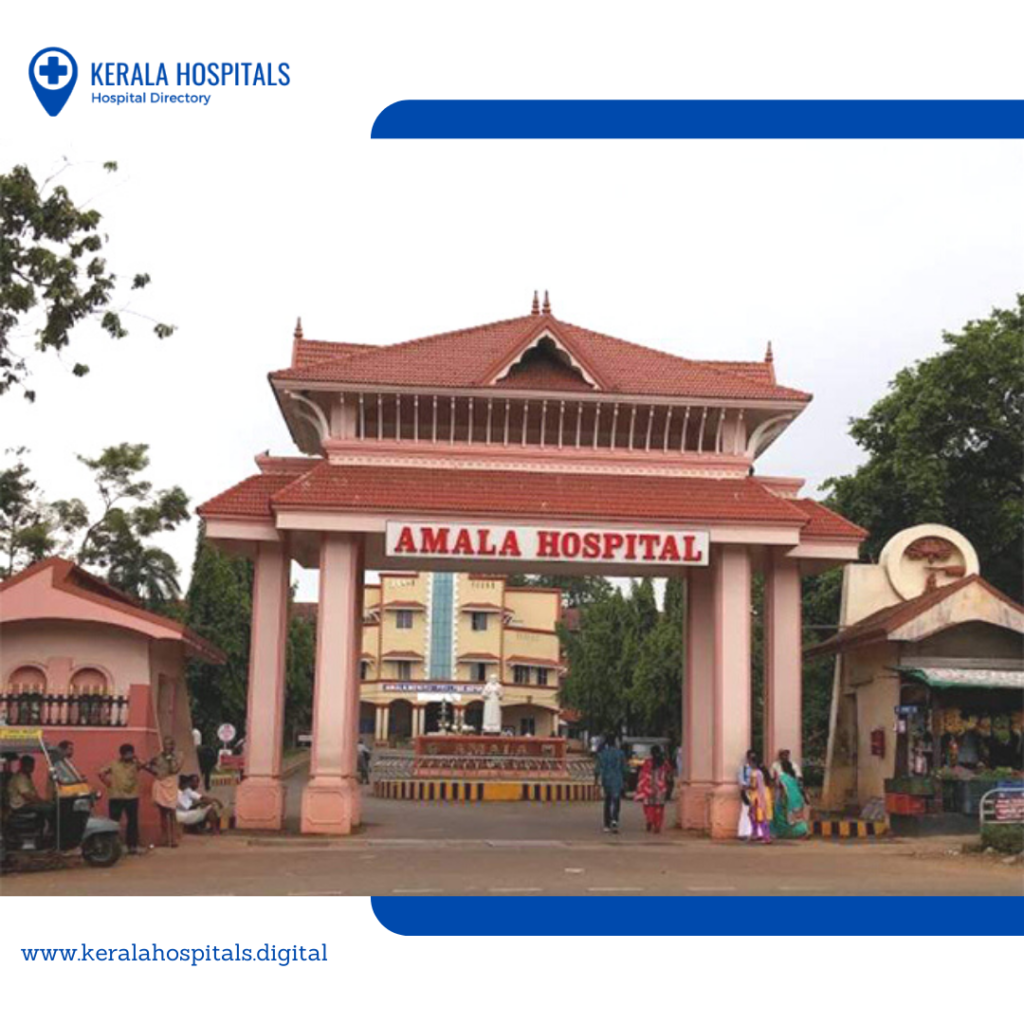 Address: Amala Hospital Rd, Amalanagar
Thrissur, Kerala 680555
Phone: 0487 230 4000
Westfort Hospital is a 250-bed institution located in Thrissur, Kerala, India. Founded in 1989, the hospital offers a wide range of medical services. The hospital established the first trauma unit with neurology and neurosurgery facilities in Thrissur. It also has a spiral CT Scan Unit, a nephrology unit, a nuclear medicine department, and a bone densitometer in orthopedics. The hospital provides renal transplantation services. Thrissur and Punkunnam railway stations, the Kerala State Road Transport Corporation, and the private bus stand are close to the hospital.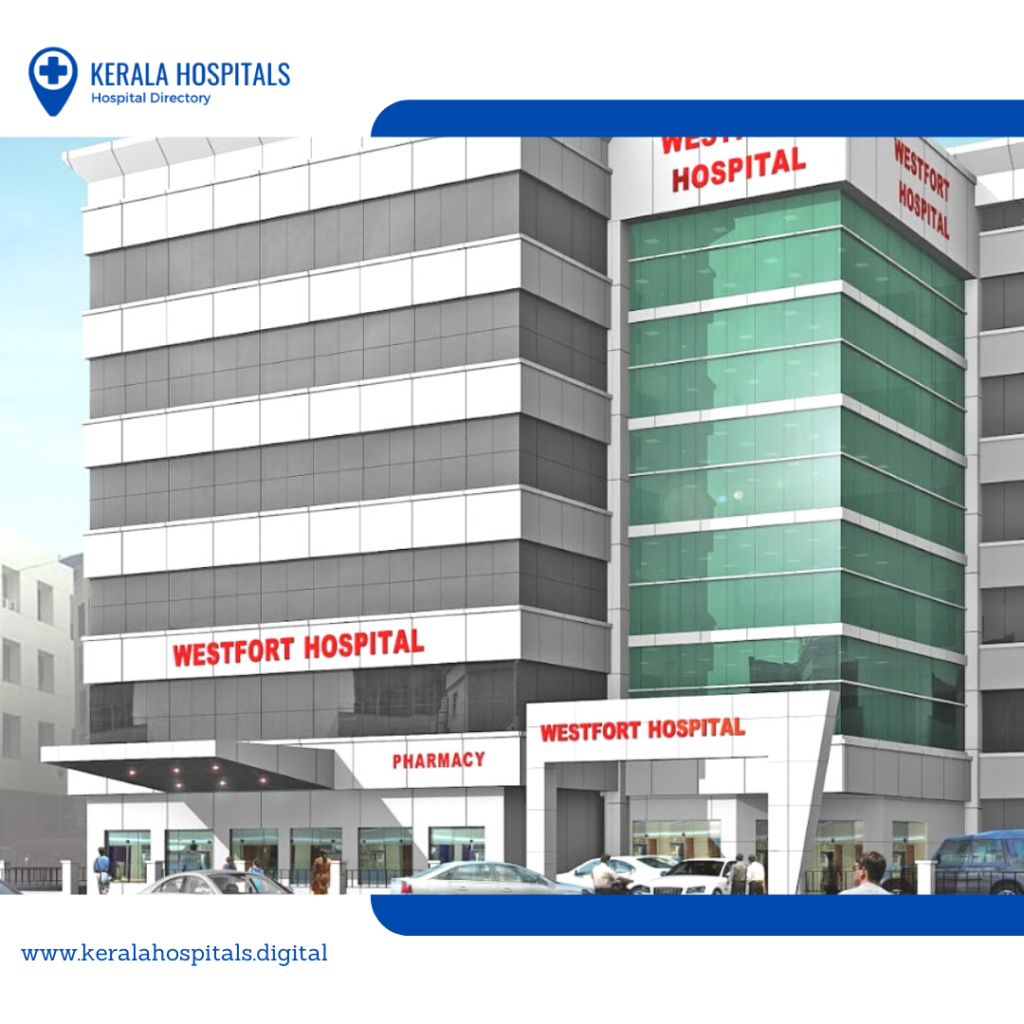 The Gynecology Unit is staffed around the clock by consultants, nurses, technicians, and anesthesiologists and serves as an emergency cover for the Department, thus strengthening the trust of patients. An Infertility and Genetics Clinic is available in the department, which has all the needed modern facilities and offers affordable medical care.
Address: RB. No. 803, W Fort Rd
Thrissur, Kerala 680004
Phone: 0487 238 2130
A leading super specialty at Thrissur is the NYLE Hospital for Women and Children. The hospital is equipped with modern equipment and infrastructure, along with highly trained and experienced staff. The hospital is highly specialized in emergency neonatal care, emergency pediatric care, and obstetrics and gynecology care. The hospital treats newborns, infants, children, adolescents, maternity, and adults.
In mid-Kerala, NYLE hospital aims to be the best comprehensive center for women's and children's care. The team is led by well-known Neonatologist and Paediatrician Dr. Aloke V.R MD, DCH, DM (Neonatology) (he is the 3rd Neonatologist in Kerala to get a DM neonatology degree and the first person to get this degree in Thrissur). The doctor also completed training at the prestigious KKH Hospital Singapore.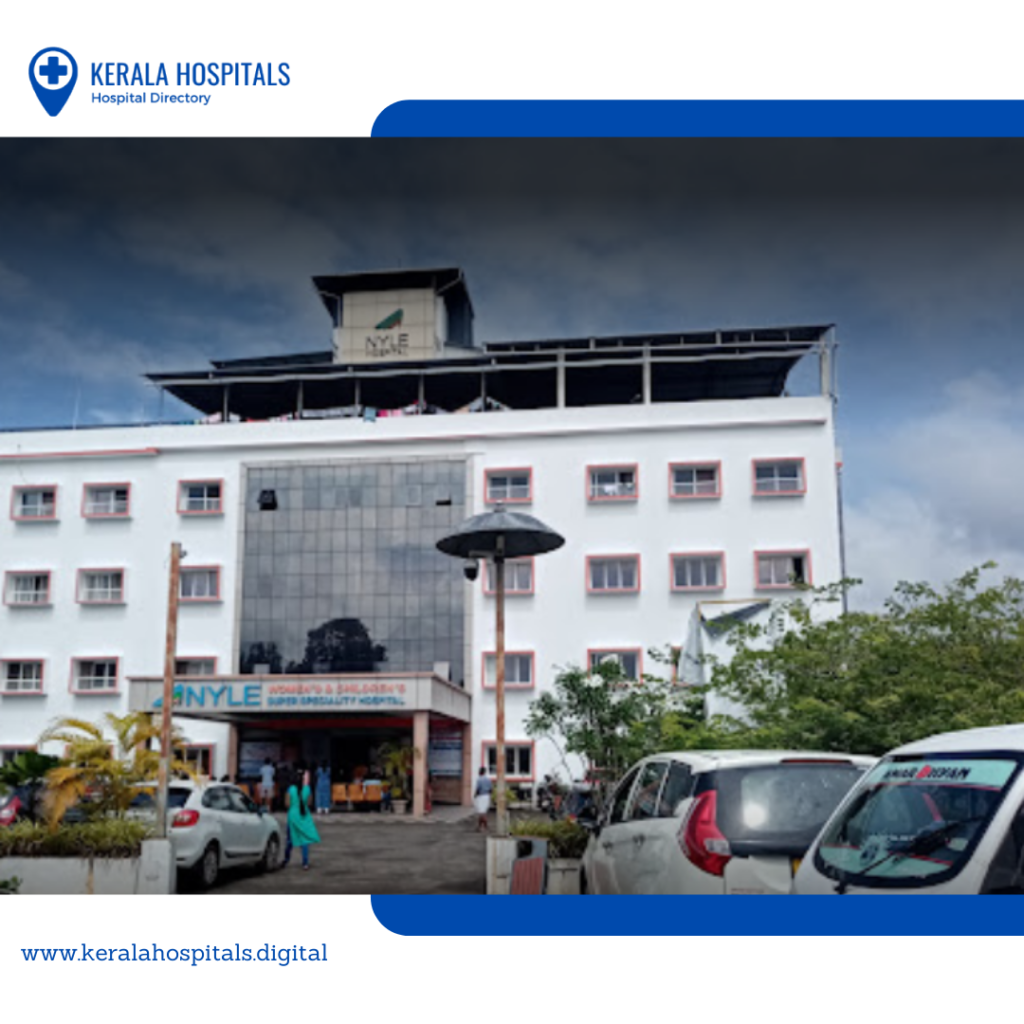 The NYLE Hospital has a 20-bed Level-III Neonatal Intensive Care Unit (NICU) and a 5-bed Paediatric Intensive Care Unit (PICU). The facility also has two state-of-the-art Operation theatres and a fully air-conditioned delivery room where parents or husbands can accompany mothers during delivery. The hospital has a 24-hour emergency department and 24-hour ambulance service. There is also a lab, pharmacy, children's play area, and a food court.
Address: Thrissur – Kaiparambu Road
Kaiparambu, Kerala 680546
Phone: 04885 296 010
ASHWINI Hospital is one of the largest and most respected private hospitals in the region providing advanced diagnostic and therapeutic care across virtually all specialties of medicine and surgery. Each year, Aswini Hospital treats thousands of patients in the Thrissur, Palakkad, and Malappuram districts, as well as foreign tourists and foreign residents. Aswini Hospital is known for providing excellent medical care while maintaining a cost-effective and friendly environment.
Since its establishment in 1987 as a 40-bed hospital, ASWINI has grown to a 300-bed Multi-Super Specialty General Hospital. Aswini Hospital is easily accessible by road and rail because it lies near the Vadakkechira Corporation Bus Stand and Poonkunam Station. Aswini was known for its TRAUMA care from day one. In this field, it still holds the top spot. The hospital has over 50 doctors, including around a dozen super-specialists. ASWINI is known for its excellence in patient care with a "human touch".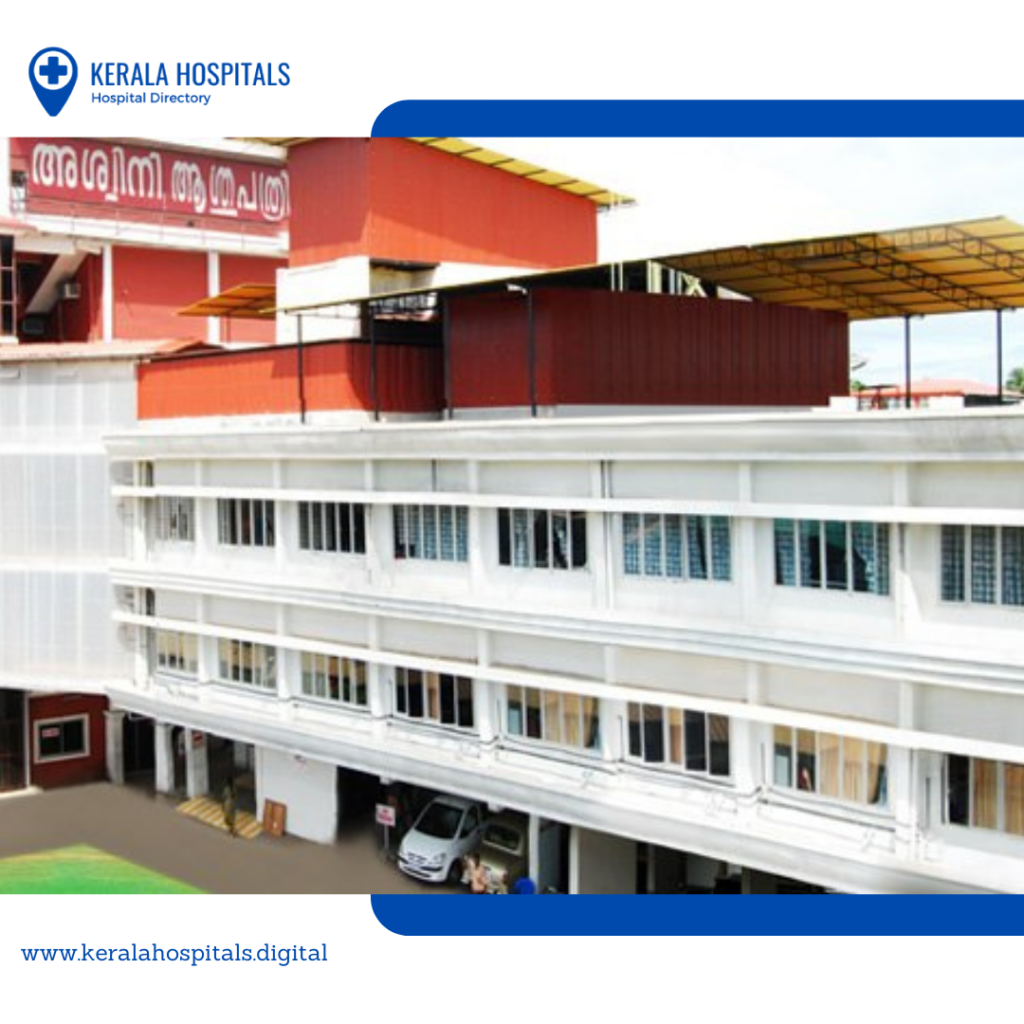 The Gynecology Unit's staff is on hand 24 hours a day, seven days a week, and serves as emergency cover for the patient trust in the department. Infertility and Genetics Clinics are located in the department, which is equipped with modern facilities and offers affordable medical care.
Address: Karunakaran Nambiar Rd, aswani junction, Patturaikkal
opposite Big Bazaar, Thrissur, Kerala 680020
Phone: 0487 661 2345
Sri P.K. Balakrishna Kurup founded the Karthiayani Nursing Home in 1972 for his wife Dr. N.P. Karthiayani Amma is one of the best-known doctors of the day. Thrissur's Karthiayani Nursing Home has been one of the most trusted healthcare providers for the last 40 years. The present managing partner is Dr. B. Sreevalsan. As the hospital has grown, it has kept up with the advancement of medical science and technology. The hospital offers comprehensive healthcare services including general medical and surgical procedures as well as treating the most challenging medical conditions.
Patient comfort is ensured with comfortable, well-equipped rooms, competent and caring medical and paramedic staff, and companion facilities. Each floor of the hospital has a well-equipped nursing station staffed by highly trained staff, supervisors, and housekeepers. All admitted patients have access to round-the-clock medical services and diagnostic facilities. The hospital has a caring atmosphere, with every employee working with quiet efficiency.
Only women patients are treated in the department of Obstetrics & Gynaecology. Pregnancy and childbirth are the subjects of obstetrics. An obstetrician gives pre-pregnancy counseling, cares for the woman and her baby during pregnancy, assists with childbirth, and follows up with the woman for six weeks following the birth. Gynecologists treat diseases of the reproductive system in women. Period problems, infections, benign tumors like fibroids and ovarian cysts, as well as cancer, fall into this category. It is important to note that women seeking to conceive are seen by the Reproductive Medicine Unit, which also takes care of their gynecological issues.
Address: Vasanth Nagar, Patturaikkal
Thrissur, Kerala 680020
Phone: 0487 233 4656