Almas Hospital
Nadakkavil Hospital
MB Hospital
PMSA Memorial Malappuram District Co-Operative Hospital
KIMSHEALTH Hospital
NIMS Hospital
Edappal Hospitals
Korambayil Hospital
Aster MIMS
Almas hospital was established in 2002 as a 10 bedded unit. And the hospital has evolved into a 400-bed facility and still expanding. It is a multi-level super speciality referral hospital started with the mission to provide world-class treatment to all at an affordable cost. The hospital has established all key departments with a qualified and experienced team of doctors, nurses, and paramedical staff. Recently they established their dialysis department with 22 dialysis machines. Almas is equipped with state-of-the-art investigative and therapeutic biomedical equipment. They focus on patient care, research, and development. By offering a health check-up program, Almas aims to promote good health to prevent diseases and facilitate early diagnosis, followed by appropriate treatment.
Address – Almas Hospital
Changuvetty, Kottakkal
Malappuram, Kerala 676503
Ph – +91 483 280 9100
Nadakkavil hospital was established in 1989 under the guidance of Dr. Mohammed Ali N. The hospital is one of the leading healthcare systems in Malabar that ensures comprehensive healthcare service with global standards. It is now has been recognized as a multi-speciality hospital with an ISO certificate (9001-2015).
Nadakkavil hospital is equipped with advanced diagnostic systems, imaging technologies, and all other medical care facilities. And they introduce New Gen. DR (Digital Photography) X-ray system, first time in the district. The hospital has 17 speciality departments including, Orthopaedics, Gynaecology, Paediatrics, General Medicine, ENT, Psychiatry, Dermatology, Neurology, Pulmonology, Urology, Physiotherapy, Ayurveda, Dental Clinic, Homeopathy, Eye Care, General Surgery, and Cardiology. And the departments are headed by eminent doctors with years of experience.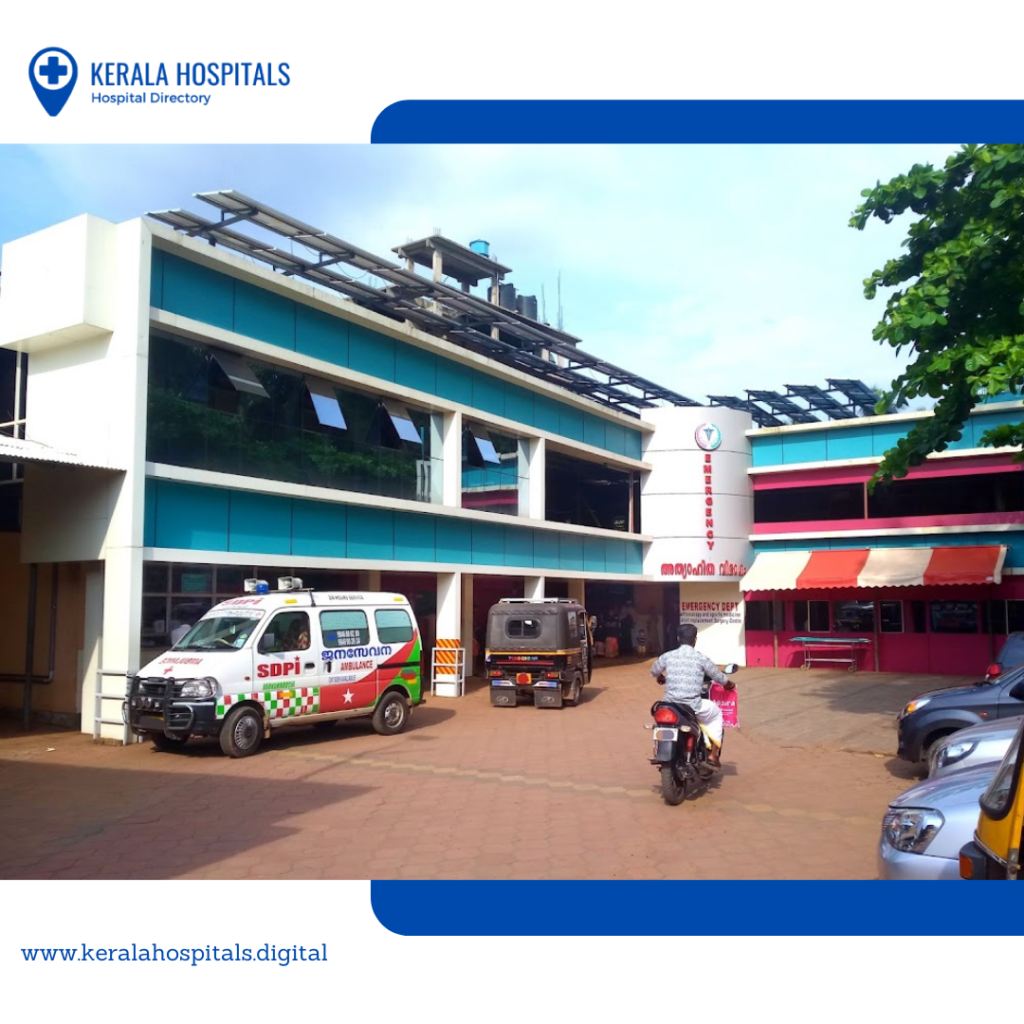 Address – Nadakkavil Hospital
Perinthalmanna Road, Valanchery
Malappuram, Kerala 676552
Ph – 9946174038 (Booking No.)
8714014724, 9746911914, 8136912910, 9946147238, 9895814724
MBH was founded in 1989 as a 50-bed treatment facility. And today, the hospital has grown into a 5-floor, 250-bed facility with modern infrastructure and treatment mechanisms. It is started to provide healthcare for all with the best kind of service and promote wellness. From diagnostic tests to surgical procedures, their state-of-the-art technology ensures patients receive the highest quality of care. The NABH accredited hospital was awarded by the Government of Kerala for being the first to introduce wastewater treatment technology in Malappuram. MBH has NABL and ICMR approved laboratories.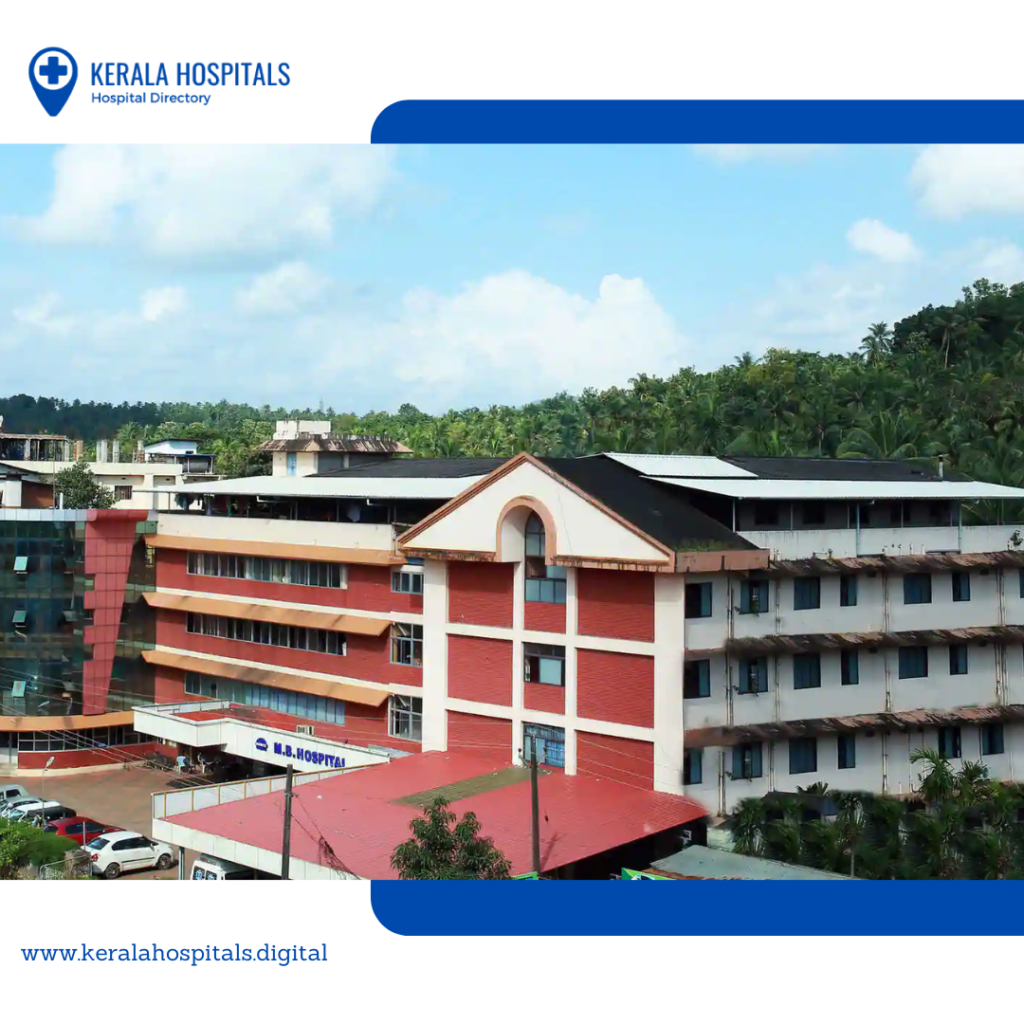 Address – MB Hospital
Down Hill-Varangode Rd
Machingal, Down Hill
Malappuram, Kerala 676519
Ph – 0483 288 3333, 9526903838
MDC hospital was started by a group of people comes forward to help the poor and needed as they stick on the words, "Health is Wealth". It is a multi-super speciality hospital with a 250-bed facility. The hospital is equipped with most modern laboratories, casualty and trauma care, operation theatres, ICU, NICU, TMT, Colour Doppler, Digital X-Ray, Pharmacy, etc. And has a wide range of departments and well-experienced medical professionals to handle any emergency. PMSA School of Nursing was started in the year 2000 gives importance to the all-around development of the students.
Address – PMSA Memorial Malappuram District Co-Operative Hospital Ltd.
Up Hill, Manjeri Road,
Malappuram, Kerala 676505
Ph – +91 483 2734407
KIMSHEALTH is a quaternary care hospital network that offers end-to-end healthcare services. The group started in 2002 with its quaternary care hospital in Trivandrum. Growing from a 250-bed to a 2000-bed healthcare group with hospitals in major cities like Trivandrum, Kollam, Kottayam, and Perinthalmanna, in addition to the Middle East, Kims Health has become one of the largest healthcare networks.
They strive to deliver quality care accessible and affordable to all and aim to be a leading healthcare organization of excellence that transforms lives through exceptional care. Due to the focus on quality healthcare delivery, the hospital has been accredited by NABH (National Accreditation Board for Hospitals) and ACHSI (Australian Council on Healthcare Standards International) 2006. KIMSHEALTH is the first hospital in India with both national and international accreditation. Today, they stand among the top 10 hospitals in India with a top-notch healthcare delivery system. The hospital has a focus on academics as well, with 23 different programs under its academic wing.
Address – KIMSHEALTH Al-Shifa Super Speciality Hospital
Ootty Road, Perinthalmanna
Malappuram, Kerala 679322
Ph – +91 493 322 7616
NIMS is a multi-speciality hospital run by the Noor Institute of Medical Specialties. Due to limited facilities for treatment in the region, the Board of Directors decided to start a multi-speciality hospital with all modern facilities. And the project is materialized in 2005 and started functioning with an emblem, 'Light for Life'. It is a 300-bed (265 inpatients & 35 Daycare beds)  hospital sticking on the vision of quality healthcare at an affordable cost.
They promote a culture 'Care for Cure/ Comfort and ensure that services are patient-focused. The inpatient specialities are General Medicine, General Surgery, and Gynaecology, and they also have an urgent care centre. Maintaining the highest ethical standard in protecting the public and the environment activities, NIMS monitors achieving their vision too and ensures modern treatment facilities round the clock to the impending patients.
Address – NIMS Hospital
Wandoor,
Kalikavu Road, Vaniyambalam Post
Malappuram, Kerala 679339
Ph – 04931 249827, 828, 829
Edappal Hospitals was founded by K. K. Gopinathan, a well-known Gynaecologist and Obstetrician, in 1986. The dream behind the multi-speciality hospital is to have a world-class facility in a place that many people can access. And they changed the image of healthcare in the region with 288 beds, close to 30 specialized departments, the finest full-time doctors, and highly experienced medical and non-medical staff. Edappal hospitals won NABH accreditation in 2018. They are committed to perfecting the technological advances in healthcare and infertility management services. "Driven by Compassion, Dedicated to Serve", the hospital is turning a new leaf in affordable yet exceptional healthcare service.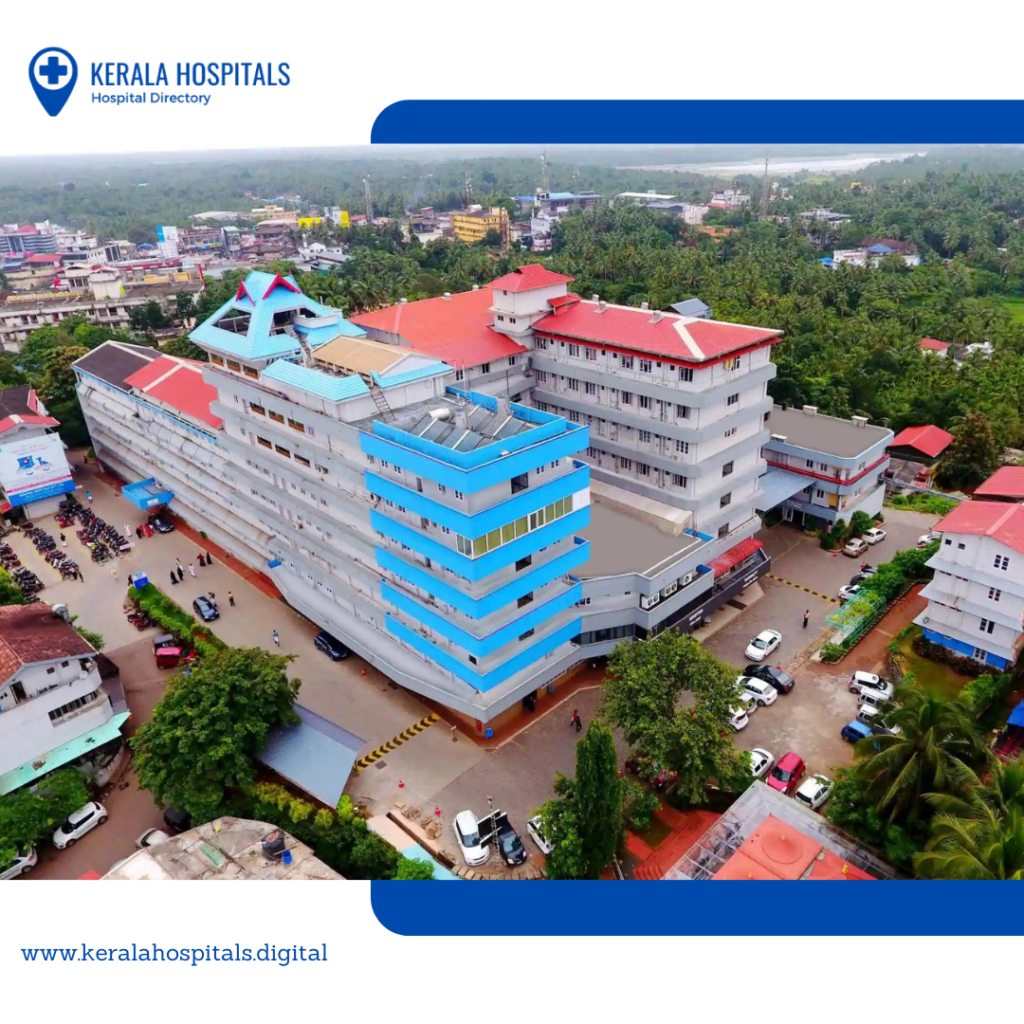 Address – Edappal Hospitals Pvt. Ltd.
Edappal P.O
Malappuram, Kerala 679576
Ph – +91 494 2660200
Korambayil Mohammed Haji Memorial Hospital was found in 1972 by Janab Korambayil Ahammed Haji. It is the oldest hospital in the private sector in the Malappuram district. And also the leading centre of medical care in the district today. Korambayil multi-speciality hospital provides the best available medical care and services at an affordable cost. They strive to offer quality healthcare in a safe and patient-centered environment with the motto 'healthcare that is affordable, ethical, and dependable. The hospital is a 193 bedded facility with a School of Nursing attached to it. The Nursing School was started in 1985 with an intake capacity of ten girl students. It was the first recognized Nursing School in Malappuram during the year 1985.
Address – Korambayil Hospital & Diagnostic Centre (P) Ltd.
Pandikkad Road, Manjeri
Malappuram, Kerala 676122
Ph – 0483 2764555
Aster MIMS Kottakkal is a multi-speciality hospital that delivers a comprehensive range of preventive, acute, and outpatient services. The hospital is committed to maintaining the highest standards of safety, cleanliness, integrity, and honesty. With cutting-edge technology and top-notch facilities for trauma care, intensive care, etc., they strive to provide holistic care to patients. It has world-class Centres of Excellence (COE), a combination of experienced doctors, state-of-the-art technology, and the highest level of patient care. And through 25+ specialities, they provide in-depth expertise in the advanced medical and surgical intervention spectrum. Aster MIMS Kottakkal won NABH accreditation.
Address – Aster MIMS
NH 66, Calicut, Thrissur Road
Kottakkal
Malappuram, Kerala 676501
Ph – +91 9656000611, 0483 2807000